Beer-Marinated Pork Fajitas
Yay fajitas! …again.  I've been on a kick lately,   Thankfully the family has no problem with this, so I get to try stuff.  Today, I'm playing with meat and beer, because meat and beer.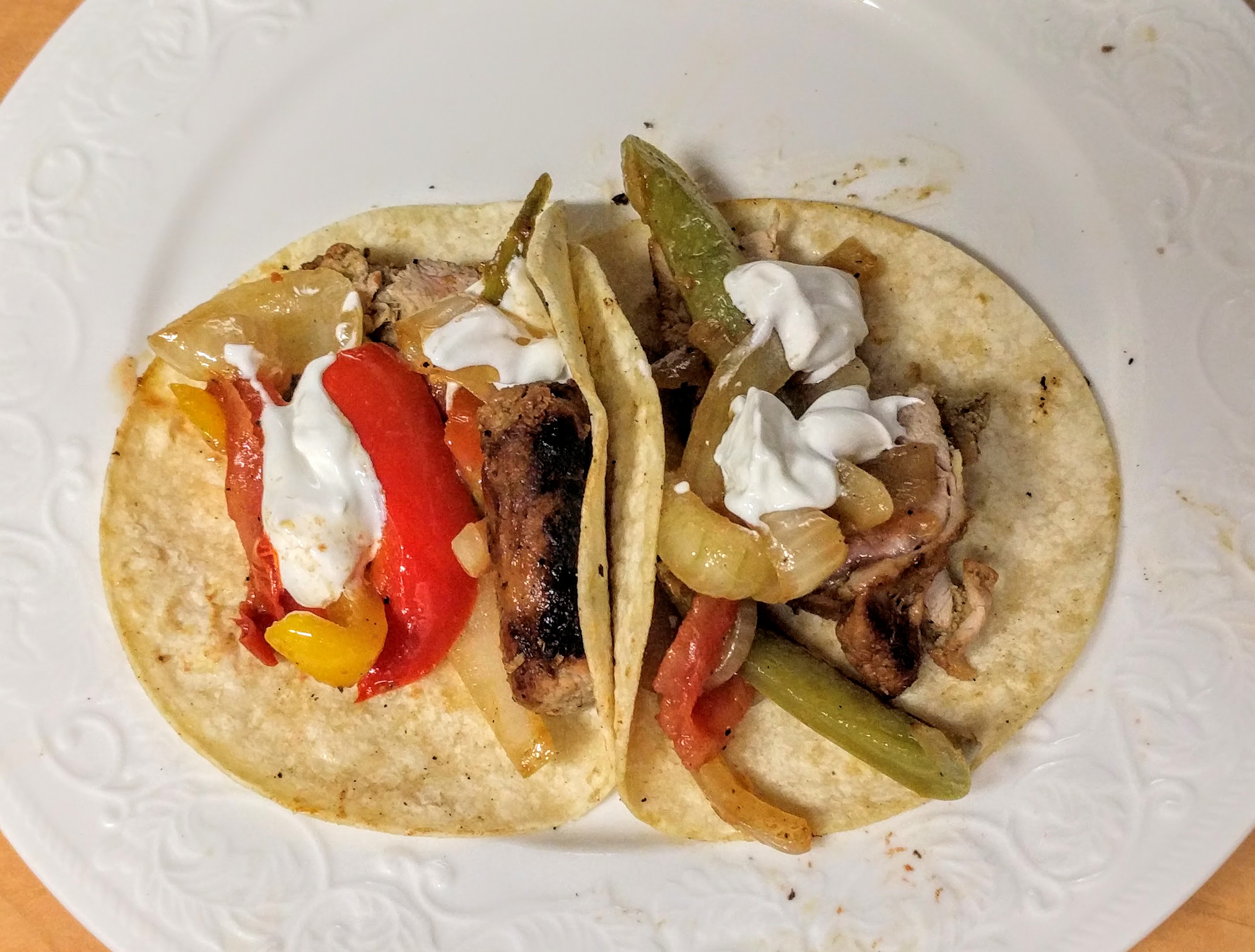 ---
Nutrition Facts
Serving Size 2 tortillas
Servings Per Container 8
---
Amount Per Serving
Calories 891
Calories from Fat 261
% Daily Value*
Total Carbohydrate 40.5g
14%
---
*Percent Daily Values are based on a 2,000 calorie diet. Your daily values may be higher or lower depending on your calorie needs.
Shoppping list:
Two pounds pork. Tenderloins, or something at least 3/8″ thick
1 12oz bottle lager-type beer (nothing hoppy)
A lemon
Adobo seasoning
Cumin
Black Pepper
~six cloves of garlic
Chile flakes
Sugar
1 large onion
1 green pepper
1 yellow pepper
1 red pepper
3 roma tomatoes
16 Corn torillas (6″ diameter or so)
Sour Cream
A splash of olive oil
---
To start with, make the marinade.  Combine in a bowl:
A bottle of beer, nothing too hoppy.
1/4 a lemon's worth juice
1.5 tbsp adobo seasoning
1/2 tbsp cumin
1/2 tbsp pepper
~six cloves of garlic
a pinch of chile flakes
1 tsp sugar.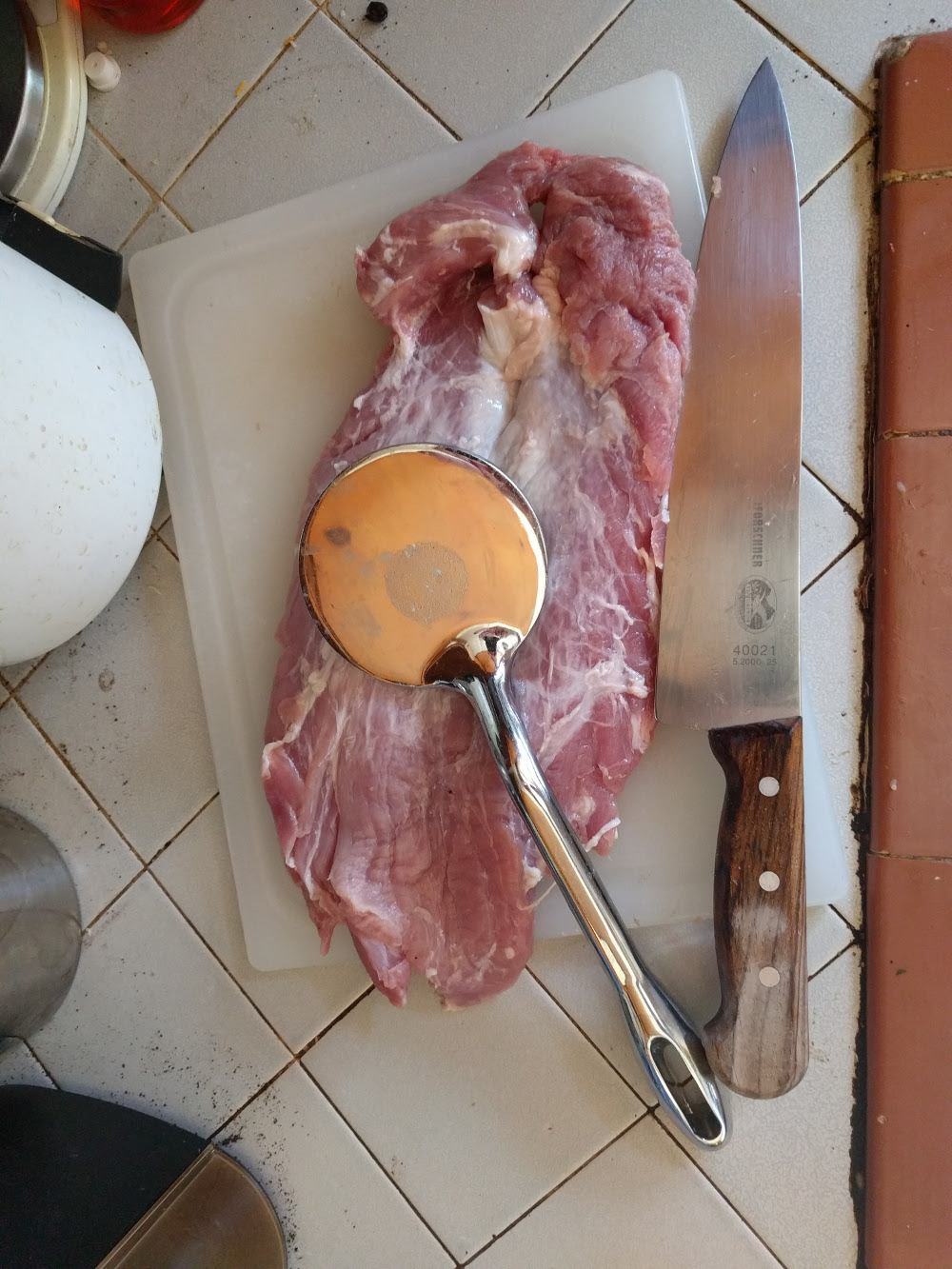 For the meat:  Butterfly the tenderloin (cut it almost, but not quite in half) and whack it with a good wide meat whacker. Meat tenderizers are pretty narrow and tend to tear the meat when you're trying to beat something thin.  I use it far more than my meat tenderizer, but I don't cook much with stew meat unless it's, well, stew.  For these fajitas, you're looking for around 3/8″ thick.  Much less than that, and the meat will be overcoooked before you realize it.
If you have a vacuum sealer, do that.  Otherwise, put all the stuff into a ziploc bag (small z) and let it sit for a couple of hours.  I don't think any longer is really necessary.  But, hey.  Do it when you can.  Not sure I'd want to marinade overnight, but first thing in the morning would be fine.
For the veg:  I didn't do anything special here.  Sliced up some peppers, onions, and tomatoes into strips (multiple colors of peppers make it festive yo) and tossed them in some olive oil  and pepper right before I cooked them.  Simple, and they really don't need anything else.  Other times, I've marinaded them too, but I don't think it would make a difference here.
Finally, it's time to start thinking about cooking.  There's actually a little to talk about here, namely, how.
First of all, turn the oven on low (150F or so) and let that heat up.  We're cooking in batches, so it's a good idea to keep everything warm. through the process.
Second, and probably more important, is cooking surface.  This is another place where cast iron really shines, as it can take a lot more heat, and distribute it evenly vs other pans.
But that's not the problem.  The problem is this:  Surface area.  We have two butterflied pork tenderloins, and they take up a fair amount of space.  This leaves us few options – we can cook them one at a time and keep them warm in the oven, grill them, or we can go for broke.  I chose the latter, of course, as it's a little of both.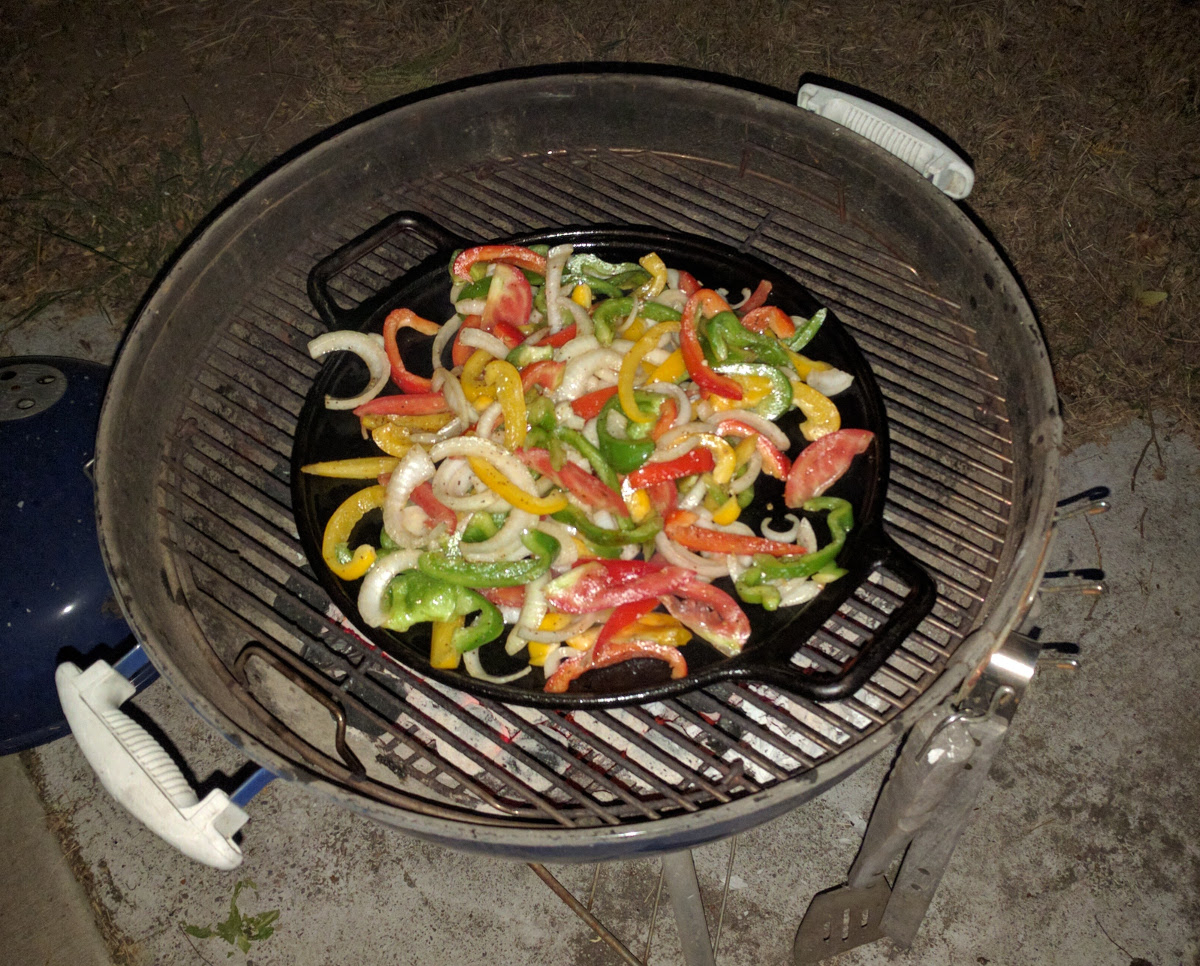 So, let's grill!  Loge makes a 14″ cast iron "pizza pan" and I'm in love with it more each day.  Start some charcoal, get it nice and hot, add more charcoal (it wants to run for a while) and settle in to let it get hot.  Pan on, and let that get hot (Note:  you can use a regular skillet on the grill too, but again, batches)  Direct grill is also an option, but the flavor will be slightly different.  Once things are hot, throw in the veggies.  They can afford to cool more than anything else.
And here we are with veggies.  Throw them on/in the pan, and toss them a bit until they start to soften.  It'll take a couple of minutes, and you'll want to toss them frequently with tongs to make sure the ones on the bottom don't burn to heck.  Note:  If you're cooking the meat directly on the grill, wrap the veg in some aluminum foil and set that to the side, or they'll fall through the slats.  For some reason people don't appreciate that.  When they're done, take 'em off and shove them someplace warm.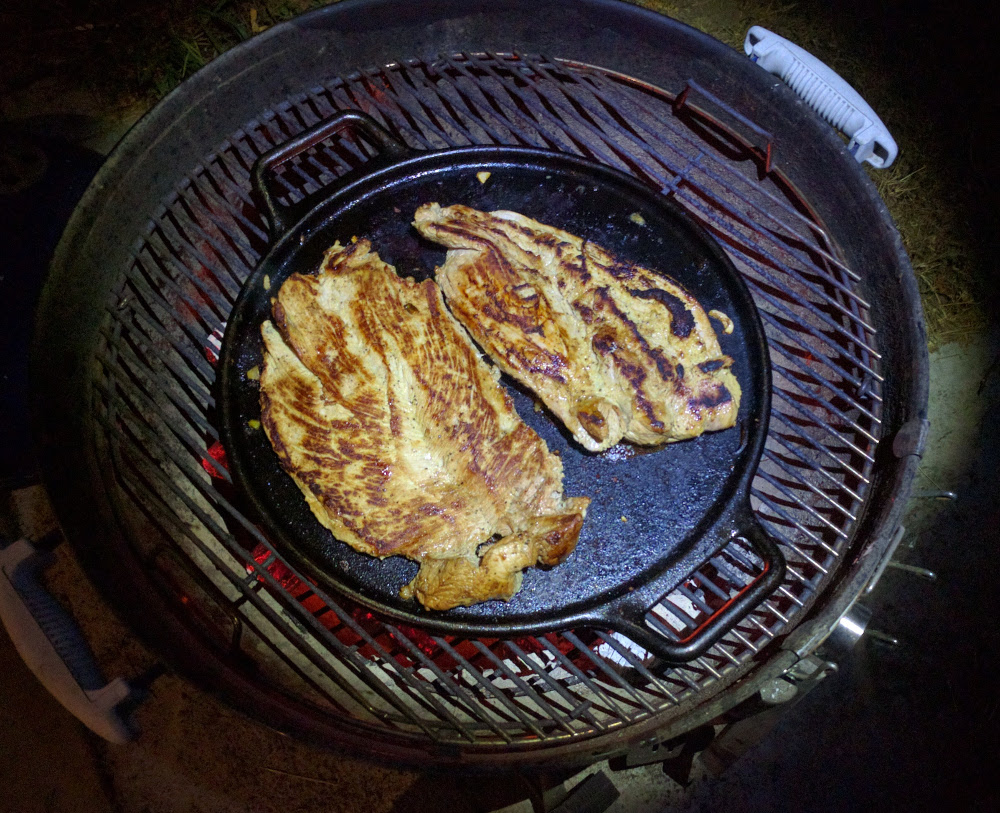 Repeat, with the meat.  However you cook it, cook it until it's just done, or slightly less – it'll cook through some more while you're fiddiling about.  The meat is pretty thin, so it'll cook fairly quickly.
Set that aside and start madly warming tortillas.  Small corn tortillas – the 6″ kind – are best, since they add their own flavor to the mix.  Since I have a giant skillet that's been seasoned with porky goodness, I just covered that with the tortillas and let them warm through.  They get bonus flavor this way, which  is never a bad thing.
And that's it, really.  Slice up the pork into thin slices, shorter in length than the tortillas, put the veggies in a bowl, and set out sour cream or anything else you want to tart it up with.  Around here, we tend to do this sort of thing as an "assemble your own" dinner, because thirds are often to be had.  You can also side with refried beans & cheese (or whatnot) if you'd like.