Keema Chawal ~ Pakistani Mince and Rice
Sometimes referred to as "keema rice", which is actually a number of variations including this one.  It's kinda similar to a keema pulau or biryiani, but the latter two generally cook the rice in the curry. Instead, we use leftover (or pretend leftover) basmati rice to do the job. It's tasty in it's own right, and takes a bit less time and patience to make.
The secret to this dish is having a really good keema. It's a foundational thing generally made from onions, tomatoes, some sort of mincemeat, and spices. The mince is beef, lamb, mutton, or turkey, and changing them up tweaks the flavor a bit on its own.  Basically, once you have a keema, you can just start adding whatever you like to it. Peas (matar) and potatoes (aloo) are pretty common varieties.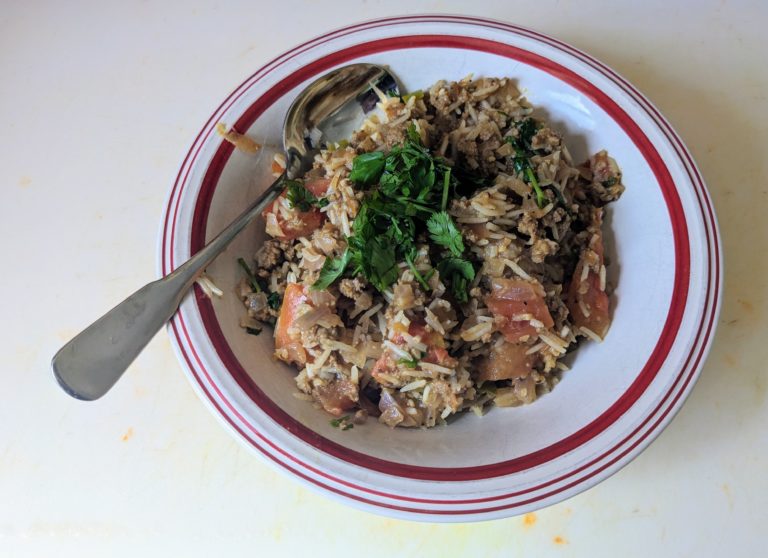 Nutrition Facts
Serving Size 1 bowl
Servings Per Container 4
---
Amount Per Serving
Calories 663
Calories from Fat 80.1
% Daily Value*
Total Carbohydrate 98g
33%
---
*Percent Daily Values are based on a 2,000 calorie diet. Your daily values may be higher or lower depending on your calorie needs.
---
A lot of this probably looks familiar, because it is. I'll probably post my keema separately at some point, but there's value in having everything together in one go.
Shopping List:
1 pound mince
1 large onion (a little over a pound)
2 large tomatoes (approx 1.5 pounds)
5-6 cloves garlic, crushed
Ginger
Green chile – I use Anaheims, but adjust to heat preference
Yogurt (plain whole milk)
Cumin
Red chili powder
Turmeric
Black Pepper
Coriander
1 bunch fresh cilantro
2 cups prepared basmati rice (or one cup uncooked)
First of all, the rice. In a perfect world, we just just have a couple cups of leftover rice just laying around.  But it isn't perfect, so make some rice ahead of time. 2 cups of prepared basmati is a 1:1 ~ one cup of rice grains to the #1 level in the rice maker. Do this a couple hours ahead of time (or overnight) and refrigerate for an hour or so. Obviously it's best to let the rice come to room temperature first.
Next, put together the dry spices:
1 tsp cumin
1 tsp black pepper
1 tsp coriander
1-2 tbsp crushed garlic
1-2 tbsp ginger
In another bowl, chop up the onion rather finely.
Then cut up the tomatoes into large chunks set aside in a bowl and add:
Green chile, chopped finely
1 tsp red chili powder
1 tsp black pepper
1 tsp cumin
1/2 tsp turmeric
2 tbsp yogurt
a pinch of salt.
To start cooking, heat up a 3 quart pot with a couple tablespoons of oil. Add in the dry spices and stir-fry for a few seconds until the aromas come out, then add in the onions. Saute until the onions wilt and become soft, and add the meat.  Continue cooking until meat is browned.
Add in the bowl of tomatoes and stuff.  Cook, stirring regularly, until the juice starts coming out of the tomatoes. Bring to a boil, then turn down the heat and simmer for around ten minutes, stirring regularly. It should still be pretty wet, since the rice will absorb a fair amount of the moisture.
While this is going on, chop up the cilantro
Next, fold in the rice and mix well. continue to simmer on low until the mix is hot and the liquids are basically gone.
Now turn off the heat and mix in the cilantro, reserving a bit for garnish if you want to make it pretty.  Let stand for something over five minutes before serving.