Caprese Burger
Sadly, a glitch occured in the matrix, and I lost a couple of recipes – including this one.  So, here it is, redux-style.  Like a phoenixburger, it shall rise from its ashes…
This was a peculiar flash of inspiration – I knew what I had to make for dinner (burgers) but at the same time I had in my head a flavor combination that I was craving.  So, I decided to meld the two.  Thus….the caprese burger – an Italian salad, but on, and in, a cheeseburger.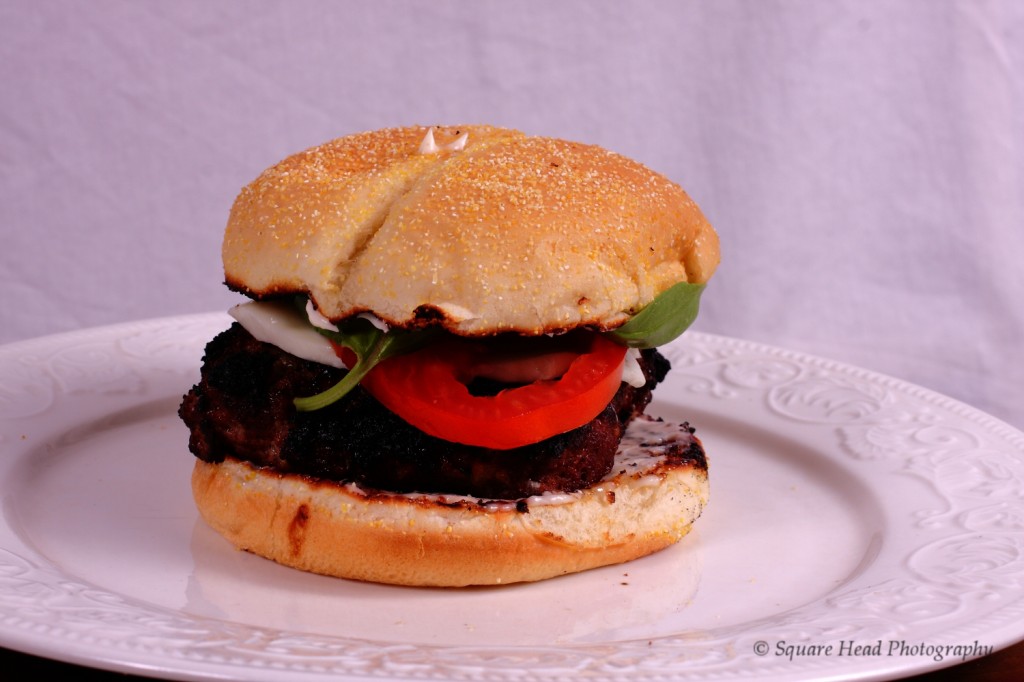 I'll admit, the concept is pretty simple.  For that matter, the execution isn't that complicated either.  The hard part is surprising your guests (or worse, your family) with something that's well outside the bounds of what they 'expect' in a burger.  Read along, and you'll see what I mean.
Actually, before I start, I want to point out that anytime I talk 'burger', I talk 1/4 pound or more.  Usually in the 1/3-1/2 pound range.  There's a reason for this – or at least a theory, but it works so I run with it.  Most of the smaller, thinner burger patties are in the same family as the (de)pressed ones you find in the freezer section of your local supermarket.  They're just that – pressed into uniform little molds and squeezed until they retain their shape.  Often, they're frozen right up to the point they go on the grill.  Immediately, they lose personality, and the ability to take anything that would mess with the basic meat structure.  So, we throw that out the window.  By balancing additional liquid seasonings, and binders (among other things) we can create a fat burger that would taste good all on it's own.  It just takes a thicker burger, and a bit more meat.  The off-shoot is that the burgers also come out jucier…
So I regress.  This burger does well as a 1/3-pounder, so for four people, roughly 1-1/2 pounds of meat. In a bowl, combine the meat with 1/2 onion (diced) with 1/2c Italian breadcrumbs, 1/4c balsamic vinegar, 1-1/2tsp pepper, 1/2tsp salt. Knead until the mixture is homogeneous, and if it seems a little dry add another splash or two of  the balsamic.  When everything is incorporated, cover, and leave in the fridge for at least half an hour.
Meanwhile start the fire, yadda yadda yadda, and prepare the toppings – a couple of basil leaves per burger, two slices of roma tomatoes (one of you're using a beefsteak, but please don't) and enough mozzarella sliced about 1/4″ thick to cover each burger.
When the fire's ready, cook until just done, and top with the mozzarella for a minute or so to let it start melting.  Toasted buns also work very well with this burger, so now would be a good time to do that as well if you wish.
So, to plate: I recommend a little mayo on the buns, but it's not 100% necessary – the burgers should be moist enough.  Assemble the salad on top of the burger: burger, cheese, tomato, basil is the order I've found that works best, but whatever.  It's going to taste the same.
For the ultimate side, try my tomato-pesto pasta salad: https://www.nomdujour.net/?p=59
So, there's really not that much to it, is there?  That must mean we've come down to the
shopping list:
1-1/2 pounda ground beef
bunch of basil
onion
a couple of tomatoes (roma or heirlooms if you can get them)
Italian bread crumbs
balsamic vinegar
pepper
salt
mayo
buns – Orowheat Crostini is my favorite. No HFCS and tasty.