Da Tomato Curry
So, this is more or less making a stand-alone version of the curry from the Curry-Stuffed Toast I posted  recently, because I liked it so much.  (If you missed that, it was a savory French-style toast with curry and home-made cheese in the middle.  Yum).
Tomato-based curries are really approachable, in that they're full of flavor, and really versatile.  They can also be really nom without getting fussy like some curries.
So, to that end, this one's really, really simple, and doesn't involve finely balancing a bunch of spices.  Besides, Madras curry powder replaces a lot of them anyway 🙂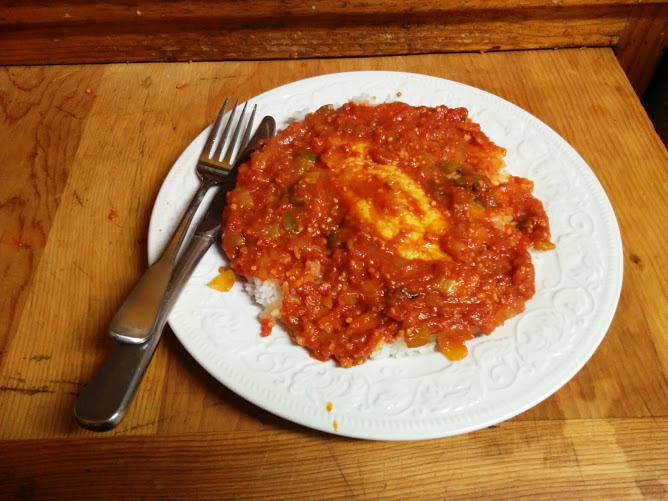 ---
Nutrition Facts
Serving Size 1 bowl
Servings Per Container 6
---
Amount Per Serving
Calories 409
Calories from Fat 79.2
% Daily Value*
Total Carbohydrate 42g
14%
---
*Percent Daily Values are based on a 2,000 calorie diet. Your daily values may be higher or lower depending on your calorie needs.
Note: Nutrition data includes chicken and rice.
Shopping list:
1 large onion
Garlic
1 largecCarrot
1 Anaheim or Peppers to taste/heat
Celery
Madras curry powder (I recommend Sun Brand Madras Curry Powder )
32 oz Whole canned tomatoes (I use Cento Imported Italian Tomatoes )
5 oz tin of tomato paste
Coriander
Cumin
Rice, basmati or calrose
1.5 pounds chicken (optional, thighs preferred)
This is one of those recipes where lots of stuff happens in a short period of time, so it's a good idea to do your mise en place, which is a fancy way of saying "get everything ready before you cook".  If you opt to not use chicken, just skip those steps.
So, mise en place.  This can all be done whenever you feel like it  Recipe serves 6:
In a large-ish bowl, gish up a 28-35-oz can of whole tomatoes. Usually I'd say puree or diced is okay, but it really, really affects the texture in a significant way this time. Set aside for later.
Dice (small-ish) two medium to large onions.
Dice up the pepper into 1/4″ chunks
1 large carrot
2 stalks celery
​​roughly 3 tbsp minced garlic, though the pre-minced stuff is okay.
Cube chicken into 3/8-1/2″ chunks
Once you're ready to go (actual cooking time is about 40 minutes):
Heat up a couple of tablespoons of oil – vegetable, canola, etc in a large skillet.  Add in your onions, veg, about three tablespoons of minced garlic, and about 1.5 tablespoons of pepper.  Let that sweat for five minutes or so, moving the veg around constantly until the onions just start to soften.
Add in the tin of tomato paste and 2 tablespoons of curry powder (I highly recommend Sun Brand
) and heat that through.  It'll be sticky as heck but you'll want to thicken everything up, without really cooking the paste.  You can also add a bit of cayenne for some heat.
Then, add in your chicken.  It'll really be a thick mess at this point, but it's worth it.  Saute until the chicken is cooked, maybe five minutes, stirring regularly.
Now, add in your gished tomatoes, along with a heavy 1/2 tsp coriander and 1/2 tsp cumin.  These go a long way, so don't get too crazy.  It's also a good time to adjust your curry powder and pepper to taste.
Right about now is a good time to start some rice, roughly 1/2 cup per person.
Let the curry simmer for 20 minutes, or so to thicken.  Serve on rice.
#555555; font-family: Bitter, Georgia, 'Times New Roman', Times, serif; line-height: 21.9999904632568px;">

Note: Any linked products are personally endorsed by me, because they are the products I use.  I do, however get a pittance from purchases through the links to offset some of the costs for this website.