Irish Cheese Burgers
I have burgered with booze before, of course, but today, we're really all about the cheese.  Specifically, Kellygold's Dublinier, which is a little difficult to explain, but texturally, it's like a dry cheddar or perhaps a Parmesan block, yet it's a bit sweet and nutty and sometimes we'll just sit there with a block of cheese and the plane.  We get blocks from Costco, but I assume it's around other places.  If you're stuck, maybe something like a Pecorino Romano might be okay, but not the same.  To complement the Irish cheese, we're also going to do a whiskey reduction to tie all the bits together.
Anyway, a cheeseburger built around the cheese, rather the cheese as an afterthought to the cheeseburger.  This serves 4-6 depending on how hungry people are, and if you have sides.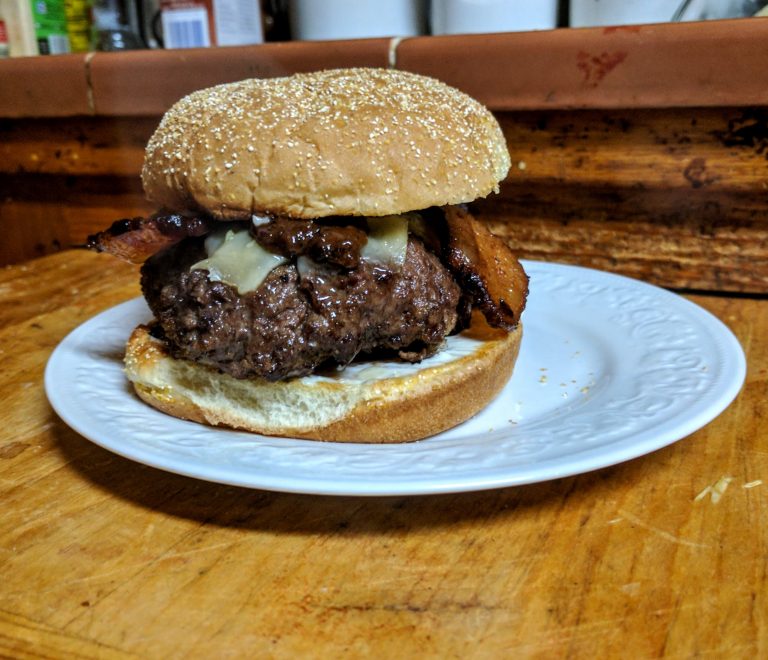 ---
Nutrition Facts
Serving Size 1 Burger
Servings Per Container 6
---
Amount Per Serving
Calories 805
Calories from Fat 355.5
% Daily Value*
Total Carbohydrate 41.1g
14%
---
*Percent Daily Values are based on a 2,000 calorie diet. Your daily values may be higher or lower depending on your calorie needs.
Da magic shopping list:
Ground beef.  Two pounds will do nicely.
A decent Irish whiskey, or a good American one (I would not recommend Jack)
Kerrygold Dubinier cheese, or maybe experiment with a nutty hard cheese if you can't find it
A piece of bread
heavy cream
pepper
butter
bacon
buns (I like Orowheat Crostini)
So yeah, the cheese.  It's a strongish cheese, but we could easily bury it, so that whole lettuce/tomato/condiments thing is right out.  I considered some caramelized onions, because they would do well with everything but the cheese, I tossed that idea too.  Bacon, on the other hand, complements everything, so that was definitely in.
Burger-wise, let's keep it simple.  This recipe is good for about two pounds of hamburger, and how you want to split that up is up to you.
Here, we went for 6 1/3 pounders, which here works out to be two meals, which is nice.
For two pounds of burger meat, I shred up a piece of wheat bread, a spot of heavy cream, and a dash or two pepper.   The bread and cream act as a binder, so the patties stay in one piece a little better.  The pepper just kick-starts the seasoning.
So mix that up, chill that for a half-hour, make patties, and back into the fridge until you're ready for them.  This also helps keep the burgers from falling apart on the grill.
Now, I need to take a step back a bit and concentrate on the sauce. These things all happen at the same time, so a lot of jumping back and forth is in order, so assume I'm doing all these things at the same time.  The sauce is key tho, as next to the cheese, it's the major flavors
Also, make bacon.  Soft bacon in the oven is best on burgers, unless for some reason you really want crunchy bits.  I don't, because I'm not that weird.
I wish I had a good Irish whiskey about, but I'm lame and don't-  so I used up my last bit of Dickel, one of the better American ones. Thankfully one of the better parts about making stuff up is that sometimes you get to roll with the punches.  Also, this bit really does take some time, and a little patience, so I hope you're reading ahead.
Anyway, sauce.  We're not loading up the burger with stuff, so it's important, but thankfully a reduction isn't that hard to do well, so long as it gets the proper amount of attention.  I will recommend a saucier (example) vs a sauce pan, 'cuz the rounded shape makes for a more even heat with fewer hot spots.  But I digress.
To begin, melt three-ish tablespoons of butter, and to that add a clove or two garlic, two tablespoons brown sugar, and a pinch of pepper.  Lots of people add those funny shallot things at this point, but today, I don't think it matters.
At the lowest heat you can get from your stove, mix all that together, and make them mingle – awkwardly, like they're waiting for the booze to show up at a party for a minute or two.
Then, add a 1/3rd cup of "happy juice", er, whiskey, and gently whisk that in.  The party Is On.
Heat the lot up until it's almost boiling, and then turn it down to the merest simmer.  I know this sounds weird, but everyone does it, and it seems to make a diference.
Give it a little whisk now and then, if for no other reason than to let it know that you love it, and are paying attention to it.
If you've timed things right, simmer until it's at least half the volume you started with, but if everything else is ready, you've cooked off the alcohol so just go for it.  If you want a creamier sauce, add a splash of heavy cream at the last possible moment, but only if you want to (if you're not careful, you'll "break the cream", which means it gets gross).  You can turn the heat off first, if you're skeered, but only at the last second.
I grilled the burgers over a low-ish fire to minimize the char.  I didn't want char to get in the way, and I'm pretty sure I'm right about that.  Meanwhile, I attacked the cheese block with a plane, so I got nice, thin slices.
When the meat is almost done, Carefully cover the patties with the cheese you haven't already eaten.  Hard cheeses don't melt well, so when they're soft and bendy, you're good.
Toast the buns up a bit too.  It adds a nice texture to this sort of thing.
I always put mayo on my burgers, and you should too.  Bread without mayo is like syrup without pancakes.  Unless you're putting butter on it (the bread, not the mayo), but that's another story.
Bun, cheesyburger, bacon, and a dribble of sauce.  You know the drill.  For these burgers, I would highly recommend not putting anything else on (I'm looking at you, Tomato) because it'll just bury all your work.  (Yes, I know I said this before, but it bears repeating)
Sides are also good.  If you want a good side, try the macaroni salad 🙂
On a side note, these could be pan-fried too, but you'd probaby want to finish them in the broiler to get the cheese melty.  Not such a great idea in the Summer around these parts.