Mushroom-Bacon Stuffed Omelets
Breakfast for dinner, right?  I'll be honest and say I almost never have breakfaast for breakfast, but still… breakfast for dinner.  There's just something magical about that (Dennys at 2AM aside).
So, tonight's breakfast dinner is omelets.  But not just any omelets; omelets stuffed with bacon and mushrooms and creamy goodness.  And to be quite honest, I don't know about you, but most of the time, I'm just not awake enough in the morning to do anything that involves two pots.  Besides the coffee pot, I mean.
Note:  if you're not in the US, substitute "omelette" for "omelet"  I use both, depending on my mood.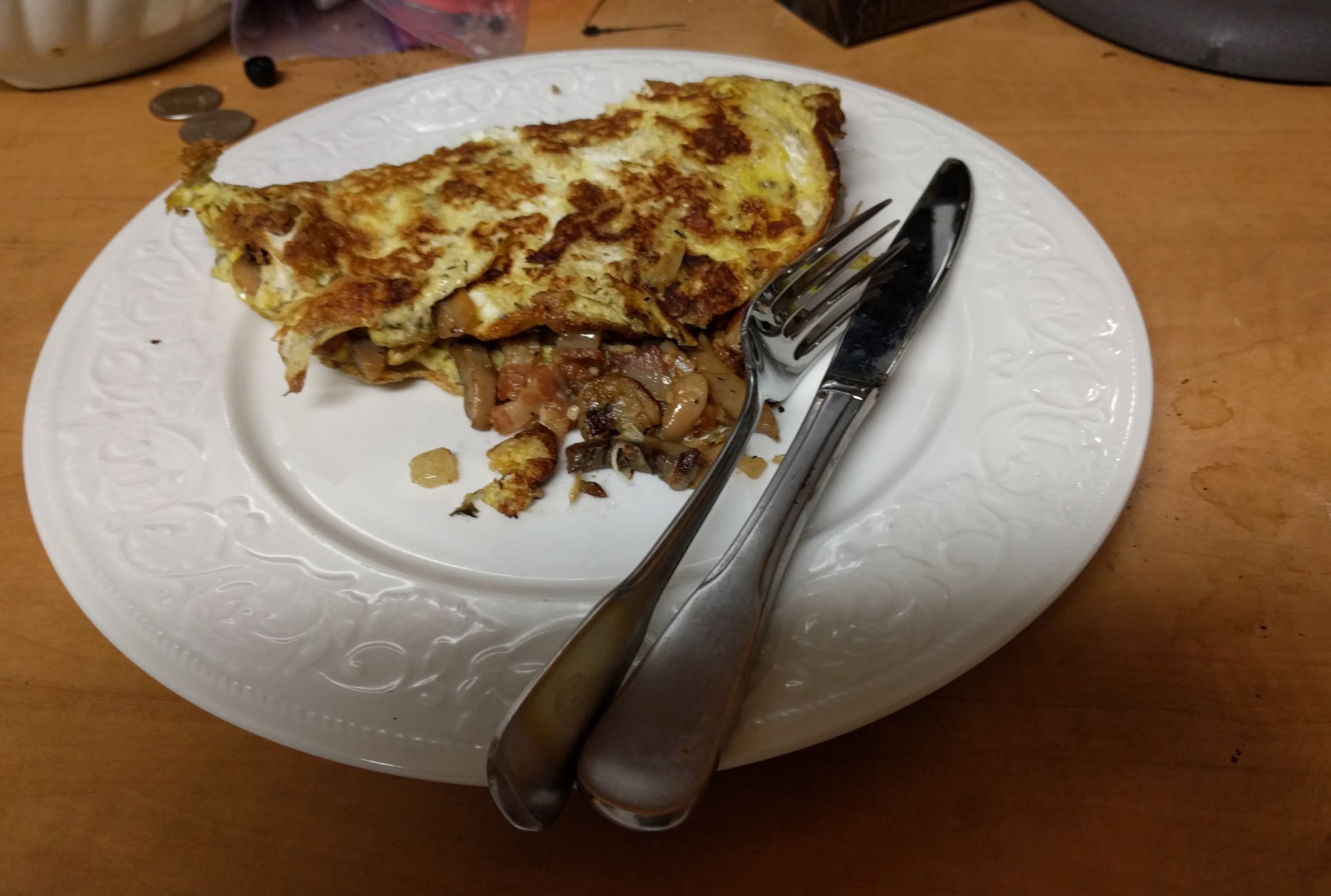 Nutrition Facts
Serving Size 219g
Servings Per Container 5
---
Amount Per Serving
Calories 444
Calories from Fat 319.5
% Daily Value*
Total Carbohydrate 4.3g
1%
---
*Percent Daily Values are based on a 2,000 calorie diet. Your daily values may be higher or lower depending on your calorie needs.
---
Shopping list:
Eggs, 2-3 per person
8oz mushrooms, tinned or fresh, your choice.  These will ultimately affect flavor though.
1/2 yellow onion
2+tbsp chopped garlic
4-6oz thick-cut bacon, as if there's any other kind
Pepper
Thyme
Rosemary
Butter, 3tbsp min if you're using bacon grease for eggs, otherwise add ~1/2tbsp per omelet
1/4 cup heavy cream
Since I'm doing this as a dinner meal, I'm going with a three-egg omelet to make it a bit more hearty.  A two-egg omelet would work fine for breakfast without any real changes.  It scales pretty easily, but erring on the 'more stuffing' side is always the best choice.
So, let's get started by getting your shit together.  I mean stuff.  Er, I mean the things you're going to cook.  Get those things together and ready to go.  I'm afraid that I don't really have my shit together, so I can't help much there.  I recommend professional help with that.
For starters, finely chop an onion and add a couple cloves of garlic. Set aside in a bowl. Then slice up 8oz mushrooms, and separately chop up about 6oz bacon and set aside.
To begin:
Take your favorite skillet, and put it on the stove at a meduim-high-ish.  Once it's all warmed up, add about three tablespoons of butter and let the butter foam.  Add your onions and garlic and cook, stirring occasionally, until the onions soften.
Add in the mushrooms and keep on stirring until they've softened too.  Remove the lot and set aside in a bowl.
Next, tip in the bacon, and fry until the bits are just done.  DO NOT over-do them, unless you want a crunchy omelet.  Ick.  Were it strips of bacon, they'd just start to curl, but it should be apparent to the eye.
Turn down the heat and pour off most of the fat.  You can reserve it for cooking the omelets if you like.
Add in 1/4 cup cream, and deglaze the pan.  Basically, stir like a maniac until all the bits are incorporated.  Turn up the heat a bit again, and add back the bowl of mushrooms and stuff from earlier.  Keep stirring until everything is all coated and creamy, then turn down the heat almost all the way to keep warm.  You'll want to give it a good stir every minute or so at this point to keep things from separating.
Finally, start in with the omelets!  I do a very simple one here, since the stuffing is doing all the heavy lifting.  Beat the eggs, and add in a pinch of thyme and rosemary.  Omelet in a separate small skillet – I have a nifty 9″ tinned copper dealie that I picked up in a thrift store for the purpose, which is the ideal size.  Omelet in butter or some of the bacony goodness from earlier and let 'er rip.
If you've never really omelet-ed, they're not so bad, but there are a couple of factors:
First, size of pan defines the size of the omelet.  9-10″ is about right (that's what she said).
Second, heat matters.  I like my copper here, because I can immediately adjust the temperature.  Regardless, you'll want a temperature where the eggs are going to brown, but not fry.  Something somewhere in the medium range.
Third, there's a bit of a trick – once the omelet starts to set up, carefully run your spatula around the edge.  This breaks the seal between the omelet and the pan, so it's easier to flip later.  Just don't get to overzealous and turn it into a scramble.
Fourth, timing.  This is also where heat matters.  You want the omelet to mostly cook through until the top "sets up" and is mostly not runny before you flip.  So, too much heat and the bottom will overcook, and won't fold later.
Finally, the flip-side (see ya there) doesn't need much time at all, since there isn't that much that needs to be cooked.
If you've done it right, you should be able to flip back to the more cooked side down, add the filling to one half, and fold over.  Serve immediately, or keep them some place warm until they're all done.