Nom Nom Nom Naan NOM
Yeeah… so a bunch of years ago I made some killer naan (ask Kari and John) but somewhere in between I lost my notes, and my mojo, and ended up making bread with vaguely naan type flavors. The family liked it so I never went back to fix things.  So, it's time for Olav to get his groove back.
I (now) believe that there are a couple key things to a successful naan, besides a really hot cook surface. To maintain some level of suspense (and not ruin the story), I'll get to them as their times come.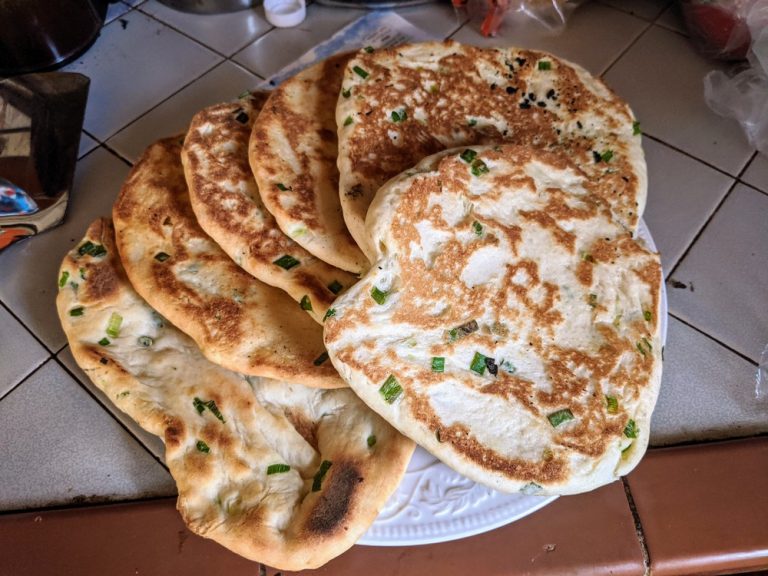 Nutrition Facts
Serving Size 1 Naan
Servings Per Container 8
---
Amount Per Serving
Calories 292
Calories from Fat 51.3
% Daily Value*
Total Carbohydrate 51.2g
17%
---
*Percent Daily Values are based on a 2,000 calorie diet. Your daily values may be higher or lower depending on your calorie needs.
---
Shopping list
Active dry yeast (not the instant stuff)
Flour
Milk
Baking soda
Baking powder
Yogurt
Butter
Garlic
Green onions (or something herby like that, also optional)
---
So, the first important thing is milk. For all these years I've been using water for this, but I think we want to use as little actual water as possible.  So, take a cup of milk and get it up to a lukewarm temperature, and add your packet of yeast to that, along with a pinch of sugar (for extra yeast food). Let that rest for 20-30 minutes while you get the rest of the stuff ready.
Meanwhile, in a mixing bowl (hopefully a stand mixer), combine 4 cups of flour, 1tsp baking soda, 1tsp baking powder, and 1/2c yogurt.  Add a pinch of salt if you like, and if you want garlicky naan, add like 6-7 cloves of crushed garlic to the mix as well.
When the yeast is ready, put in the dough hook and turn on the mixer and add it to the bowl…slowly. Yeasts are smol and delicate and – who am I kidding.  Adding slowly helps the yeast mix in better.  Let everything incorporate for a while, and the dough will start to come together. (Note: I've tried using the paddle thingy before the hook thingy and it doesn't make a difference other than one more thing to wash).  Add a bit of warm water if it seems dry- it should be sticky, but want to fall off the hook too.
Then, turn the mixer up to 'mild abuse'. If it's a KitchenAid, that'll be about '4'.  Let if flail around for  a while, perhaps 5-6 minutes until it's like moist Silly Putty [ed note: don't try to lift panels off the comics at this point, it won't work]  All the while, check regularly and add warm water or flour to keep it stiff.
Meanwhile, take another bowl and coat the inside with butter because… butter. TBH you just need something to keep the dough from sticking to the bowl too badly, but…butter.
Sometime in the next hour or so, get a cookie sheet or two and also grease them up with more butter.  Butter.
When it's all together and a good cohesive mass, tip the dough into the new bowl and cover with plastic wrap.  Put that in a warm place to sit for an hour, hour-and-a-half until it's doubled in size.  If you plan on doing this sort of thing a lot, and/or live in a cold place, I highly recommend a proofing oven.  They're pricey, but I get consistently good results no matter the weather.
Once it's risen and full and gassy, show it whose boss and punch it – peel the dough off the edges of the bowl and plant your fist in the middle to let out the gas. This is literally called "punching down the dough" and I approve.  Knead the lot back into a ball and rip it into 8-10 little balls, maybe 3-4″ in diameter.  Put them on your greasy sheets and flatten them out until they're ~1/2″ thick. Set aside and let them rest for a while, there's no rush, and a little bit of a second rise will just make 'em a bit poofier.  If you want to add any other stuff (I like those green onions I mentioned) now is a good time to work them in.  Just sprinkle on each piece of dough and knead it a few times to work it in.
**** I hope you've been reading ahead, because depending on your timing, you'll soon need to have some way of cooking them.  If you're using an oven, make sure your pizza stone is in, and turn it up to eleventy.  If you're going on the BBQ, you'll want a decent fire and either a pizza stone or a cast iron griddle. (I swear by the latter).
Once your surface is up to temp (there's actually no magic number other than "hot") work the dough bits thru in batches.  Especially on the grill they'll bake pretty quickly- turn them as soon as they've got a solid brown on the bottom, and repeat.  You may need to flip them a couple times to keep them from burning, but it'll be pretty obvious when they're done.  If you're not sure, if you pick one up and rap it with a knuckle, it'll be kinda like 'tok' and not like 'thump'.