Not-Shahi-Paneer
This is NOT shahi paneer.  That requires cashews, and maybe some other stuff that a guy like me just wouldn't have around the house on a Saturday night.  What it also isn't, is a Food Network "I love your recipe but I substituted tofu for tomatoes and my family gagged but it's awesome" comment recipe.
So what it is, is a decent approximation that at least (I think) follows the spirit of the dish.  I ain't pretending, and if/when I do it right, I'll post it separately.  It's also vegetarian (as made) so mark that on your calendar.
What this also is, is a heavy, rich, textured tomato soup, with curry and other flavors, and adorned with cheese.  Something similar could be done with chicken, but that would be a different thing for a different day.
Anyway, this serves 5-6 reasonable human beings.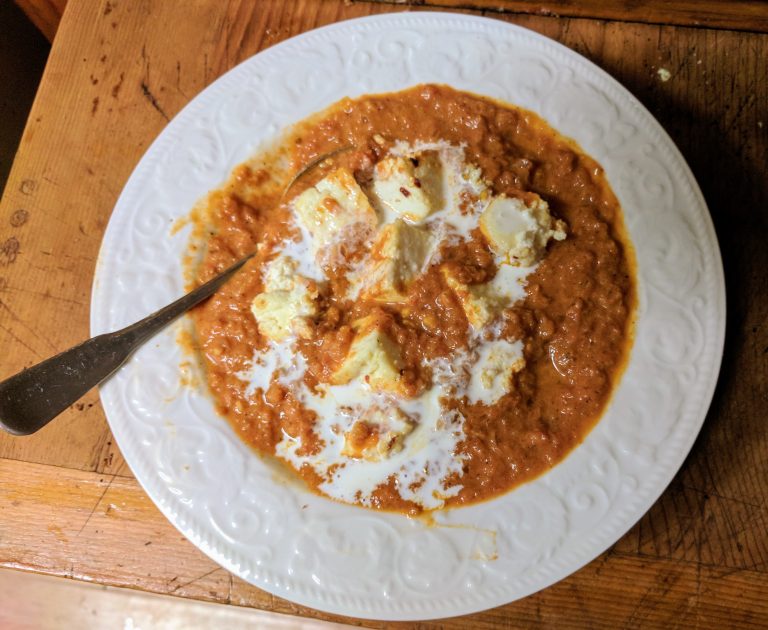 ---
Nutrition Facts
Serving Size 1 Bowl
Servings Per Container 6
---
Amount Per Serving
Calories 242
Calories from Fat 179.1
% Daily Value*
Total Carbohydrate 10.7g
4%
---
*Percent Daily Values are based on a 2,000 calorie diet. Your daily values may be higher or lower depending on your calorie needs.
Shopping list:
Tomatoes. I get canned tomatoes in actual sauce, but canned tomatoes + sauce, etc… about 32oz.
1 medium onion
4 cloves garlic
cardamom
cumin
curry powder
red chili powder
butter – half a stick to be safe
sour cream – 1/2 cup
This is a recipe in parts.  Like, you do part of the stuff, do some other stuff, do another part of the stuff… well, you get the idea.
So the first part is making the soup base.  Take a large-ish onion, and chop it up as finely as you dare.  In a large skillet, start cooking that in butter (or oil) along with about 1/2tsp cardamom until the onions start to get soft.
Meanwhile, get some tomatoes ready.  I get Cento Italian tomatoes, which come in sauce (not juice), so if you have something else, you'll need to adjust.  Tinned whole tomatoes + tinned, or crushed fresh tomatoes with stuff…  I should probably play with this before I give real alternatives, but maybe you get the idea.  But if you're using tinned tomatoes of any sort, gish them up real good and add them into the pan.  Add sauce or tomato paste as necessary to make it soup-ish.  For the Centos, I use a 32-oz can, so that's your target.
Let this simmer for around ten minutes, and let it cool to something that won't burn you.
Once it's cool, remove to a pulse blender, and, well, pulse blend until the lot has an even texture but just that.  Generally, something like in the photo above is what you want, not actual 'soup'- kinda like pesto in texture, but soupier.
While the pan is free, cube up the paneer you've already made (LGT recipe) and fry in a couple tablespoons of butter.  If your paneer isn't already seasoned, sprinkle with some pepper flakes, tarragon, and anything else that smells good.  Once the cubes are browned, take them out of the pan and onto another plate, and try to not eat all of them.
Next up is the goop.  This part is important, and moves fast, so read this next bit a couple of times to make sure you've got it.  I'll wait.
Ready?  Good.  Let's begin.  Turn the skillet fire down a hair, and melt in another tablespoon of butter.  To that add a couple (three?) cloves of minced garlic and start pushing it around the skillet.  Add in 1/4tsp red chili powder, a heavy tablespoon of Madras curry powder (I like the Sun Brand stuff.  A lot.) , a heavy 1/8tsp cumin, 1/2 tsp cardamom, and a pinch or two of pepper.  Mix that 'round until it starts to look like tar heroin.  Okay, I don't know what that looks like either, so it'll be not-burnt and kinda goopy (duh).  Turn down the heat a skosh more, and stir in 1/2c sour cream, and stir until that's all mixed.  Hopefully it's a sort of creamy light reddish-brown color.
To this, add the tomato stuff from earlier, and mix around real good, while bringing up to a simmer.  Right about now is to adjust any seasonings before it's too late.
Once we have a simmer, add in about 1/2c water, stir in, and let that simmer until it's down to something close to where you started, soupiness to your liking, but it should be thick.
Plate bowl and add in some of that fried paneer.  You'll have to wing it as to how much, but the "soup" part is pretty filling, so take that into account.  You could always put some on a plate for folks to add later I suppose.  You could also serve with naan, but I don't have a solid recipe for that, so you're on your own there.
disclosure- Amazon links get me about $0.00005 if you buy the linked thing.  I never link things I don't personally use.