Pasta e Fagioli (a fancy way to say noodles and beans)
Baby, it's cold outside!  Which means that it's time to make something hearty.  This is one of the family favorites for a cold Winter's day like today.  It's warm, filling, and sits nicely in the stomach, radiating it's goodness throughout.  And best of all, it's cheap 🙂  I call it a soup for lack of a better term – it's made like a soup, but it's really something other.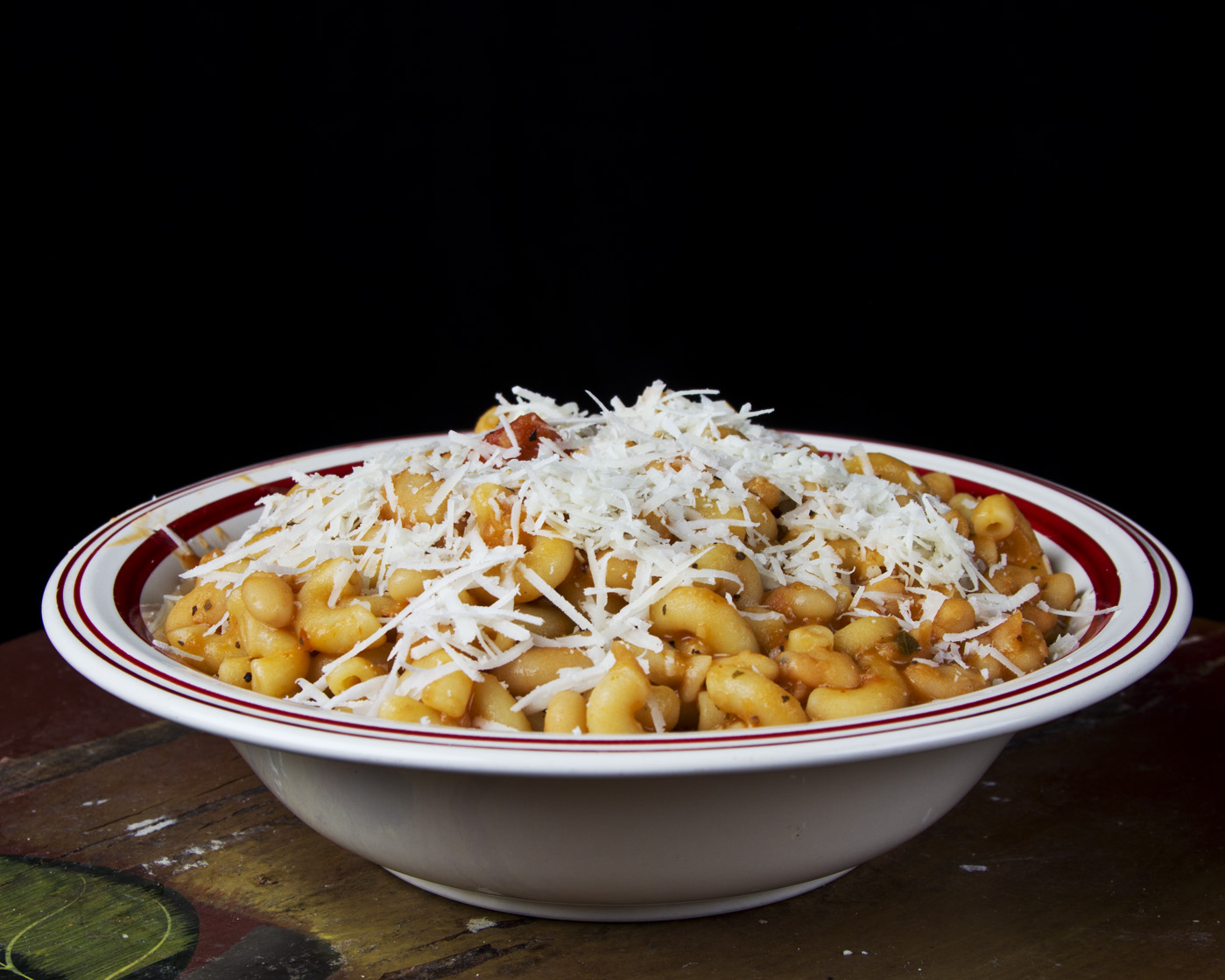 ---
Nutrition Facts
Serving Size 424g
Servings Per Container 4
---
Amount Per Serving
Calories 511
Calories from Fat 189.9
% Daily Value*
Total Carbohydrate 66.1g
22%
---
*Percent Daily Values are based on a 2,000 calorie diet. Your daily values may be higher or lower depending on your calorie needs.
I've found this consistently feeds four people, but it's infinitely scalable – I regularly make a double-batch when the kids are around.
Shopping list (serves about four)
1/2 pound White (Navy) Beans
1/2 pound Elbow Macaroni
1 quart Chicken Stock
Pasta Sauce (leftover marinara from a jar is okay)
Parmesan Cheese
Olive Oil
Dried Basil
Dried Rosemary
Pepper
Red Pepper Flakes
Garlic
To start with, take around 1/2 lb. beans and wash them thoroughly.  In the process, pick out any nasty-looking ones (splits, withered, etc) and throw them away.  Put them in a pot with 4 cups (1 quart) of chicken stock and 2 cups of cold water.  Bring them up to a simmer, and at the same time add in 1/3c olive oil, 4tbsp minced garlic, 2tsp black pepper, 1tbsp dried basil, 1tsp rosemary and about 1/2tsp red pepper flakes.  Let that simmer, uncovered, for an hour and a half.
Meanwhile, cook 1/2 pound of elbow macaroni, and when that's done, run the elbows under cold water to stop the cooking process.  First save a cup of the pasta water, just in case there's not enough liquid left in the beans.
When the beans are soft and the liquid in the pot is reduced by a little over 1/2, add in the macaroni, and 1/2c  pasta sauce.  If the mix seems dry, add a little pasta water to compensate.  Stir until incorporated, and the mix is hot.
Serve in bowls and top with Parmesan cheese.