Sharmoula – Libyan Tomato and Cucumber Salad
First of all, this is not Moroccan chermoula, which is a family of marinades that I'll explore in the future. What it is: a highly versatile salad that goes with most anything, including served with flatbread as a dip. It's easy enough to put together your kid could do it (assuming they're old enough to trust with a knife). It also easily keeps for a couple days in the fridge.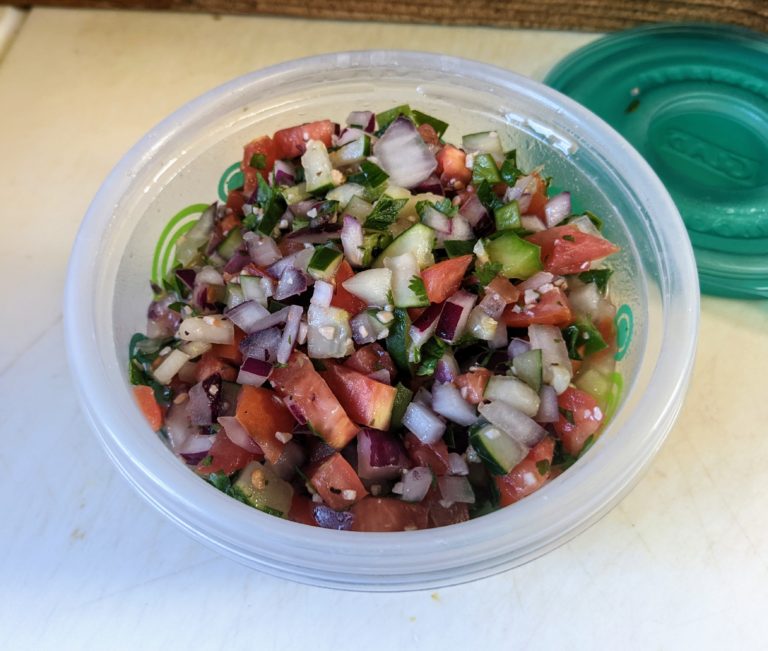 ---
Since this is pretty much a "throw everything together" recipe, I'll combine quantities with the shopping list for simplicity's sake:
1 cucumber (or 3 Persian ones)
1 pound tomatoes (romas preferred)
3/4 – 1 pound red onion
Pepper to taste – I use anaheims but you might like hotter
1 bunch cilantro
1/2 – 3/4 bunch flat parsley
2 tbsp garlic (5-6 cloves)
Pinch of pepper
Pinch of salt
Juice of 1/2 lemon (or so)
Basically, chop the cucumber, tomatoes, and onion into 1/4 inch pieces. De-seed the peppers and do the same. Mince the cilantro and parsley.
Combine everything in a bowl, mix well, and let sit for at least an hour before serving.