Afghan Showra-E-Tarkari (Meat and Vegetable Soup)
So, "shorwa" is "soup" in Pashto. In other Arabic regions, shorba, sharba, chorba, etc. "Takari" more or less means "greens", but contextually vegetables.  And this one has a little bit of everything, with a hearty feel that doesn't sit too heavily on the stomach.
Here I've used beef, but any red meat can be substituted.  I think turkey could be subbed in as well.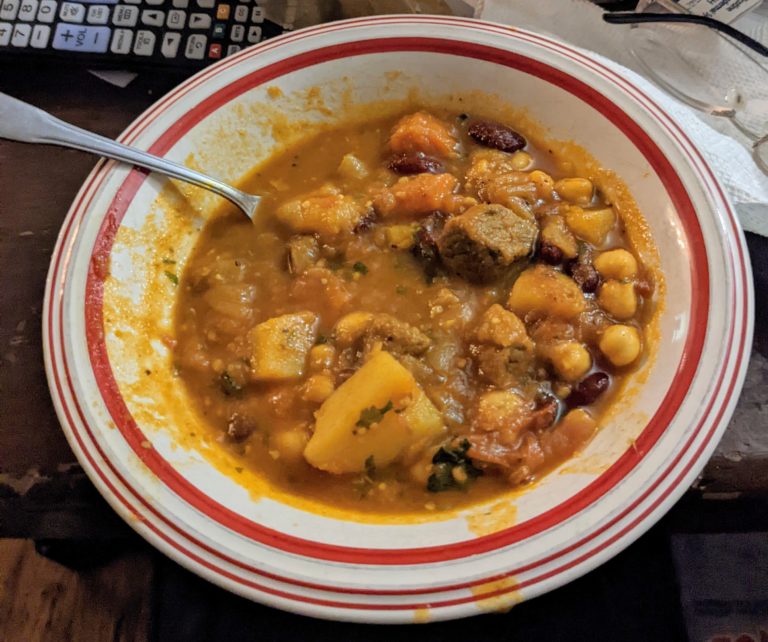 This is a 2-1/2 hour (ish) recipe, and serves six. We froze the leftovers for another night's meal.
Nutrition Facts
Serving Size 1 bowl
Servings Per Container 6
---
Amount Per Serving
Calories 397
Calories from Fat 140.4
% Daily Value*
Total Carbohydrate 34.5g
12%
---
*Percent Daily Values are based on a 2,000 calorie diet. Your daily values may be higher or lower depending on your calorie needs.
---
First up, the shopping list:
1 lb stew meat
Large yellow onion (approx. 1 lb)
1/2 pound red potatoes
1/2 pound carrots
1-1/2 pounds tomatoes (or one 28-oz can diced)
15 oz tin garbanzo beans
15 oz tin red kidney beans
Garlic
Ginger
Coriander
Cumin
Turmeric
Salt
Black pepper
6 oz tin of tomato paste
Cilantro (optional)
Oil
---
Mess in place:
Chop up the onion coarsely and set aside in bowl, along with 1 tbsp minced garlic and 1 tbsp minced ginger
In a second (small) bowl, combine 1 tbsp coriander, 1/2 tbsp cumin, 1/2 tbsp turmeric, 2 tsp pepper, and a pinch of salt
In a third bowl, chop the potatoes, carrots, and tomatoes into roughly 1/2″ chunks  *note: if using tinned tomatoes don't drain them.
Cube the meat into 1/2″ chunks
To begin, heat up a karahi or 4-6 qt dutch oven with a couple tablespoons of oil, and stir-fry the meat until browned. Then add the onions, garlic, and ginger.
Once the onions are soft, add in the bowl of spices along with 3 tbsp tomato paste and stir until the meat and onions are coated plus 2 minutes further cooking.
Next, add in the tomatoes, carrots, and potatoes. Cover with water plus 1 inch, bring to a boil, then simmer heavily for about an hour. Add small amounts of water if necessary.
Now drain and add the tins of kidney beans and garbanzo beans. Bring back to a simmer and cook for an hour or so, at least until the garbanzos are soft.  Add water as necessary to keep it soupy.
Turn off the heat and add 1/2 cup chopped cilantro. Stir that in and let stand for 5-10 minutes to get down to eating temperature.
Serve in bowls. Optionally also serve flatbread, but there's probably enough carbs for one day anyway.