Shakshuka, Libyan-Style
Shakshuka ~ eggs poached in a spicy tomato sauce ~ is kind of a universal dish across the Middle East and Northern Africa these days, with roots in Libya or Tunisia (depending on who you ask) and Morocco tries to sneak in once in a while. It's extremely popular in Israel where Dr Shakshuka (link) in Tel Aviv is somewhat of a foodie mecca.  Meanwhile in Italy it's been imported as "uova in purgatorio" (eggs in purgatory) in a marinara sauce.
So one of the fun things is that there are about as many recipes as there are people.  Here I've gone with a pretty straight-forward dish to eat as-is or build on as you like.  For example, adding a bell pepper of some color is very popular. I'm also using harissa paste, which is a North African roasted pepper paste that's pretty easily obtainable. It gives a combination of sweet and heat that makes it useful for all manner of things, such as a BBQ rub ~ there are also multiple heat levels depending on your tolerance.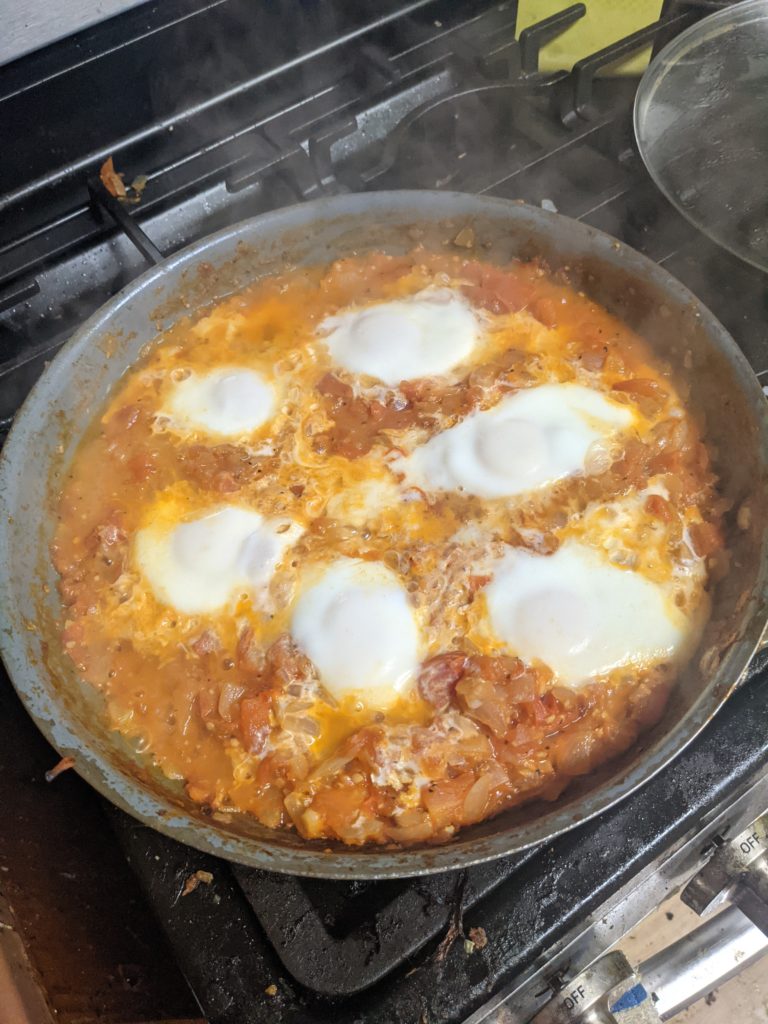 Nutrition Facts
Serving Size 2 eggs
Servings Per Container 4
---
Amount Per Serving
Calories 224
Calories from Fat 119.7
% Daily Value*
Total Carbohydrate 14.8g
5%
---
*Percent Daily Values are based on a 2,000 calorie diet. Your daily values may be higher or lower depending on your calorie needs.
---
Shopping List:
Eggs, 1-2 per person*
1 large yellow onion (approx. 1 lb)
2 pounds tomatoes
Garlic
Harissa pepper sauce
Cumin
Pepper
Oil
* for a dinner meal, two eggs per person is a good number. For breakfast it's more common to serve just one egg.
** optional: this is a basic recipe so feel free to tart it up. Adding a diced red bell pepper is common, and saute them along with the onions.
To start, in separate bowls chop the onions and tomatoes. The finer the chopping, the smoother the sauce, and it's a bit of a personal preference (and patience).
Next, saute the onions and 2 tbsp garlic in oil until the onions are soft and a bit mushy ~ should take 5-10 minutes. Then add in the tomatoes and spices:
2 tbsp harissa
1 tsp cumin
1 tsp pepper
Add 1/4c water if necessary and simmer for about 20 minutes, adding small amounts of water if the sauce starts to dry out. When the tomatoes are mostly broken down, the sauce should be thick like a marinara sauce.
Now make divots in the sauce, one per egg. Crack the eggs into the divots, keeping the yolks intact.  Cover and simmer until the egg whites are done, which should be around 5 minutes, but keep an eye on it.
Traditionally this would be served hot in the pan, but we dole out the eggs and sauce in the kitchen. In a flat bowl or plate, add a layer of sauce and nestle the eggs on top.