Bacon-Crusted Macaroni and Cheese
This one's a rich meal, but it's got two of the major food groups – bacon and cheese.  It's a rich dish, and can stand on it's own or be used as a side.  For the latter, you definitely want to cut this one in half unless you're feeding a crowd.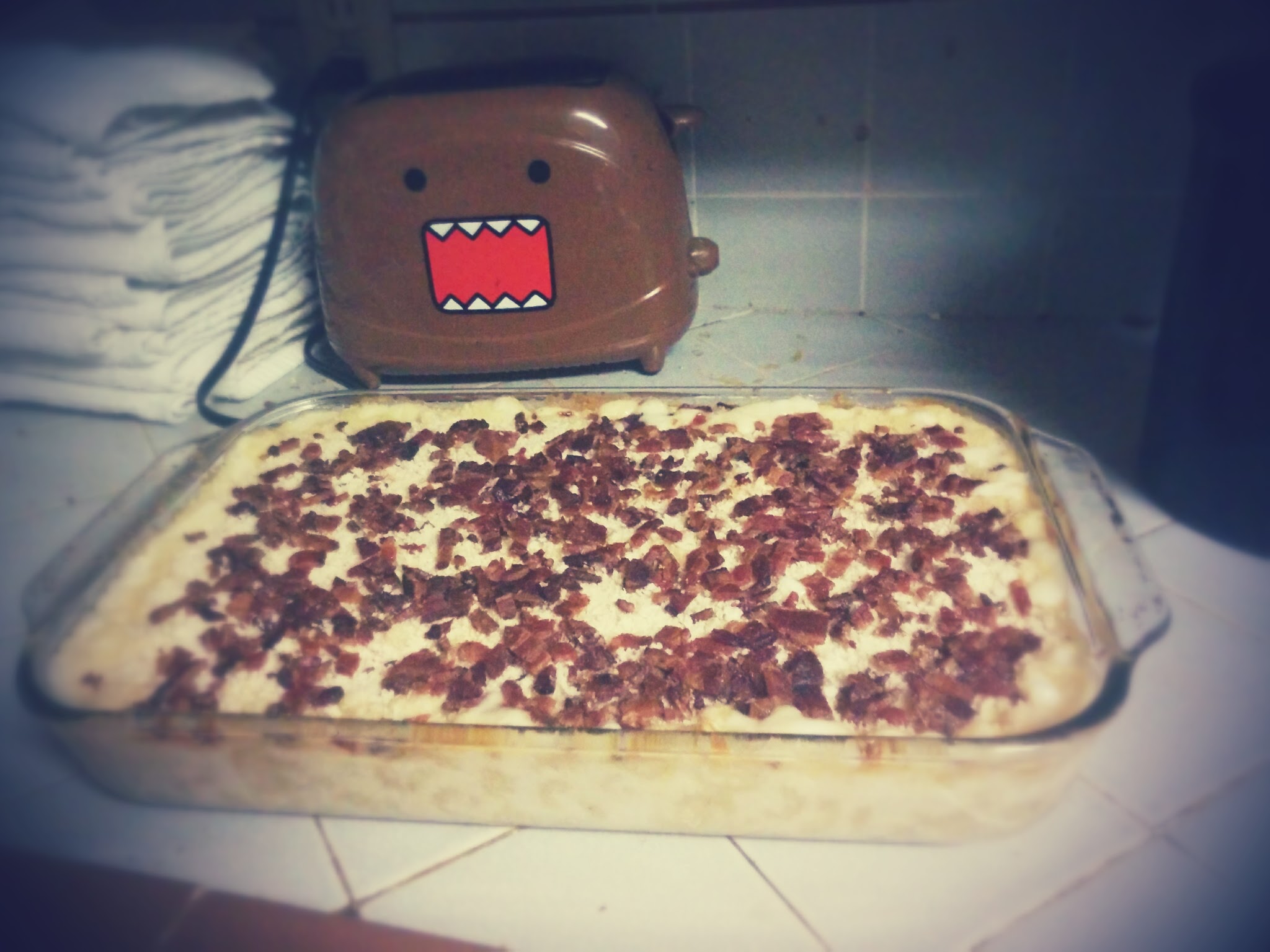 Anyway, the idea is simple – we're going to do a modified mornay sauce, which is a modified bechamel sauce, which is butter, milk, and a little nutmeg (with flour for thickening) – but we're going to add cheese.  Not too complicated, right?  This one serves 8 pretty easily.
Nutrition Facts
Serving Size 452g
Servings Per Container 8
---
Amount Per Serving
Calories 1035
Calories from Fat 452.7
% Daily Value*
Total Carbohydrate 93.7g
31%
---
*Percent Daily Values are based on a 2,000 calorie diet. Your daily values may be higher or lower depending on your calorie needs.
Shopping list:
1/4 lb butter (one stick)
Panko
3/4 lb bacon
16oz macaroni noodles
1tsp nutmeg
pinch salt
pinch pepper
2 cups flour
8 cups milk
12 oz Gruyere (best) or Fontina (good)
So first off, cook a pound of macaroni.  You can do this well in advance if you like, but either way, as soon as the noodles are done, rinse in cold water to stop the cooking process, and set aside.  I usually do it in advance so I'm never caught waiting for the water to boil (nothing slows down dinner more than watching a pot).
Set the oven to 350F.  Conveniently, you'll need this both for the bacon and the casserole.  So do it early.
First, Bacon.  You'll need 3/4 pounds or so, and they need to be done enough so they're crumbly (you can do this ahead too).  If you cook your bacon in a pan, do it to it, and if in the oven, somewhere around 10 minutes a side (at 350F, how convenient) should do it.  When the bacon is nearly crunchy, take it out and let it sit and finish.
Second, prepare ingredients.  The No.1 thing is cheese.  You're going to want 12oz – Gruyere is best, but Fontina will do in a pinch.  A coarse grate is fine – all we're looking to do is make it easy to melt.  Grate it up, and set it aside in a bowl. Other than that, get your nutmeg, salt, pepper, and especially your flour handy.
Now, we have noodles, and we have Bacon, but we have no Sauce.  A Bechamel topped with bacon is pretty tasty – if you haven't met the guys at Ordinary Swedish Meal Time  I recommend giving them a watch.  FWIW I've actually made their recipe – It's pretty awesome.  Anyway, I digress.  We have to start with that Bechamel thing before we move on to the Mornay and on to awesome.
Bechamel sounds French (which it is) and scary (which it isn't) so before you surrender, try it.  Take a stick of butter and put it in a saucepan over medium-high heat until it starts to foam.  Slowly add a tablespoon of flour at a time and stir constantly.  I can't say that enough.  Once that's got a nice light-brown color, season with a pinch of salt 'n' pepper and a heavy teaspoon of nutmeg. Once it's smooth start slowly adding milk, still stirring all the while  Note: As soon as you start adding the contents of the pan will congeal into a sticky mess.  This is expected.  Have faith, keep adding milk, and above all keep stirring.   Continue until the sauce is smooth again, and add a little more milk for good measure.  You'll want it thin – this is going into the oven after all – and once about 8 or so cups of milk are mixed in thoroughly you're probably good  You might want to err on the side of thin the first time just to be safe though. It won't ruin the dish.
Next, add cheese in bunches and let each batch melt in.  Don't worry, it can take it.
Once the cheese is melted and the mix is smooth, coat the bottom of a 9×13 casserole with canola oil, add the macaroni, and spread the mornay (for lack of a better name) evenly across, and mix through.
Smooth the top and add a layer of panko (bread crumbs).  On top of that, add a layer of crumbled bacon.
Cover with foil and bake for about 20 minutes.  Remove the foil and let go for another 10 so the bread crumbs start to toast.
Let sit before serving, and serve with…well, anything, really.
Update – I've modified this based on some experimentation.  It was coming out far too dry for my taste the more I made it.  Basically, I doubled the sauce, and added more bacon since more really does make a difference.