Beef Shawarma (grilled)
This isn't a real shawarma, because I don't have one of those nifty vertical rotisseries.  This is a fairly common affliction among cooks, so we try and make do with what we have.   This version is straight-up grilled, though I may try a horizontal rotisserie version next time down the road, which I think will mean some marinade changes.  But, let's not talk about things to be, when we have before us a delectable Middle-Eastern wrap.  I'll say it came out closest to Lebanese (which is what I wanted) as it's very close to what the take-out place up the road's tastes like.
Anyway, this serves about 5-6 people, but is easily expandable without adding more marinade.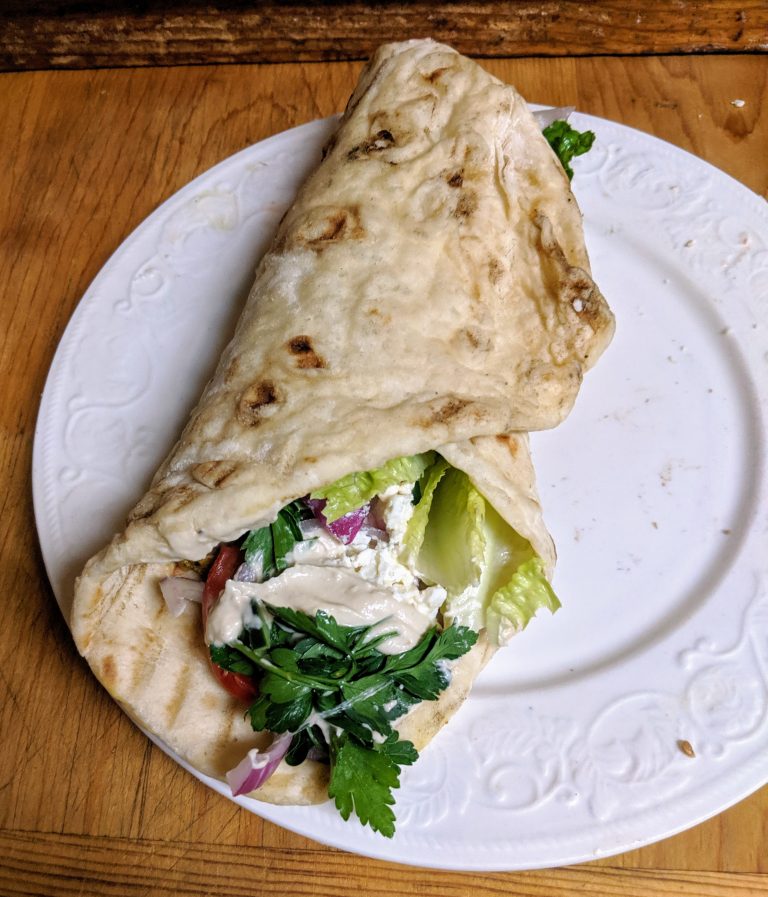 ---
Nutrition Facts
Serving Size 1 Pita
Servings Per Container 6
---
Amount Per Serving
Calories 654
Calories from Fat 268.2
% Daily Value*
Total Carbohydrate 30.2g
10%
---
*Percent Daily Values are based on a 2,000 calorie diet. Your daily values may be higher or lower depending on your calorie needs.
Note: Nutrition data based on 1 whole pita per person
Shopping List:
2 lbs steak ~ nothing fancy but around 1/2″ thick
2 lemons (approx. 1/4 c juice)
olive oil
white vinegar
garlic
medium yellow onion
salt
feta cheese
2-3 roma tomatoes
cucumber
romaine lettuce
fresh parsley
red onion
lavash (flatbread), thought pita works too (in the pocket or not).  It's also available at most Middle-Eastern markets.
---
There's not a lot of actual cooking time going on here, but there's a lot of waiting around waiting for things to marinate.  If you're going to make your own bread, start the marinating before the bread because the former needs more time.  You can also start the marinade overnight, but I'd reduce the amount of lemon juice to a couple of tablespoons, lest the meat get overdone (the acids in the lemon juice help the marinade work faster).  But, don't slice the meat just yet, we'll be doing that later.
So, for the marinade, combine in a bowl:
1/4 cup olive oil
something close to 1/4 cup lemon juice (basically, two lemons)
1/8 cup vinegar (so it doesn't get too lemon-y)
one batch of shawarma seasoning
4-5 cloves garlic
1/2 a yellow onion, grated of chopped finely
a pinch of salt.
Pour the marinade into a ziploc bag and add in the meat, but first poke holes in the meat with a fork to get the marinade inside.  Knead thoroughly and set aside in the fridge for two-three hours.
While you're waiting, it's a good time to make the lavash (if you desire) and tahini sauce.
Before you start grilling, though, get all the veg ready.  Slice and halve enough cucumber for everyone.  Cut up the red onion so it's in strips, likewise the tomatoes.  Chop the parsley coarsely so the leaves can be had.
Grill per normal, and make sure you take the steaks off a bit early.  They'll need to rest for a minute, meaning they'll keep cooking.  If your lavash isn't warm, it's a good time to fix that.  A few seconds on the grill (not enough to actually cook) would do nicely.
Once the meat isn't 3rd-degree-burn hot, slice as thinly as possible.  Real shawarma is shaved off a rotisserie meat popsicle and the closer to that, the better.  Assemble with all the goods ~ meat, veg, tahini, feta, and serve, or unleash the horde if you do family style.