Beef Shish Kebabs
Yay!  Meat on a stick!  Except I don't serve it on a stick.  Served here with a home-made lavash and a cucumber-mint dip.  It's one of the ultimate finger-foods after pizza: tear off a bit of bread, grab some meat and/or veg, dredge in the dip, and so…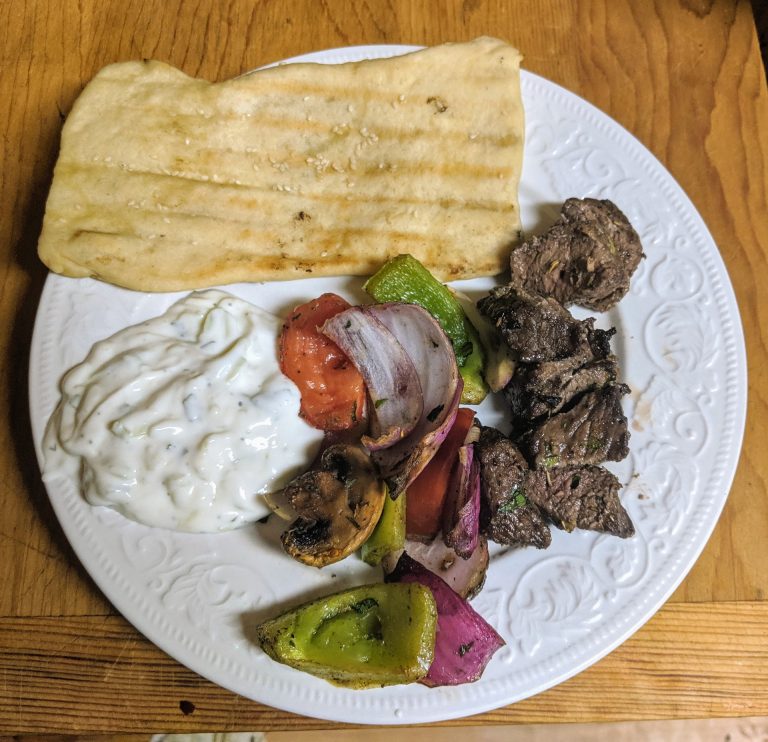 I do these with an attachment for my rotisserie, but they can be done on the grill with a little more care.
---
I created separate marinades for the beef and veg, partially because I wanted to let the roasted vegetable flavors shine, and also because all that lemon juice would sog the veg out mightily.
Note: nutritional info does not include bread.
Nutrition Facts
Serving Size
Servings Per Container 6
---
Amount Per Serving
Calories 476
Calories from Fat 241.2
% Daily Value*
Total Carbohydrate 11.8g
4%
---
*Percent Daily Values are based on a 2,000 calorie diet. Your daily values may be higher or lower depending on your calorie needs.
Shopping List:
Beef

2 lbs thick (3/4″ or so) steak
Olive oil
Two lemons
One bunch of cilantro
Garlic
Cumin
Paprika
Pepper
Rosemary (dried)

Vegetables

1 Red onion
1 Green or red pepper
Several roma tomatoes
Button mushrooms
Olive oil
lemon
cilantro (fresh)
pepper
---
As with everything, start the marinades first.  They want to go the longest, and are also the most forgiving when it comes to time.
So for the meat: Cube up the steak.  If the steaks are less than 3/4″ thick, that's okay, cut them up so they're about that on the sides.  Set aside for a minute.
In a mixing bowl, combine:
1/4 cup olive oil
the juice of a lemon (around 1/8 cup)
4-5 cloves of garlic, minced or crushed
1 tsp cumin
1 tsp paprika
1 tsp pepper
1 tsp dried rosemary
1/4 cup chopped fresh cilantro
Stir until combined, then add in the meat.  Toss everything by hand to get the meat all coated evenly, then dump everything into a ziploc bag.  Force most of the air out of the bag and rest in the fridge for at least 2 hours, kneading the contents occasionally.
For the vegetables: cut up the veggies coarsely, with an eye towards them needing to handle a spear being stuck through them.  I try to keep the same ~1/2″-3/4″ dimensions as the meat.  The tomatoes I usually just quarter.
In a mixing bowl combine:
1/4 cup olive oil
1-2 tbsp lemon juice
1 tsp pepper
2 tbsp chopped cilantro
mix, and add to a ziploc bag along with the veggies.  Force most of the air out the bag, and give it a bit of a squish to get everything coated evenly.  Store in the fridge next to the marinading meat.
---
Go ahead and get the rest of your stuff together, particularly if you're using a dipping-type sauce so that they have time to rest as well.
Now, I put the meat and veggies on separate skewers because they can cook at different rates.  Surprisingly, it seems that the meat usually wants to come off before the veggies are done.  This means serving on a plate, but my rotisserie skewers are too long to be practical anyway.
If you're grilling, you may want to consider this, or at least serve the meat on skewers and veggie on the plate.  Also, if you're grilling, use metal, not bamboo skewers.  You could soak bamboo for three days, and they'd still catch fire, which is contra-indicated and also not fun.
One quick note if you're also grilling lavash.  I have a Weber kettle grill and what I do is start a medium-ish fire with the grate on but the rotisserie ring off.  Once the lavash is done, I remove the grate, install the ring, and add more charcoal and let that come up to temperature before I get the main event started.
Once they're on the rotisserie, let 'er rip and keep an eye on all the stuff.  Cooking will take about ten minutes or so.
For serving, plate and go, or if you like, put all the meat and veg on a big plate in the middle of the table and let everyone have at it.  We use the lavash as spoons.