Cajun' Grillin' (grilling seasoning)
So, I'm going to tease you with a pretty bacon and chicken sammich, but that's not actually what I'm going to talk about.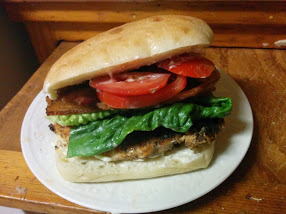 See, the sammich is plenty tasty, but it's a chicken breast, lettuce, tomato, bacon on a roll.  Nothing fancy on the surface.  It's what I did to the chicken that really matters.
---
-no shopping list this time since it's all right there.
So today, I'd like to talk about seasonings.  There are dry rubs, wet rubs, rub you the wrong way…and so on.  This particular thing is a dry rub.  Emeril's got his 'bam!' Zatarain's got their thing (which is pretty good by the way) and pretty much every Cajun chef has their secret recipe.  I'm admittedly not Cajun (even if I accidentally affect the accent sometimes) but I've got mine. It's an amalgamation of smells and flavor memories of meals gone by, and I reserve the right to tweak it (but I'll update here, I promise) if I can make it even better.
This is what I dry-rubbed on the BBQ chicken in the photo above. It's pretty simple, but I try and keep it so unless I really, really have to.
So without any fanfare, in a bowl,  (this makes enough to season about six chicken breasts, so adjust if you're making more or less, or trying to make some seriously awesome crawdads):
2 tsp salt
3tsp chili powder
1/4 tsp cayenne (adjust for your preferred heat)
2 tsp pepper
2 tsp garlic powder
2 tsp onion powder
1/2 tsp celery salt
1/2 tsp allspice
Believe it or not, that's it.  You can tweak the amounts to get what's right for your palate, but I'd recommend you start here and see where it goes.  This mix smells good in the bowl, but it absolutely wakes up like you'd never believe once fire is involved.