La-La-La-La-La-Lasagna
For some reason it seems like a lot of people fear lasagna.  I have some theories, but I'll reserve them for a minute.
Lasagna is, at the root, pretty simple.  There are variations on how many layers, and the like, but really it comes down to a good sauce and making sure everything is spread evenly.  But, don't worry about the decorum, because whatever you do is going to be wrong to someone.  I mean, take Southern Italy, New York, and New Jersey just for starters.  Every hamily has one.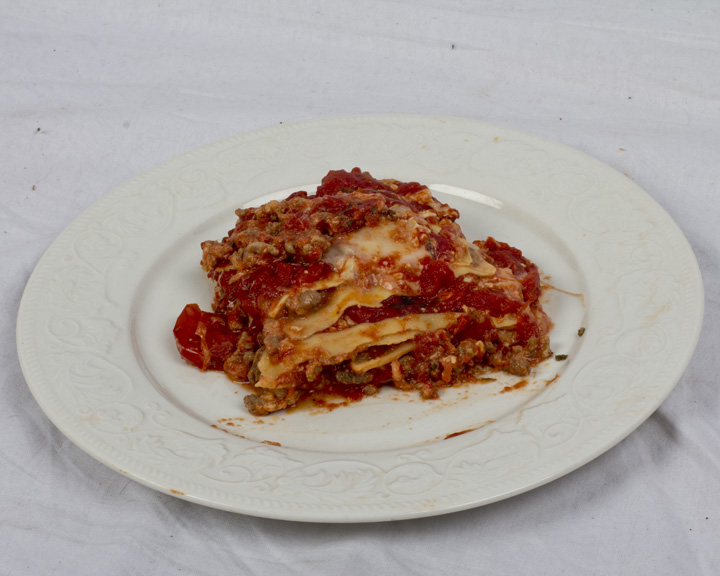 ---
Nutrition Facts
Serving Size 1 square
Servings Per Container 8
---
Amount Per Serving
Calories 610
Calories from Fat 239.4
% Daily Value*
Total Carbohydrate 53.4g
18%
---
*Percent Daily Values are based on a 2,000 calorie diet. Your daily values may be higher or lower depending on your calorie needs.
Note: Nutrition data is based on generic jarred marinara sauce
Shopping List:
1 lb ground beef (or 1/2 pork sausage)
8 oz ricotta cheese
4 cups mozzarella
1/4 cup parmesan cheese
2.5 jars marinara sauce (about 6 cups) or make your own
2 eggs
So, here's what I do.  A basic five-layer lasagna but all home-style.
First thing first, get some sauce going.  I use a marinara loosely based on my pasta sauce recipe here but if you have a favorite go for it. I use up somewhere around 64oz of tomatoes, so whether making from scratch or using store bought (I won't judge, I've done it) plan accordingly.
At the same time, set the oven for 375 so it has time to heat up.
While that's simmering, brown the meat.  I usually just use ground beef, but occasionally will do 1/2 Italian pork sausage if I'm in the mood.
Next comes the cheese, and there are two (actually three) kinds.  The first, and probably most important, is the cheese mix.  In a mixing bowl, combine 15oz ricotta, two cups mozzarella, and 1/4 cup (ish) parmesan along with two eggs.  Mix that until it's homogenized and set aside.
At the same time, make sure you have two-ish cups of mozzarella and a respectable amount of Parmesan set aside as well.
The sauce is always the gating factor.  Never rush it, and let it guide you.
So, when everything is ready, everything happens all at once.  Personally, I hate it when life does that to me, by lasagna is always an exception.  Because lasagna.
Take a 9×13 dish, coat the bottom with canola oil spray, and follow that up with a generous ladle of sauce.  Spread it around evenly and lay down a layer of noodles.
This is the part where I realize that I never mentioned no-bake noodles.  A couple of companies make them, but Barilla is best IMO.
Anyway, a layer of sauce for a base, and a layer of noodles.  On top of that throw down half the meat you made, 1/2 of that funky cheese mix, and a ladle (or two depending) of sauce.  Use the back-side of the ladle to get everything smooth and even in the underlayment.  The noodle sheets will move around but you'll be surprised at how quickly they wander back into place.
Then, another layer of noodles, and a cup or so of Mozzarella, plus enough sauce to get everything laid down evenly.
And, another layer of noodles, meat,last half cheese mix, and sauce as before.  Smoosh it around and get everything level again.
One more layer of noodles and we're at the top.  Use the rest of the Mozzarella, the rest of the sauce, and give a generous sprinkling of Parm.  Cover that with foil and toss it into the oven for 30 minutes.
When the alarm wakes you up, pull the pan out, remove the foil, and put back in the oven for 5-7 minutes to brown the top.  Let rest for another ten minutes and serve.
That's all there is, really.