Chapli Kabob Burgers
Chapli kabobs are a popular street food in Pakistan. Disc-shaped and fried, they make for a great walk-around food.  Pomegranate seeds are usually added for a little extra zip, but they're not 100% required to make a tasty kabob.
Somewhere along the way a genius decided to make a burger out of one. It's become popular enough that the McDonald's there has a chicken chapli kabob on their menu. As such, I can't really tell if beef or chicken is more popular, so I went with beef simply by personal preference.  One of the main differences between the kabobs and the burgers is that the kabobs have tomatoes in, and the burgers have the tomatoes on, to make better burger textures.
This recipe makes eight 5oz burgers or six giant ones. Extra burgers can be frozen, uncooked, and saved for later.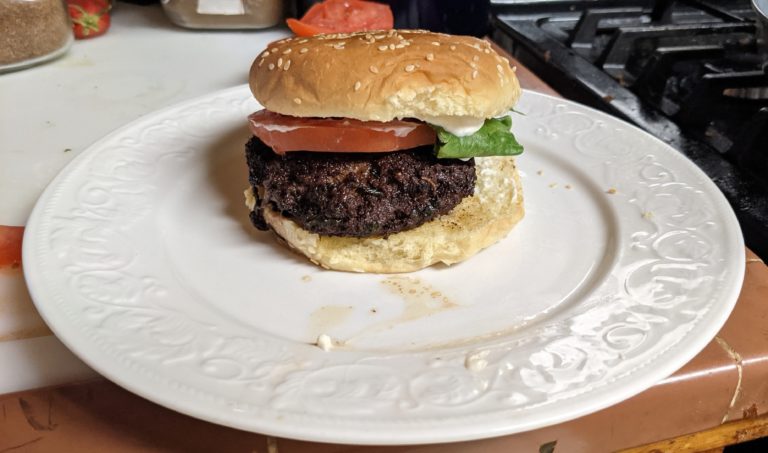 Nutrition Facts
Serving Size 1 Burger
Servings Per Container 8
---
Amount Per Serving
Calories 448
Calories from Fat 105.3
% Daily Value*
Total Carbohydrate 41.1g
14%
---
*Percent Daily Values are based on a 2,000 calorie diet. Your daily values may be higher or lower depending on your calorie needs.
---
For kabobs, everything is thrown together, so it's easiest to just add amounts to the shopping list. In addition to the kabob ingredients, you'll need a buns, a medium tomato, and either romaine or iceberg lettuce.
2 lbs ground beef, 80% lean
1/2 cup green onions, white and green parts
1/4 cup fresh cilantro
3 tbsp green chili, such as anaheim or jalapeno
2 tbsp pomegranate seeds, dried or molasses preferred (note: I had to use fresh ones due to local availability)
1 tbsp ginger, peeled
1 tbsp garlic
1 tbsp fresh mint
1 tbsp red chili powder
1/2 tbsp coriander
1/2 tbsp cumin
1 tsp black pepper
1 egg, beaten
1/4 cup cornmeal
To start with, put the ground beef in a bowl and start mincing all the ingredients, adding to the bowl as you go. Then add the dry spices, cornmeal, and beaten egg.   Work the mixture like dough until everything is incorporated evenly, but don't work it any more than necessary or the meat will break down and won't stick together as well.
Put the bowl in the refrigerator for at least 1/2 hour to let the flavors come together.  The chilled mixture also makes it easier to form patties.
To make the patties, form them into discs approximately bun-sized. They'll shrink a bit during cooking.  Personally I make burgers often enough it's worth having a burger press (link) that makes life a helluva lot easier. As you make them, put them on a parchment paper lined cookie sheet, or large plate. If necessary they can be stacked (carefully) with parchment paper between each patty. Then put them back in the fridge for another half hour.
To cook, heat up oil in a skillet approximately 1/2 the thickness of the patties. This will help keep the edges from getting too crunchy.
Serve on a bun, topped with a slice of tomato and lettuce. There's enough flavor and juiciness that other condiments aren't necessary.