Kik Alicha (Ethiopian Split-pea Porridge)
Well, I call it 'porridge' anyway. It's textured more like split pea soup, but it's thick and served over rice. Flavor-wise, it's rich and creamy but on the subtle side, so the peas and rice are free to do their things as well.
A lot of East African cuisine is vegetarian, with meat mostly being brought out on special occasions, so legumes tend to take that place at the table.  Rice has not historically been a thing until 40 years or so ago, but as it's a cheap filler it's been finding it's way into even traditional meals. I originally made this to serve over rice, but even without it's plenty of food for 4 people.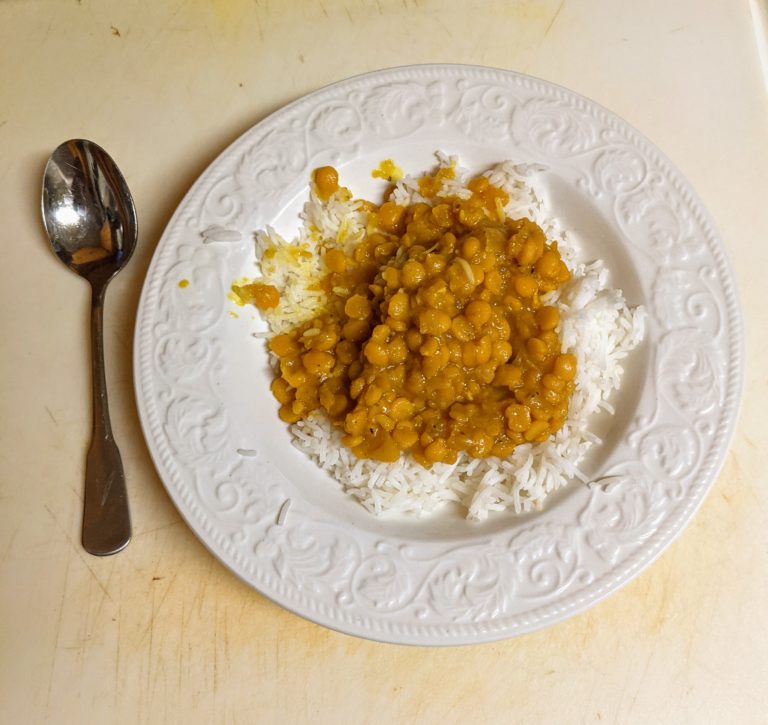 Prep time: 10 minutes not counting soaking the peas.
Cooking time: a little over an hour
Nutrition Facts
Serving Size 1 bowl
Servings Per Container 4
---
Amount Per Serving
Calories 517
Calories from Fat 82.8
% Daily Value*
Total Carbohydrate 93.6g
31%
---
*Percent Daily Values are based on a 2,000 calorie diet. Your daily values may be higher or lower depending on your calorie needs.
---
Shopping List:
2 cups yellow split peas
1 large red onion (approx 1 pound)
Garlic
Ginger
3 tbsp Niter Kibbeh (recipe) or clarified butter (ghee)**
Turmeric
Ground cardamom
Black pepper
Salt
2 cups (dry) Basmati rice (optional)
**to make this vegan, substitute olive oil
First things first, soak the peas for at least two hours, but longer (up to overnight) is better. Keep an eye on them and if they absorb all the water, add more to keep them covered.
Prep work:
Mince the onions slightly larger than the peas.
Separately, mince 2 tbsp garlic and 2 tbsp ginger and set aside.
Combine the dry spices:

1 tsp turmeric,
1/2 tsp cardamom,
1/2 tsp black pepper
pinch of salt.
To start cooking, set the stove to medium-low and add the onions to the pot. Cook, stirring regularly for 15-30 minutes until the onions get mushy. Be careful to not brown the onions or the flavors will be all wrong.
Next, turn the stove to medium and melt in 3 tbsp of niter kibbeh* along with the ginger and garlic. Saute for a few minutes until the garlic aroma starts to come out.
Now, add in the spices and saute for a minute or two, stirring constantly until the onions are coated.
Rinse the spit peas and add them to the pot. Pour in enough water to cover plus 1/2 inch or so. Bring to a boil, then drop back to a heavy simmer.  Keep simmering for about an hour (plus or minus) until the peas get slightly mushy and not watery.  Keep an eye on it and add water as necessary, but only sparingly.  It's worth remembering that an hour is -ish, particularly the shorter you soak the peas the longer they can take to cook.
Anyway, If you're adding rice, about 10 minutes before you think it'll be done, start 2 cups of rice in the machine. Water-wise, basmati is one line in the rice maker per cup of rice.
Serve in bowls, with the porridge topping off the rice (if used)
* Niter kibbeh brings more flavors to the table, but it'll be okay without. Clarified butter is the second choice as regular butter can burn in the pan if you're not careful.  The niter kibbeh will keep almost indefinitely in a refrigerated sealed container, and once you have some you'll find yourself using it a lot.