Easy-bake Chicken
Weeknights can be the worst for cooking.  An exceptionally long day at the office (and really, who doesn't have a lot of those these days) and the idea of spending any time in the kitchen just sounds like a nightmare.  You know those nights.  If it's just you and your SO you wonder if it's worth cooking at all.
So here's a thing that is so ridiculously easy, I'd almost be ashamed of it if it didn't taste so good.  Anyway, it's a hearty 35-minute meal, and serves about six – any more and you'd need a second 9×13″ casserole dish.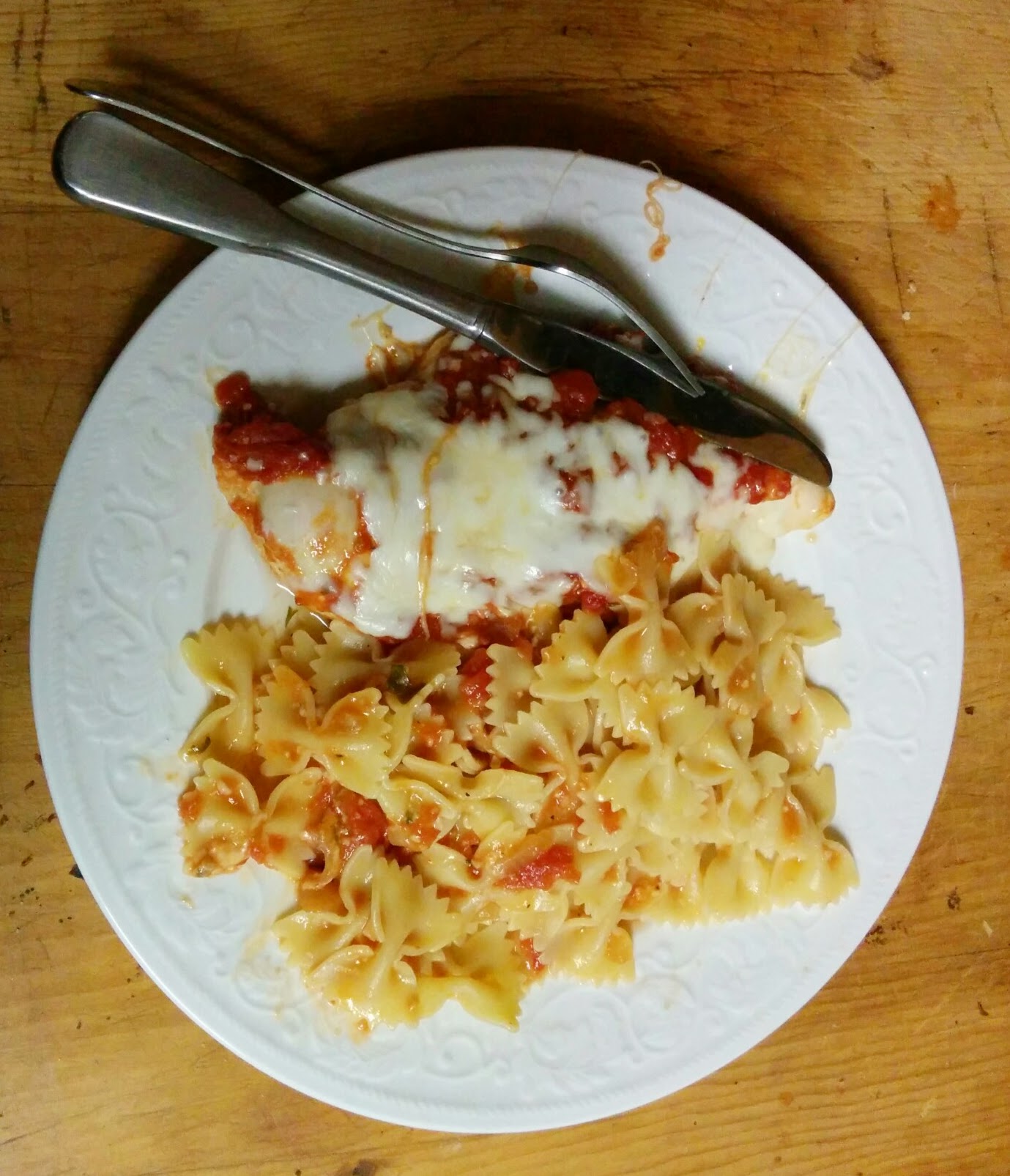 Nutrition Facts
Serving Size 368
Servings Per Container 6
---
Amount Per Serving
Calories 641
Calories from Fat 126.9
% Daily Value*
Total Carbohydrate 73g
24%
---
*Percent Daily Values are based on a 2,000 calorie diet. Your daily values may be higher or lower depending on your calorie needs.
Shopping List:
Thin-slice boneless chicken breast, one per person (or "regular" breasts sliced in half)
About 24 ounces of pasta sauce (one jar)
~2 cups mozzarella cheese
~1/4 cup Parmesan Cheese
Some kind of short pasta.  Say, farfalle or penne.  One pound for six, scaled back accordingly
Okay, so I do have to couch this a bit.  When I make pasta sauce (recipe) to have leftovers.  If you put the sauce in an old pasta jar hot, it self-seals and lasts a while.  If I don't do that, jar sauce is okay – Could make some from scratch but then we're adding work.
Anyway, here's the recipe in it's entirety: Heat the oven to 350F and start a pot of water for pasta. Then, coat a casserole with non-stick spray.
In that, put one chicken breast per person (assuming thin-cut breasts. If modern full-sized chicken breasts slice them long-ways and on half per person).
Cover the chicken breasts with sauce and set the timer for 25 minutes.
With five minutes left on the timer, start the pasta. When the timer goes off, pull the casserole out and cover the chicken with mozzarella and a bit of Parmesan cheese, and return to the oven
Five minutes later, both the chicken and pasta are done.  Lift out the chicken and plate.  Put the pasta in a bowl, and here's the trick – dump the entire contents of the casserole into the pasta and toss.
That's it, really.  Thirty-five minutes of cooking, and about five minutes of actual work.