Murghi Aloo ka Salan (Pakistani Chicken and Potato Curry)
I love Pakistani foods. They tend to combine the best of Indian sub-continent flavors with western (Arabic) influences. And heat (at least not for heat's sake) is much more manageable for the Western palate. At home, it seems Kat lost a lot of heat tolerance after a Covid bout, so staying on the mild side is rather a must. Anyway, here's a great combination of chicken and potatoes in a not-too-tomatoey curry base.
One of the new (to me) techniques I'm adding to my repertoire is "dry masala", that is, frying whole spices at the beginning of the dish. I think that despite the relatively small amount of spice it creates a vibrant base to work from. It's definitely not for every dish, and one could possibly substitute 1/2 to 1 tsp of ground spices and get something close enough. Most of the whole spices can be found at the local grocery store, except the black cardamom. which is a local Arabic market or on-line item. As noted below, decortitaded (removed from the hull) seeds are okay.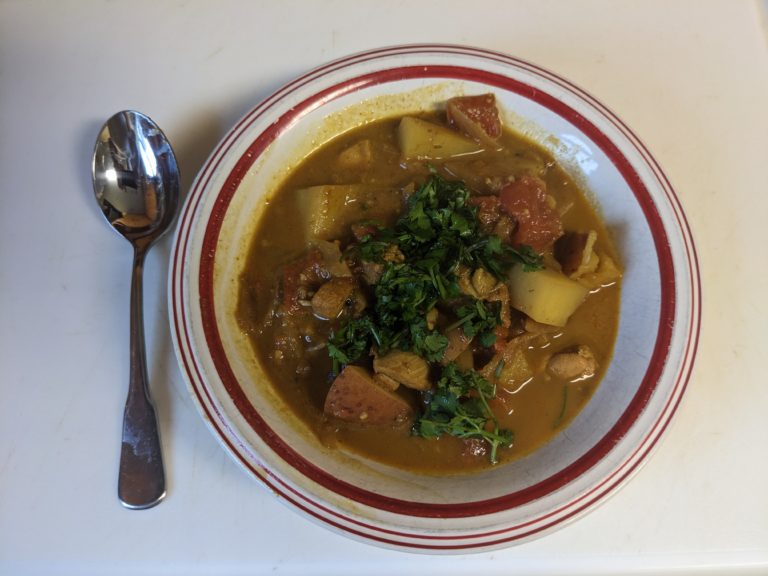 Serves: 4-6
Prep time: 30 minutes
Cook time: 1 hour
---
Shopping List:
1 pound chicken thighs (bone-in is okay)
1 large onion (approx 1 pound)
3-4 smaller red or brown potatoes (approx 1 pound)
3-4 Roma tomatoes (approx 1 pound)
Ginger
Garlic
Red chili powder
Turmeric
Coriander (ground)
Green chiles to heat preference
Yogurt ~ full-fat, Persian if you can find it.
Salt (to taste)
Cilantro (for garnish)
Dry masala

Black cardamom pods (decortitaded/seeds are okay)
Green cardamom pods
Cumin seed
Peppercorns
Whole cloves
Cinnamon stick
---
First, prepare the dry masala. Remove the seeds from 4 green and 2 black cardamom pods. Add 1 tsp cumin seeds, 1 tsp peppercorns (crack the peppercorns with the side of your knife or you get rocks in your dish), 2 cloves, and 1″ or so cinnamon stick. Combine in a bowl and set aside.
Next, mince each 2 tbsp of garlic and ginger. Set aside in another bowl
In a third bowl, combine the dry spices: 1 tbsp red chili powder, 1 tsp turmeric, 2 tsp coriander, and 1 tsp cumin.
After that, also in separate bowls string the onions (that is, cut lengthwise to form long strips) and chop the potatoes into 3/4″ chunks
In yet another bowl, coarsely chop the tomatoes, de-seed and dice the peppers.
So far as the chicken is concerned, we prefer the chicken cubed up, but one piece of whole chicken is also a way to go. However, you'll have to cook longer.
---
To begin cooking, heat up 3-4 tbsp oil in a large (5qt) pot like a karahi. Get it hot, and I mean *really* hot. Add in the dry masala and stir for 30 seconds or so until it starts popping. Then add the onions strings and stir until they start to caramelize.
Next, add the garlic and ginger, and stir-fry until the aromas start to come out. Add the dry spices and get them all mixed in, then add 1/4 cup of water to deglaze the pot.
Chicken in the pot, cook until browned. After that, turn the heat down to medium or so and let it settle to the lower temperature. Add the tomatoes and after they start to wilt, add 2 tbsp yogurt. Stir to get everything coated nicely, and 1/2 cup of water. Simmer for another ten minutes.
Finally, add the potatoes. Cover mostly with water, and simmer until the potatoes are soft enough to poke with a fork, and the sauce has thickened up a bit, which should take around 30 minutes. Meanwhile chop the cilantro and set aside on a plate or bowl to be used as garnish.
Once the potatoes are cooked, turn off the heat and let stand for 10 minutes before serving in bowls with a dab of cilantro on top. If you can find Arabic (not Greek) pita it works extremely well to sop the curry juices.
---
If you enjoy this, leave a comment below, like, share, whatever, so that others can enjoy as well.