Filipino-style Chicken Skewers
This one works equally well with chicken breasts or pork butt, actually, but for the sake of argument, let's talk about chicken.
It's an easy marinade, easy (and pretty quick) cooking, and goes with just about any kind of stir-fry + rice or stir-fry noodles you can imagine.  To complement this, for example, I pulled some random veggies out of the freezer, simmered them in chicken broth for a while, and added a couple of packets of ramen (minus the flavor packets) plus a few seasonings.  Anyway, everyone that likes meat likes meat on a stick (probably more) so it's a easy and fun protein part of a meal.  Do what you like for carbs and protein, or ping me and I'll help you out.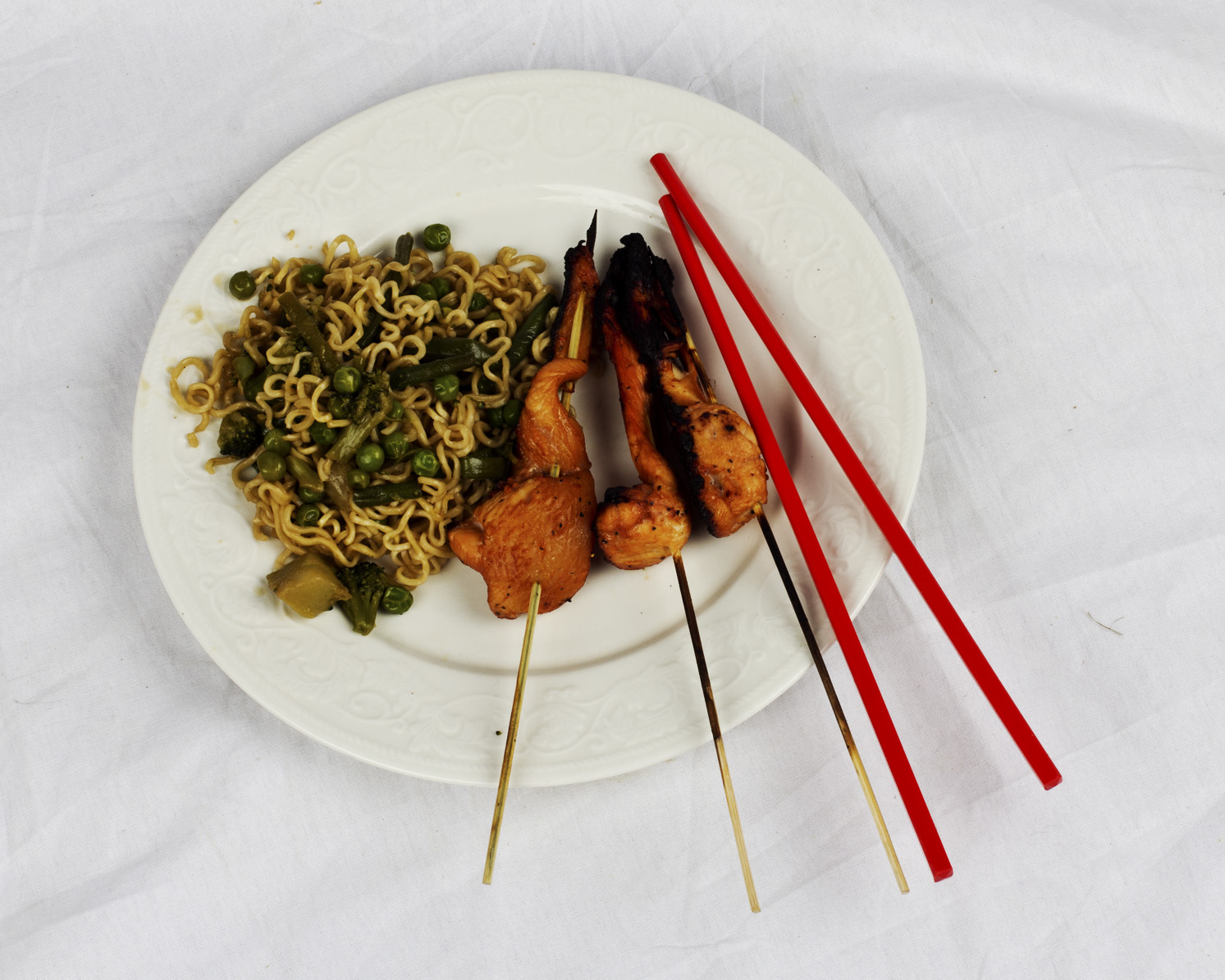 ---
Shopping List:
Large chicken breasts – 1-1/2 pounds for 4-5 people
Banana sauce or ketchup
Soy sauce
Brown sugar
Garlic – a lot.  At least 8 cloves.  (those minced jar ones work really well here)
salt
pepper
bamboo or stainless skewers (if you're posh)
Fire.  If you don't have this, please contact me for my evolutionary studies program.  We also cover steel for knife-making which will also come in handy. Or the bronze program if you're on a budget.
First off, we're jabbing pieces of meat with bits of wood, and then putting them on a fire.  Generally this can only lead to failure, so we've got to take some mitigating actions.  I'm assuming your're using bamboo skewers here, and not those fancy (expensive) stainless steel ones because those things are stupidly expensive, especially if you need a lot of them.  So, Wood.  Fire.  Bad.  Fortunately if you soak them in water, they don't burn so well, so before you do anything else, this would be the best thing to do.
Next thing up is to prep the marinade.  And really, that's what this whole thing is about, but it's delightfully simple.  In a bowl combine:
1/2c banana sauce (or banana ketchup if you can find it.  It's thicker, so better),
1/2c soy sauce
1-1/2tbsp brown sugar
8+ cloves of garlic
Pinch of salt
Pinch of pepper
And were done, right?  Unfortunately, not quite.  We've got to add in the meat.  Cut up some chicken breasts (get the normal-to-fat kind, not the 'fillets' they're marketing these days) into 1/8″ thick strips. I used three, which were around 1-1/2 pounds for a family of five.  Don't worry about the short pieces because we'll deal with them later.  Throw the lot into a Ziploc resealable bag (I'm not getting endorsements, so I don't want to mention brands) and dump in the marinade.  Let it all hang out in the fridge for at least an hour.
When you're almost ready to cook, skewer the meat one piece per stick, except the short ones – they're happier in numbers so try and make something equivalent to the others.  For maximum effectiveness this should be done as close to fire time as possible.
As to the fire – a good, even layer of coals is best.  Don't try and lump the coals around the rim (I know you want to) because you'll just burn things.  When the fire is past ash-over (all the coals are just past glowing) put down the grate, let it heat up a little, and add the chicken.  There's a little science here (not really) so it's important to put the skeweres down so that the tips are on the grate and the back-ends are on the rim.  You can probably lay them flat but you're going to burn the heck out of your fingers when you turn them frequently – every 2-3 minutes.
It's tricky to say when they're done, but they're done when they are.  You can't put a thermometer on them unfortunately, but since they're so thin there's a noticeable change in texture.  Go just past when you 'think' they're done, and you'll likely be safe.  I'd guesstimate total cooking time to be somewhere around 8-10 minutes, but because of the vagaries of the chicken, it's hard to say exactly.  Look for a little char, and for the flesh to firm up.
As I said before, most Asian sides will do.  [I'll update with some ideas here soon]