Joojeh Kabobs (Persian Chicken Saffron Kabobs)
These kabobs are super simple, but I know a lot of people are put off by the saffron because it's so expensive. The thing is, it's only expensive in the grocery store ~ you can find good quality cooking-grade Persian saffron any number of places online (even Amazon) for far less, to the point you don't mind putting it in rice and other dishes.
Normally, these would be served as finger food ~ kabobs, roasted vegetables, bread, and dip.  But, I had leftover wraps from a previous meal, so I went for it.  Either way, the richness of the kabobs, sweetness of roasted vegetables, and tartness of sumac-yogurt sauce are a great combination.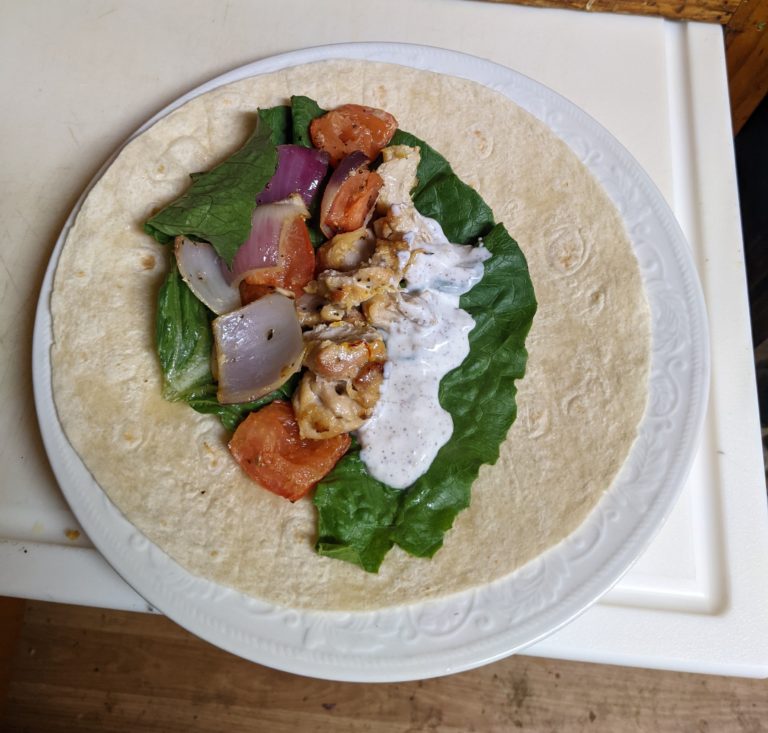 ---
Nutrition Facts
Serving Size 1 wrap
Servings Per Container 4
---
Amount Per Serving
Calories 641
Calories from Fat 256.5
% Daily Value*
Total Carbohydrate 53.2g
18%
---
*Percent Daily Values are based on a 2,000 calorie diet. Your daily values may be higher or lower depending on your calorie needs.
First off, you'll need kabob skewers.  I have a rotisserie attachment for my Weber grill, but if you're cooking on the grate you'll need individual skewers ~ get the wide flat metal ones or nothing will actually turn over when you flip it.
Secondly, the marinade supports up to 2 pounds of chicken, depending on whether you're feeding 4 or 8 people.
Shopping List:
1 lb chicken thighs
Yogurt
1 pinch saffron
1 medium white onion
1 medium red onion
4 Roma tomatoes
2 lemons
Garlic
Olive oil
Black pepper
Salt
 2 lemons
For the sumac sauce:
Additionally, romaine lettuce and good quality wraps if desired.
To begin, start the chicken marinade. Start by "blooming" the saffron ~ put a pinch of saffron in 2 tbsp hot water, and let sit for at least five minutes.  The water will turn golden.  Next, grate the onion using the wide oval side of a box grater.  Squeeze as much onion juice out, and set aside in a bowl.  To the bowl, add:
1 cup of yogurt
the saffron water
Juice of 1 lemon
1/4 cup olive oil
2 tbsp garlic
1/4 tsp pepper
and a pinch of salt.
Mix thoroughly.
Now cut up the chicken, wide enough and thick enough to fit on the skewers. Put the chicken in a ziploc bag and add the marinade. Knead the bag until the chicken is fully coated.  Marinate in the fridge for at least an hour.  2-3 is better but this is definitely not an overnight marinade.
Address the vegetables.  In a clear, soothing voice say, "Hello vegetables" and start cutting them up slightly larger than the chicken; vegetables aren't as forgiving on the grill.  Put the veggies in a bag, and add:
1/4 cup olive oil
Juice of the lemon
1 tsp pepper
a pinch of salt.
Note: if you're eating these with your hands, you can include other things like bell peppers and mushrooms.
Knead the bag a little and put in the fridge next to the chicken.
Finally, the sumac sauce.  In a bowl, combine 1 cup yogurt, 1 tbsp garlic, 1/2 tsp ground sumac, and 2 tbsp olive oil. Mix thoroughly and put in the fridge with the other two.
After a few hours have passed, it's time to cook.  Fire up the grill and let it get hot.  Meanwhile, thread the meat and vegetables onto skewers.  Despite how pretty the pictures look, put the vegetables and chicken on different skewers because cooking times will vary.  Alternately, the veggies can simply be roasted: wrap the lot in tin foil and put them on the grill somewhere out of the way.
If you're roasting the vegetables, put them on first, as they take longer than on a spit.  Next, if you have a rotisserie, let it rip. If you're cooking on the grate, rest them on the grate, and flip after 20 seconds. Repeat each side a couple times ~ this will sear the flavors in and help keep the chicken from sticking.
To serve:
As finger foods, arrange the chicken and vegetables on a plate, along with a bowl of the sumac dressing. If you have access to pretty much any Middle Eastern bakery, any of the thicker flatbreads will do.  If not, don't worry too much about it.
As wraps, you'll want to warm up the wraps first, but put out all the stuff and let people assemble themselves, kinda like the photo above.
Edit: due to local availability, I've tried soft flour tortillas and they're just fine too.