Katsu! (Gesundheit!)
No really.  It's not as odd as it sounds.  If you've ever had a German schnitzel or an Italian Milanesa this wouldn't be that far off.
That's because the roots of katsu comes directly from these European dishes – a Japanese restaurant 'invented' it around the turn of the century directly inspired by the "breaded and fried" trends of 18th- and 19th-century Europe.  Personally, I suspect that part of it's easy adoption is because of the traditional tempura, which I'm pretty sure translates as "fry all the things".
Katsu comes in many varieties, and covers three of the four food groups – beef, chicken, and pork.  The last one, tonkatsu, seems to be the popular one in all the Japanese restaurants I've been to in the US.  Bacon katsu I don't think would work as well, and as such should probably be reserved for tempura.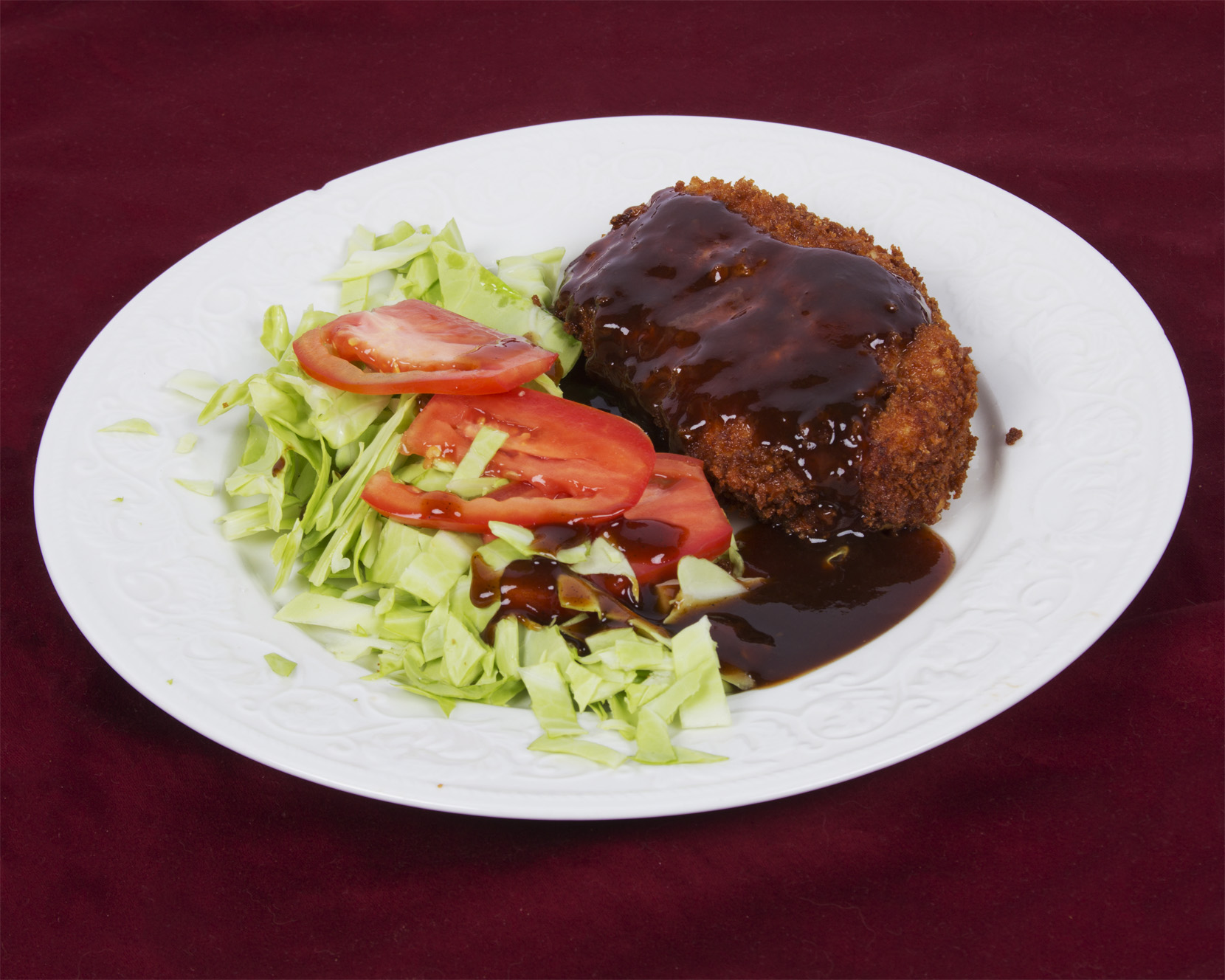 ---
Shopping list (serves 4 or however many pieces of meat you have)
Meat (pork chops, thin-cut steaks, chicken cutlets, etc)
Katsu sauce:I use Kikkoman when I'm lazy, but home-made is better.

Flour

Egg(s) depending on how much meat
Panko
Frying oil
Cabbage
Tomatoes
Amazement that your Japanese restaurant charges so much for this
Nutrition Facts
Serving Size 352 g
Servings Per Container 4
---
Amount Per Serving
Calories 858
Calories from Fat 416.7
% Daily Value*
Total Carbohydrate 56.5g
19%
---
*Percent Daily Values are based on a 2,000 calorie diet. Your daily values may be higher or lower depending on your calorie needs.
Katsu sauce is pretty simple (and kind of a variation on BBQ sauce) – ketchup, soy sauce, Worchestershire sauce, mustard (powder or dijon), a dash of garlic powder, a dash of salt… see what I mean?  Japanese BBQ sauce.  Kikkoman makes a decent sauce, but I recommend (of course) my Minimalist Katsu Sauce. (Note: nutritional info is based on using my sauce)
Prepping your pork (or beef, or whatever) couldn't be easier either.  Eggwash (beat an egg or two in a bowl and dredge the pork in it) and then here comes the Japanese part – wait for it – dredge it in panko (flaky bread crumbs) "Normal" bread crumbs just won't do – it's too….European.  Personally I dredge through flour first, which helps the egg stick, which helps the panko stick, which down the road makes my mouth happier.  
Cooking is the same way.  If I were doing something Italian, I'd use olive oil, but I'm not so vegetable/canola/whatever you have that has a good flash point and isn't strongly flavored will work (i.e., no peanut oil).  Fill a deep-sided skillet with about 1/2″ of oil and heat until a few droplets of water dance across the surface.  Fry the cutlets for a few minutes, flip, fry until golden, poke it with a knife and see if it's done, repeat if necessary.  Basically every pan-fried meat recipe ever.  Deep-frying is also effective if you have one.  Fry them in batches until they turn a dark golden brown,  Cooking times either way depends on the thickness of the cutlet, but if I had to guess, I'd say 3-5 minutes per.
Serving is more traditionally Japanese.  The plated katsu is coupled with a salad consisting of shredded cabbage and a slice or two of tomato.  Dressing isn't needed as the katsu sauce will provide that.