Bacon Cheeseburger with Beer-Battered Onion Rings and Katsu Sauce
So, grilling season is fast approaching, and since the weather is actually 'nice' this weekend, I figured it was time to come out of the gate roaring like a lion.  To that end, here's a completely scratch-from-the-ground-up bacon cheeseburger with home-made beer-battered onion rings and a Japanese katsu-inspired barbecue sauce.
Well, okay, not completely from scratch – I didn't make the bacon, and I didn't grind my own beef, but I'm not a glutton for punishment either.  Anyway….this recipe is for six burgers.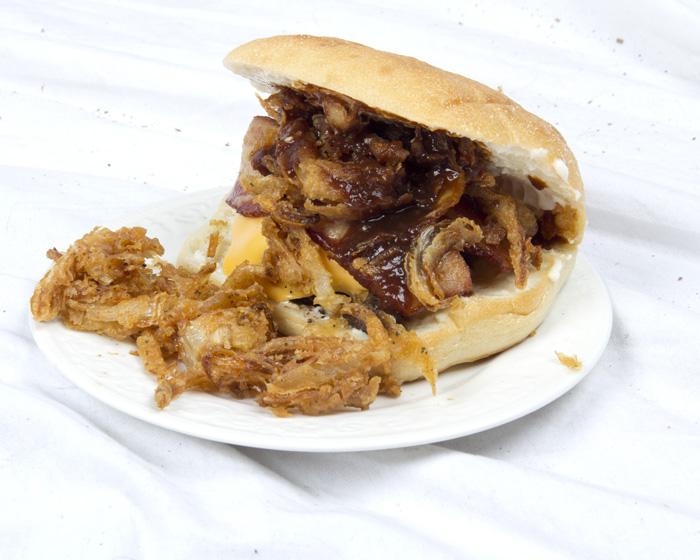 ---
Nutrition Facts
Serving Size 1 Burger
Servings Per Container 6
---
Amount Per Serving
Calories 901
Calories from Fat 286.2
% Daily Value*
Total Carbohydrate 77.1g
26%
---
*Percent Daily Values are based on a 2,000 calorie diet. Your daily values may be higher or lower depending on your calorie needs.
Note: nutritional data is based on my onion rings and katsu sauce recipes.
Shopping List:
2 pounds ground beef, 80% lean
Worcestershire sauce
Soy sauce
Black pepper
Saltalt
Red chili powder
Bacon!  1-1/2 to 2 strips per person
'Murican cheese or something else if you're feeling hoity-toity.
Buns/rolls of some sort
A bunch of things need to happen up front so they can rest before you actually start cooking, so I'll break them up into pieces for easier digestion (get it?).  Basically the components all need time for their ingredients to get friendly with each other. For sauce and onion rings, the more the better.
For these burgers, I used
Now, for the burger meat:
The meat needs to rest the longest, so it's the best place to start.  In a mixing bowl, add to the ground beef:
3 tbsp Worcestershire sauce
2 tbsp soy sauce
1 tsp pepper
1/2 tsp salt
2 tsp red chili powder
Knead the ingredients together until the mix is uniform but try not to overwork it.  Shape the burgers and keep them in the fridge for at least a half hour, or until you're ready to cook (whichever is greater).
Immediately after, start the onion rings, and then the katsu sauce.
The next thing on the 'to-do list' is makin' bacon.  Use your preferred method, but with burgers I recommend having the bacon on the soft side – enough so it's flexible.  We do ours in the oven since it's easier to have an even cook across all the bacon, and they don't 'crisp up' because they continue to cook after you take them out of the pan.  The oven also requires far less supervision. But, YMMV so do what works for you.  Either way, plan accordingly so you're not waiting on it.
For oven bacon:  Preheat the oven to 350F, put the bacon on a sheet pan, ~13-15 minutes, flip, and another ~13-15. Remove from the sheet and allow to rest on a paper towel until needed.
Aaannnd burger time.  If you're grillin' make sure you allow enough time for the coals.  Starting the grill before you start cooking the onion rings ought to do the trick.  If you're using a cast-iron grill pan, just heat it up when you're ready.  Cook the burgers until they're done to your taste blah blah blah. (The USDA recommends 160F internal temperature but whatever. You're not a restaurant). Top with cheese (I use 'Murican because it's the flavor I'm going for) let that melt for a minute, and assemble them.
A note on bread: I've been vacillating between Orowheat Crostini and their wheat buns. They taste good and are HFCS-free.
Serve and enjoy!