Mozzarella in Carrozza (Italian "French" Toast)
"Mozzarella in a Carriage".  Earlier this week, I came across a reference to this, with two sentences to the effect of, "In Italy they make French toast with mozzarella in between two slices of bread, then fried. Sometimes it's served with pasta sauce and more cheese".
Well, that's enough for me.  I'm sold.  Fried?  Check.  Cheese?  Double-check.  Cheesy fried things with pasta sauce?  Yup.  French toas for dinner?  I'm so there.  I don't even need to research because I already have an image in my head, so it's just transferring it to the plate.
After the fact, I've found that there are a ton of recipes for this out there on the internets, and all of them different.  But, what's done is done and many noms were had last night so here is my version…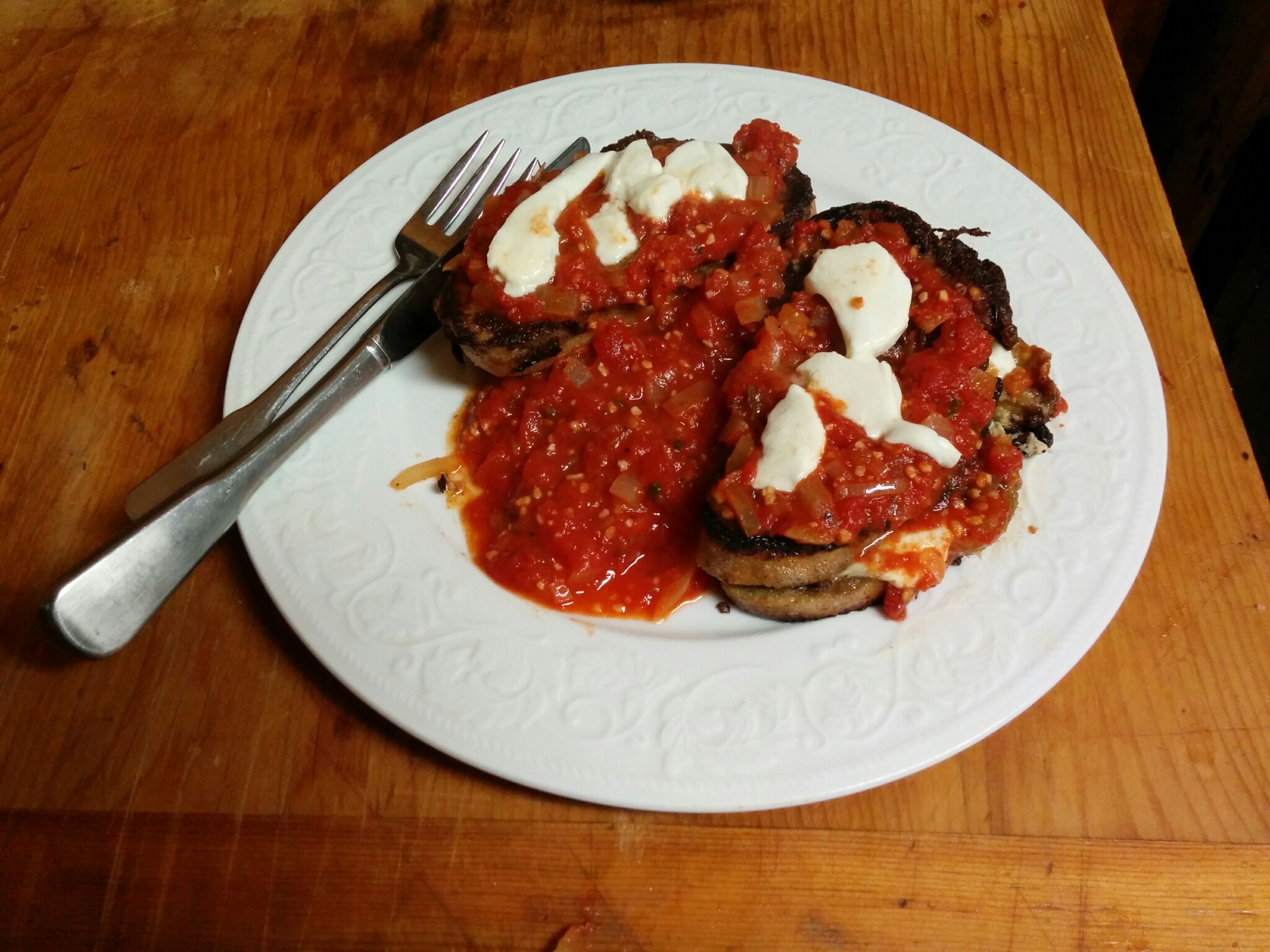 ---
Nutrition Facts
Serving Size 367g
Servings Per Container 4
---
Amount Per Serving
Calories 799
Calories from Fat 502.2
% Daily Value*
Total Carbohydrate 25.8g
9%
---
*Percent Daily Values are based on a 2,000 calorie diet. Your daily values may be higher or lower depending on your calorie needs.
Shopping list (for four):
A loaf of day-old Italian bread or a loaf of a thick-crust rustic
6 eggs
1/2 cup whipping cream or heavy cream
2 tbsp white truffle oil
1/2 cup Italian red wine
16 oz fresh mozzarella
pinch of pepper
pinch of salt
three cups pasta sauce (-ish)
one stick of butter.
So, to begin, this recipe is good for about four people, so adjust accordingly if you're feeding a herd:
Start off by making your favorite pasta sauce, or follow my non-recipe here.  I suggest doing this an hour in advance, or at least as early as possible so it can simmer to goodness as long as possible.  Please don't use jar sauce if at all possible :).
Once it's go-time, turn the oven up to 250F and pour yourself a nice glass of red wine.  I suggest an Italian varietal – I had a pretty decent Malbec on hand, but a sangiovese or merlot would be quite pleasant too. I'd stay away from cabernet or a blend like Chianti because it would be a bit too bold once all is said and done.  Savor that for a moment before assembling the wash.  Once you get busy there'll be little time for that.
Now, the wash:  In a large bowl whisk (you can use a fork) up six eggs, and to that slowly add in 1/2 cup of whipping cream (or heavy cream) along with a pinch of salt and a pinch of pepper.  Once that's nice and incoporated (and slightly fluffy) add in 2 tablespoons of white truffle oil, mix in and then add about 1/2 cup of the wine you're drinking.  I know, wine. Consider it a tribute to the Italian Food Gods.  When you have a nice homogenous mix set it aside for a minute.
Next, slice up some bread.  If you have some day-old Italian bread that would be great, but bread doesn't last long around here so I picked up a loaf of pugilese since it has a good crust to provide some structure.  Otherwise, you'll end up with a mushy mess and have one hell of a time flipping it over.  I recommend 3/8″-1/2″ slices.  You don't want them too thick because you're doubling-down on the slices when you cook them.
And it's cheezy time!  I used a 16-oz thingy of BelGioioso fresh mozzarella, which has the added bonus of being pre-sliced.  I'm guessing you'd do okay with shredded mozzarella, but fresher is better, and you're probably going to the market to get bread anyway.  Loosely cover one side of a piece of bread with the cheese, and place another piece of bread on top to make a sammich.  You'll want to make two sammiches per person, and make sure you reserve enough cheese to put on top later.
Before going too much further, put a sheet pan
in the oven, if you haven't already.
And, savor a little more wine because you're about to get busy.
Because, it's "go time".  Heat up a skillet and add about 1/2 stick of butter.  As that's warming, dip your first sandwich into the batter, let it sit for 30 seconds or so, flip, repeat.  Do not wipe hands on pants because it'll make a mess.  As soon as the butter is hot, put the sandwich in the pan and continue battering and adding sandwiches until the pan is loosely full.  Cook until golden brown and flip.
I should mention at this point that flipping the sandwiches is kind of tricky since you've got bread and cheese to deal with.  Get your spatula underneath the sandwich and put a finger or two on top.  Flip quickly such that your fingers slide off the (now bottom) side without burning yourself.  The first one is probably going to be awkward but you'll get the idea pretty quickly.  If the sandwich starts to come apart, just reassemble it quickly before the cheese starts to get into the butter.
Repeat with all the sandwiches in the pan, and when each sandwich is cooked on both sides, place it on the cookie sheet in the oven.
Once the pan is empty, add a quarter stick of butter, and let that melt down while you start dipping the next batch.  Do do them in batches, rather than adding to the pan as you go since the sandwiches will absorb some of the butter.
Repeat, and repeat until all the sandwiches are in the oven.
Now, pull the sheet pan out and dab some pasta sauce on each sandwich and top with a bit of that mozzarella cheese you saved from earlier.  Put the sheet back into the oven and let 'er rip until the cheese on top is melted.  That's the indicator that all the cheese is melted.
Remove from the oven, plate two sandwiches per person with extra pasta sauce and enjoy!