Vaqueros Corn Bread
If you're like me, you grew up with Jiffy cornbread.  Not that there's anything wrong with that – Jiffy is cheap, easy, and tasty.  All three of which are total 'wins' in my book.  On the other hand, there's a whole world of cornbread out there that merits exploration.
This one is a vaqueros – Mexican-American cowboy – style. The sort of thing they might have made on over a campfire while on the trail.  In fact, that would be fun to sort out, but it would require me camping, where my idea of "roughing it" these days is a Motel 6.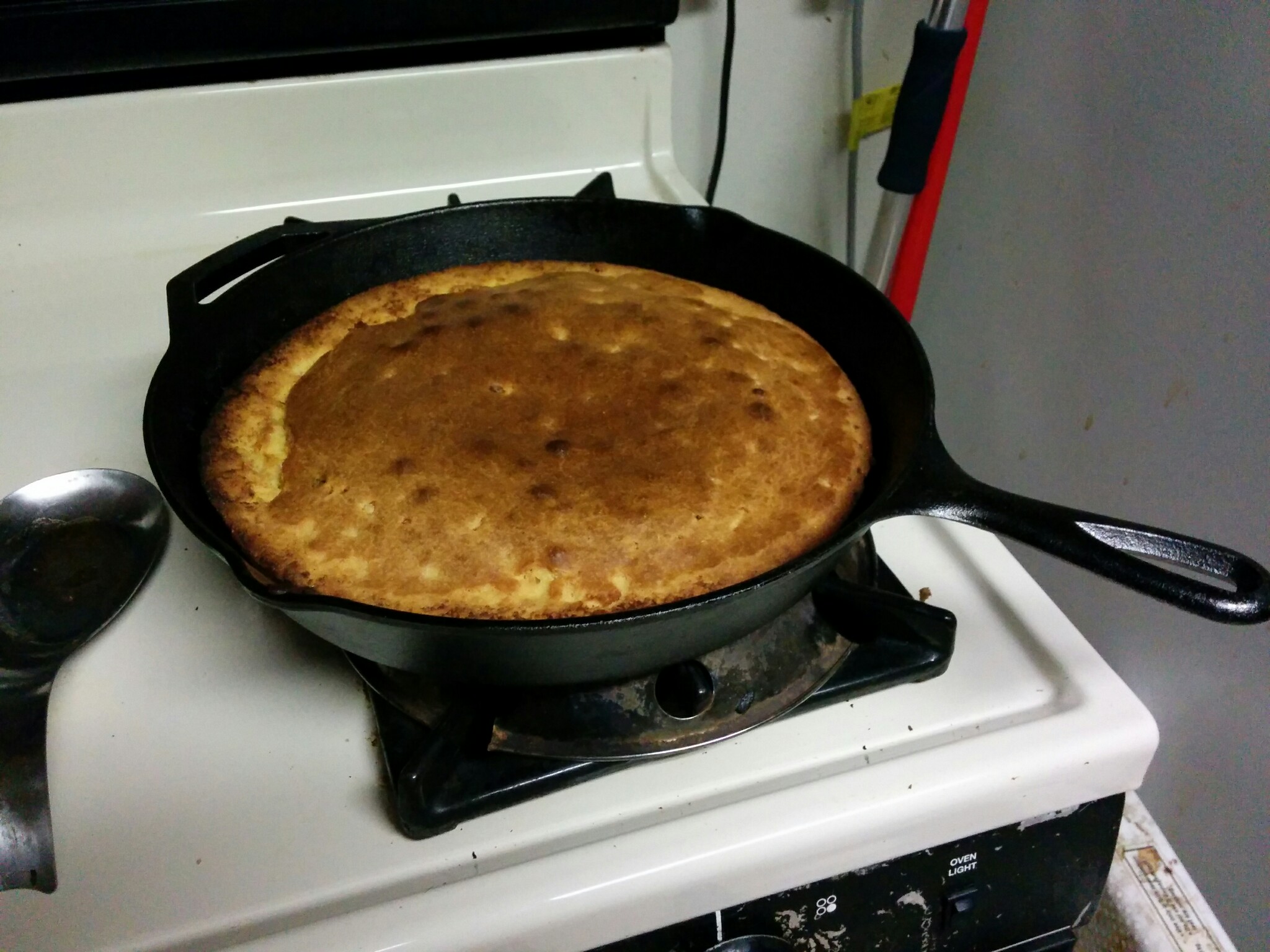 ---
Nutrition Facts
Serving Size 112g (one square)
Servings Per Container 12
---
Amount Per Serving
Calories 282
Calories from Fat 113.4
% Daily Value*
Total Carbohydrate 37g
12%
---
*Percent Daily Values are based on a 2,000 calorie diet. Your daily values may be higher or lower depending on your calorie needs.
Shopping list (serves 12-14):
2 cups yellow cornmeal
2 cups flour
1-1/2 tbsp sugar
1-1/3 tbsp baking powder
2-1/2 tsp salt
2 cups milk
1/2 cup corn oil
2 eggs
3/4-1 cup corn kernels
1 tbsp butter.
The key thing here is iron.  A nice, heavy cast iron skillet, to be exact. Somewhere around 12″ is ideal.  You can make corn bread in just about anything that fits in the oven, but iron just cooks differently and in this case it matters as it imparts a bit of campfire cooking flavor and feel.
So, to start with, preheat the oven to 425F.  If you have to guess, guess on the cooler side.  400-425 is a good range.  Higher than that you get a thicker crust, and the cornbread dries out faster.
Once the oven is up to temperature, put the skillet into the oven to warm up, and start mixing ingredients.
To start, add two cups of yellow cornmeal, two cups of all-purpose flour, 1-1/2 tbsp sugar, 2-1/2 tsp salt and a heavy tablespoon (tablespoon plus maybe 1 tsp) into a bowl.  Mix thoroughly and start adding the wet ingredients (always add wet to dry, from what I'm told): Two cups of milk, 1/2 cup corn oil, and two beaten eggs.  Whisk togther until smooth and it's the consistency of pancake batter – add a very small amount of flour if it's too runny.
Next, shave the kernels off a few ears of corn (or frozen corn kernels if not in season) until you've got 3/4 to one cup worth.  Add that to the batter and stir in carefully so you don't break up the kernels.
Take the skillet out of the oven, let stand for a minute, and grease with butter.  Pour the batter into the pan, and back into the oven it goes.
Set the timer for 25 minutes, and check every five minutes or so until a toothpick comes out clean.  Immediately remove from the oven and allow to cool.
If you have room on the table, serve directly from the skillet.
Adapted from Saveur Magazine's "Jalapeno Corn Bread"