Pad Gra Prow (Thai Beef and Basil)
I like Thai food, and I like basil, but I don't like dried coconut, so any time I find a recipe it makes Kat happy.  It also helps that we have a ridiculous amount of basil in the pots this year (so expect more basil recipes to be forthcoming).
Anyway, a good savory dish that tastes good even if you don't make it burn-mouth spicy. Actual Thai basil is pretty hard to get, so this dish is a tad sweeter. I doubt you'd actually notice though.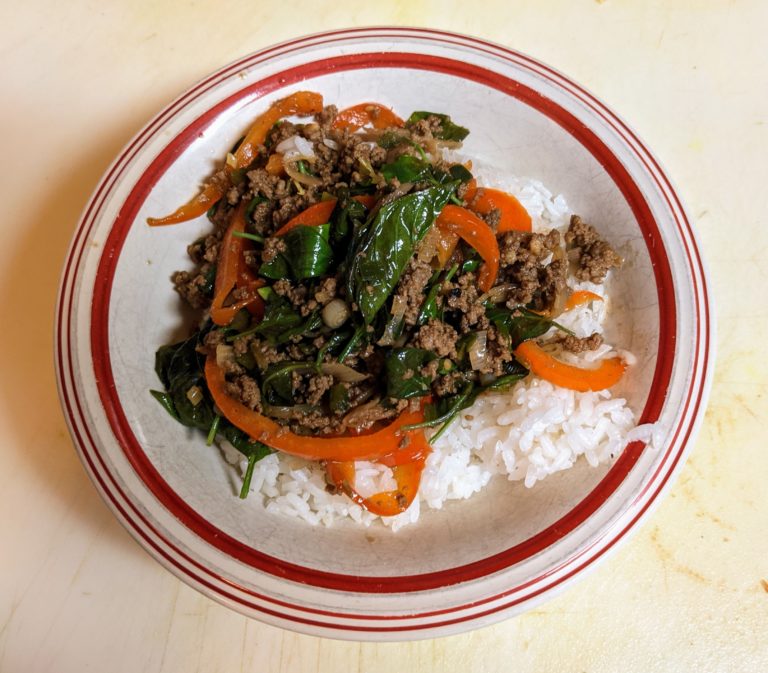 ---
Nutrition Facts
Serving Size 1 bowl
Servings Per Container 4
---
Amount Per Serving
Calories 738
Calories from Fat 66.6
% Daily Value*
Total Carbohydrate 116.3g
39%
---
*Percent Daily Values are based on a 2,000 calorie diet. Your daily values may be higher or lower depending on your calorie needs.
Shopping List:
1 pound ground beef
2 cups basil (5-6 ounces)
White rice (I like Calrose)
1 red pepper
1 shallot
1 bunch green onions
Chili pepper of choice ~ I used half a poblano
Garlic
Ginger paste
Soy sauce
Fish sauce
Brown sugar
Red pepper flakes
1 small lime
First up, get three cups of rice going in the rice maker.
Prep work is pretty minimal, but it helps to get it out of the way: Slice the shallot into thin strips along the north/south axis. Cut the red pepper and chili pepper into thin strips (julienne) as well, and chop the green onions into 1/4″ or so pieces, tail and all. But don't mix them as they'll be added separately.
To begin cooking, in a wok saute 5 cloves of chopped garlic and a tbsp of ginger paste for a few seconds to get the aromas out.  Add in the shallot and chili. Saute until the shallot starts to get soft, which should take about 3 minutes. Next. add in the ground beef, and stir-fry until browned.
Add in the red pepper and green onions. along with a pinch of red pepper flakes. Stir-fry for about 5 minutes.  Turn the heat down to a simmer and add:
1 tbsp soy sauce
1 tbsp fish sauce
1/2 tsp brown sugar
juice of one lime
a pinch of salt
Simmer for about 5 more minutes, then fold in the basil leaves until they wilt.
Serve on the rice.