Lybian Mahshi (Stuffed Vegetables)
So "mahshi" means "stuffed" in Arabic. You can stuff a lot of vegetables like zucchini or eggplant if you really want to. I don't want to, so I'm sticking with green peppers. At 48, I'm allowed to make these choices.
Anyway, it's a combination of mincemeat and rice in a tomato base with a Libyan kick.  The recipe makes a lot of peppers, but you can freeze the ones you're not eating straightaway (before baking) and they can be defrosted & baked for another meal or two.  One pepper is usually enough per-person.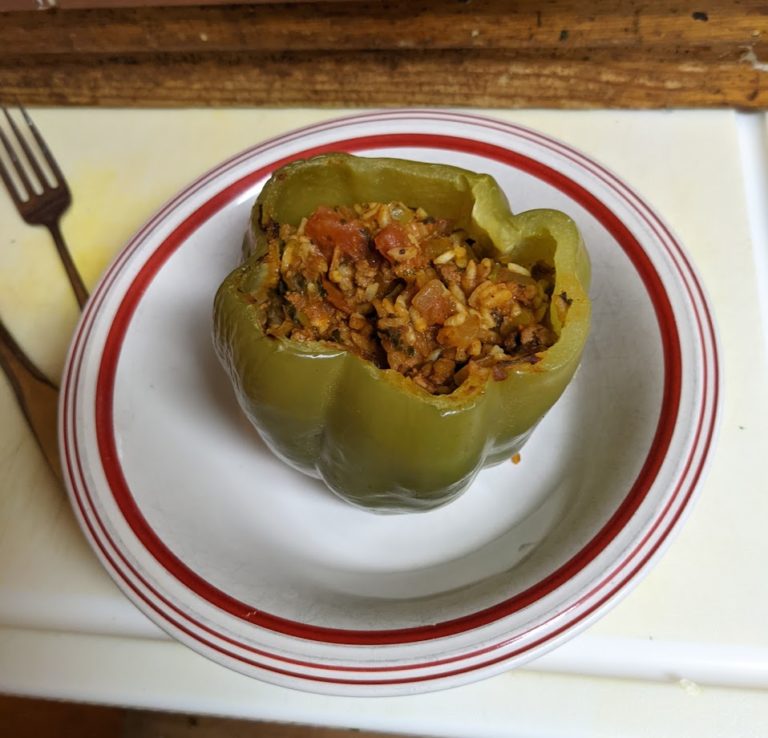 ---
Nutrition Facts
Serving Size 1 Pepper
Servings Per Container 8
---
Amount Per Serving
Calories 253
Calories from Fat 73.8
% Daily Value*
Total Carbohydrate 31.5g
11%
---
*Percent Daily Values are based on a 2,000 calorie diet. Your daily values may be higher or lower depending on your calorie needs.
Shopping List:
8-9 green peppers
12-16 oz ground lamb (preferred) or beef
Short-grained rice, but Calrose will work in a pinch
1 onion
Bunch green onions (5-6)
2 large tomatoes (roughly 1 pound)
6 oz can tomato paste
1 Anaheim chile, or to heat preference
1 bunch Italian parsley
1 bunch cilantro
Hararat spice blend*
Red chili powder
Turmeric
Dried mint
Salt
Olive oil
*hararat is fairly easy to get online, and should be more or less the same.
To start with, rinse 2 cups of rice and let soak for at least an hour.  Meanwhile, slice the tops of the peppers and remove the seeds and ribs. Set aside for later.  Around the same time, set the oven for 400F
Now, there's a fair bit of chopping to do, so I recommend setting up a couple of bowls:
First bowl: Chop up the onion and green onions on the smaller side.
Second bowl: Dice up the tomatoes coarsely, and the Anaheim chile seeded and diced into 1/4″ chunks or so. To that, add:
1 cup (about 3/4 bunch) chopped fresh cilantro
1 cup (3/4 bunch) fresh Italian parsley
6 oz tin of tomato paste
1 tsp red chili powder
1 tsp turmeric
1 tsp dried mint
2 tsp hararat spice mix
To start cooking, in a karahi, dutch oven, or high-sided pot add a couple tablespoons of oil and saute the onions for 5 minutes or so, until they start to get soft.  Add the lamb and cook until browned and crumbly, another 5-10 minutes
Next, add in the bowl of tomatoes and stuff. Cook, stirring constantly, until the juices start to come out of the tomatoes.  Simmer, stirring regularly, for about ten minutes.
There should be a fair amount of liquid now. If not, add a cup of water. Then add in the rice and stir in well. Simmer another 20 minutes, stirring just enough to keep things from sticking to the pan. Add water, 1/2 cup at a time to keep it from drying out.
Finally, give a good stir and spoon the mix into the peppers. Arrange in a casserole – A 9×9 is good for 4 people.  Cover with foil, and bake at 400F for an hour, then remove the foil and continue cooking until the top is browned.
Note: Only cook as many as you plan to eat. Freeze the rest, and they can be thawed and cooked for an easy night within the next couple weeks.