Pesto-Bacon Cheeseburgers
Summertime….and the burgers' easy…  Well it is. Despite it's fancy-pants look, they're pretty straight-forward.  There's the extra step of making pesto, but don't let it intimidate.  The patties are slider-style, which I like because they have onions in, and they get caramelized in the cooking.
This makes 3-4 phat burgers, but it can easily be doubled by making more patties. One batch of pesto is more than enough.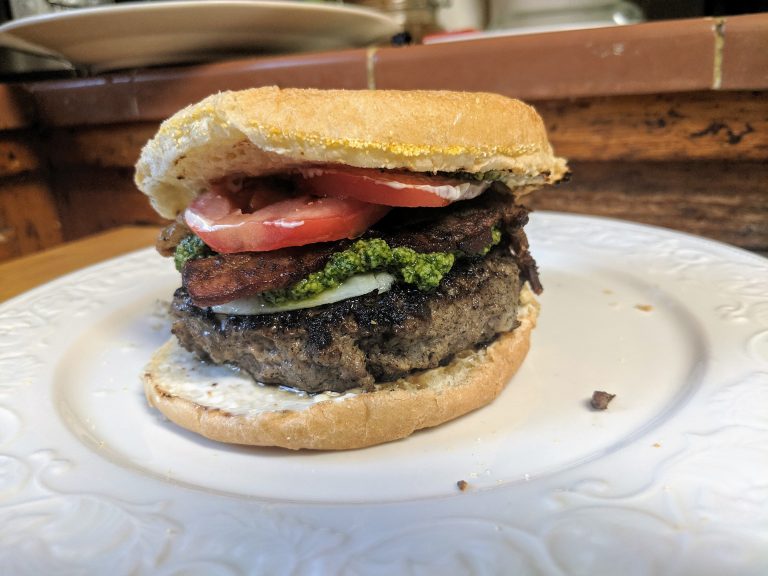 ---
Nutrition Facts
Serving Size 1 Burger
Servings Per Container 4
---
Amount Per Serving
Calories 882
Calories from Fat 479.7
% Daily Value*
Total Carbohydrate 46.3g
15%
---
*Percent Daily Values are based on a 2,000 calorie diet. Your daily values may be higher or lower depending on your calorie needs.
Shopping list:
1 lb ground beef
1/2 small onion
Worcestershire sauce
1-2 roma tomatoes
---
Before I get to the recipe, I'll note that I didn't make my own buns this time around.  It's too dang hot and I don't want to run the oven.  I used Orowheat Crostinis instead. They've got a nice flavor & texture, and stand up pretty well to even the most aggressive burgers.
For the patties, in a bowl add 1lb ground beef, 1 tbsp Worcestershire sauce, and 1/2 a small onion, diced as small as you dare.  Knead the mix until it's an even consistency.  Cover and refrigerate for a half hour or so, then divide into patties.  Shape them about the same size as your buns. Cooking shrinks them, but if you're like me you auto-squash the patties a bit when cooking, so it all works out.  Keep refrigerated until you're ready to cook, so they hold together better.
So cooking these things, they can be done on a grill, or on a griddle.  I prefer a griddle on a grill for these — the onions make them a bit crumbly, so you have to be more careful on a grate.  They make these ~14″ diameter cast-iron "pizza griddles" that are pretty awesome.  What I did here was get the fire going, and heated up the griddle.  First I put on the bacon, and when they were almost done began moving them out of the way to start adding patties.  Well, in-between I worked most of the bacon grease off to the low end of the skillet so the burgers wouldn't be swimming in the stuff, but YMMV.   Anyway, I probably shouldn't say this, but I've found a working internal temperature of around 120F at 'done' means the burgers will be juicy, but actually done done once they've rested.  So, when they're done (not done done) put your cheese on top and let it melt for 30 seconds or so before you remove them.
An important thing to mention at this point, is that if you're using cast-iron on a grill, remove it as soon as you're done using it, and let it cool on the ground somewhere safe.  If you leave it on the grill, it'll not only burn off all the seasoning, but probably start to rust overnight.  Trust me on this 😛
Toast the buns if you like, I do.
Assemblage is like in the photo.  Putting the pesto right on the cheese is a key bit to this tower, because it kinda holds everything else in place.  I put mayo on my buns because otherwise I find burger buns a bit dry.  One could tart it up with a garlic aioli*, but it's not strictly necessary.
---
*garlic aioli is one of those 'hate to waste an entry on' things unless I were to go full-on-make-my-own-mayo.  For 1/2 cups of regular mayo, smoosh 3-4 garlic cloves into a paste (you may need a few drops of oil if the cloves are dry. If you use good jar garlic, that's not needed).  Mix the garlic into the mayo and let sit for at least a half hour.  It'll keep for weeks in an air-tight container