Siga Tibs (Ethiopian Beef Stew)
Despite what restaurant menus say, Ethiopians don't eat a ton of meat ~ mostly legumes and the like. So, this would be a special dish ~ New Years, birthdays, etc.
As such, it's part stir-fry, part stew, and even with plenty of heat, the seasonings are rich but don't really hide the meat flavors. It's also straight-forward enough that it would make a good have to cook after-work supper.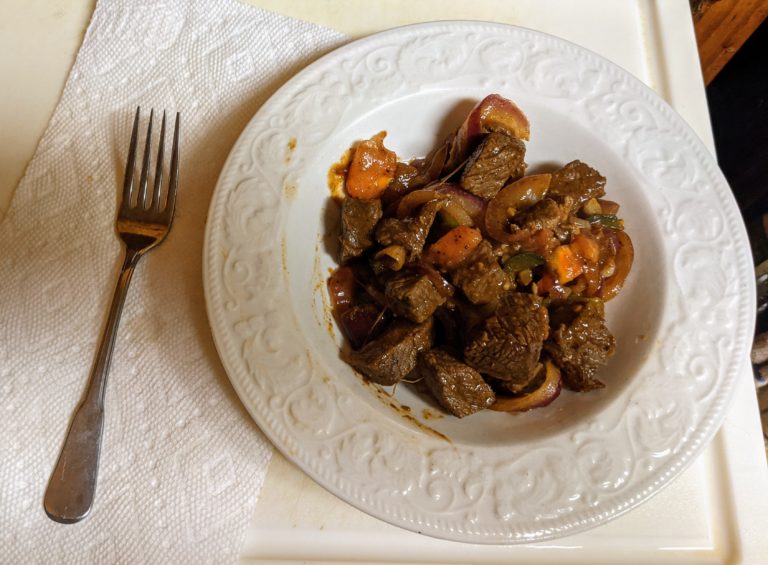 ---
Nutrition Facts
Serving Size 1 bowl
Servings Per Container 4
---
Amount Per Serving
Calories 431
Calories from Fat 219.6
% Daily Value*
---
*Percent Daily Values are based on a 2,000 calorie diet. Your daily values may be higher or lower depending on your calorie needs.
Shopping List:
1 Pound steak (can be cheaper cuts)
1 to 1-1/2 pounds red onions
1 pound tomatoes (roughly 1 large or 2 medium)
4 tbsp niter kibbeh (recipe) but unsalted butter if you have to
Pasilla chili pepper or to heat preference
2 tbsp Berbere spice blend*
Garlic
Ginger
Black Pepper
*Bebere spice can be found at most supermarkets, as well as online
Prep work: Cut the steak into 1″ cubes and set aside, along with any trimmings.  Slice the onion into strips and dice the chile and set aside. In an another bowl combine the seasonings:  2 tbsp minced garlic, 1 tbsp minced ginger, 2 tbsp berbere, 1 tsp pepper, and 1 tsp salt.  Cube the tomato coarsely and set aside in a separate bowl as well. Note: for a pasilla I use 1/2 the chilie.  Smaller chiles you'll want to add more. 
To begin cooking, heat up 2 tbsp niter kibbeg in a large skillet.  Sear the beef until browned on all sides. Remove the beef and set aside for later.
Turn the stove down to medium and add the onions and pepper. Cook, stirring regularly, for about 10 minutes or until the onions start to soften.
Next, add in the other 2 tbsp niter kibbeh along with the bowl of seasoning.  Stir until the butter is melted and the spices coat everything in the pan, roughly 5 minutes.
Add the beef back in and toss to coat. Continue stirring and cooking for another 5 minutes or so.
Now add in the tomatoes and continue to cook until the meat is tender and the tomato liquids are cooked down ~ roughly 15-20 minutes.
Turn off the heat and let rest for 5-10 minutes. Serve in bowls.