Skoudehkaris (Djibouti Lamb and Rice)
Yay! Another one-pot meal. This one's from Djibouti, a small country right where the Gulf of Aden meets the Red Sea. It was a French colony by treaty from 1883-1977, so there's a fair amount of influence on the food.  This dish is no exception, being far more delicately flavored than a lot of the stuff I've been cooking lately. Some call it their "national dish" and if it's true I can see why.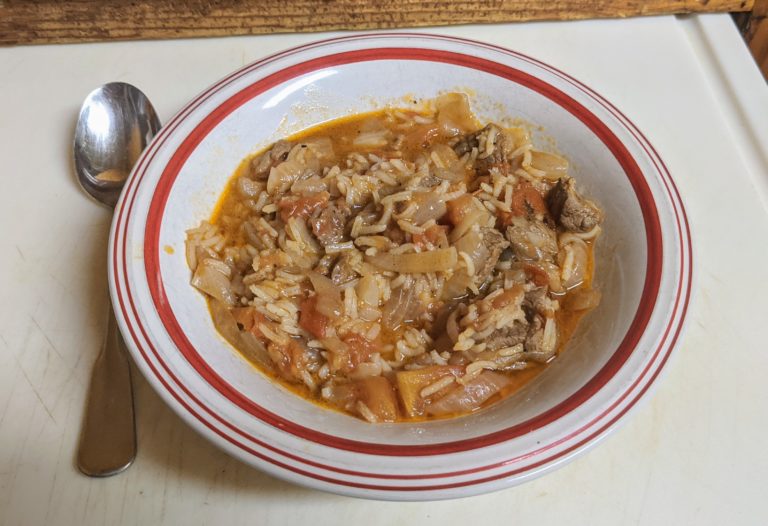 ---
Nutrition Facts
Serving Size 1 bowl
Servings Per Container 4
---
Amount Per Serving
Calories 403
Calories from Fat 138.6
% Daily Value*
Total Carbohydrate 29.8g
10%
---
*Percent Daily Values are based on a 2,000 calorie diet. Your daily values may be higher or lower depending on your calorie needs.
Shopping List:
1 pound cheap lamb
1 large red onion
2-3 tomatoes (approx 1 to 1-1/2 pounds)
2 tbsp niter kibbeh (recipe) or clarified butter (ghee)
Cumin
Whole cloves
Cardamom
Cayenne pepper
Cinnamon
Salt
Black pepper
Basmati rice
Prep work: There's not a lot to this one.  In separate bowls:
De-bone and cube the lamb (save the bones)
Slice the onions into strips, and cube the tomatoes
Combine the spices:

1 tsp cumin
1 tsp cardamom
1/2 tsp ground cinnamon
1/2 tsp black pepper
1/4 tsp cayenne pepper (or to taste)
2 whole cloves.

Rinse a proud 1/2 cup of rice.
Begin by melting the niter kibbeh in a karahi or dutch oven (maybe a high-sided pan) on high and brown the lamb, bones and all. Once browned, remove the meat cubes & bones, and put in the onions. Saute until the strings are soft.
Add the lamb back in, along with the tomatoes and spices.  Stir-fry for 4-5 minutes until the juice starts coming out of the tomatoes.
Cover with water, and bring to a boil, then turn down to a simmer for 40-45 minutes. Add a little water if it starts to dry out.
Next, remove the bones and add the rice.  Add enough water to cover again. Bring back to a simmer, cover and let go for about 20 minutes, or until the rice is cooked.
Let stand for 5-10 minutes before serving. Bowls work best.