Afghan Sabzi Chalau with Lamb (stew)
So, the Afghan sabzi chalau is another one of those sort of 'generic' names for dishes, in that it literally means "spinach and rice". This variant is on the stove top, but some are in the oven, with (or without) tomatoes, with (or without) yogurt… you get the idea. The rice part is basmati rice that's been lightly fried (for lack of a better word) before cooking.
I like this version because the flavors are pretty delicate, and the stew + rice pair really nicely. This is definitely a dish where basmati rice is a *must*.
This recipe serves 4, but can be expanded fairly easily by adding lamb and spinach.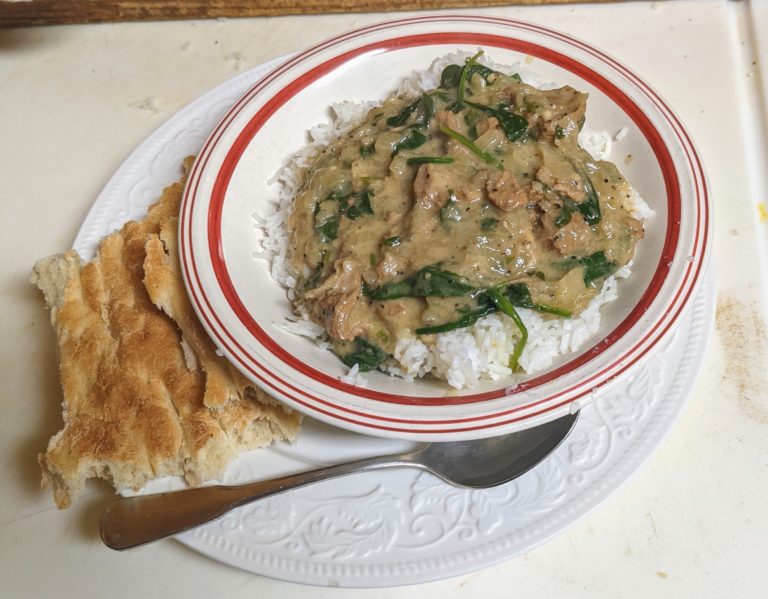 Nutrition Facts
Serving Size 1 bowl
Servings Per Container 4
---
Amount Per Serving
Calories 896
Calories from Fat 240.3
% Daily Value*
Total Carbohydrate 116g
39%
---
*Percent Daily Values are based on a 2,000 calorie diet. Your daily values may be higher or lower depending on your calorie needs.
Shopping List

Stew
1-1/2 pounds lamb stew meat**
1 bunch  Cilantro
3-4 cups Spinach. I get 5 oz bags at the grocery store which are about perfect.
Large Onion
Garlic
Vegetable Oil
Salt
Ground Pepper
Cumin
Cayenne Pepper
** A note about lamb: shoulder or shank are preferred, partially for cost. They will come either boneless or bone-in. Bone-in is much cheaper, but for example from 1-1/2 by weight I got about 1 pound of meat. This is enough for 3-4 people, but you may want to adjust accordingly.
Rice
2-3 cups Basmati Rice
Vegetable Oil
---
To begin, de-bone the lamb, with bits as large as possible, but keep the pieces under 3/4″ strips. For boneless lamb, cube into 1/2″x1/2″ chunks or so. There's no need to be precise.  Set aside for later, along with any bones ~ the bones are full of meaty goodness.
Next, chop up an onion finely, and mince 3-4 cloves of garlic (unless you're using jarred stuff).
Now, take a karahi/kadai, dutch oven, stew pot, whatever. It needs to hold 3 quarts and have a lid. (2.5qt sauce pans aren't made for stewing). Heat up 3 tbsp of oil and saute the onions for a bit until they start to turn translucent. Add in the garlic and lamb (and bones), and stir-fry until the meat is just browned over.
Add in water to cover (around 1-1/2 cups), 2 tsp cumin, 2 tsp black pepper, a pinch of salt, a pinch of cayenne, and bring to a simmer. Cover, and…wait. Keep at a simmer for about an hour and a half, or until the liquid thickens some and the lamb is tender.
While you're waiting, wash 2 cups of rice and let soak.
With about 40 minutes left on the clock, it's time to start the rice. Drain the rice, and in a large skillet, add 2 tbsp of oil saute the rice on high for a few minutes to brown slightly. Add in 6 cups or water, cover, reduce heat, and steam for 30 minutes.
When there's 10 minutes left on the stew timer, remove the bones, add in the spinach along with just shy of a half-bunch of cilantro (chopped finely).  If you're not using baby spinach, you'll want to chop that up a bit as well.  Stir regularly to help the spinach wilt for ten minutes or until the rice is done.
Serve in bowls.