Aloo Gosht – Pakistani Beef and Potato Stew
Aloo Gosht (literally, potatoes and meat) is one of those comfort-food things that will probably go into regular rotation here, hopefully to the detriment of some of the yummy-but-bad-for-you-glop everyone likes. Beneath the potatoes and beef, there's a tomato base, and enough aeromatics to make the entire house hungry.
This really is best with your el-cheapo $5/lb beef chonk. If you can find one with the dollar off sticker, even better. It can aslo be made with lamb or goat, but if I weren't using beef, I'd definitely get the goat, which is either overpriced or available at a good Halal butcher.
Serves about 4, but can easily be doubled.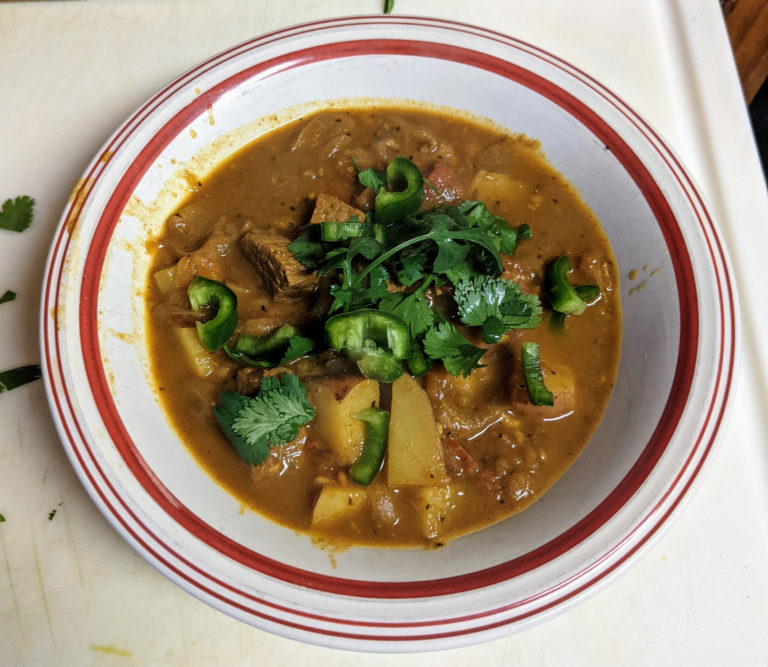 ---
Nutrition Facts
Serving Size 1 bowl
Servings Per Container 4
---
Amount Per Serving
Calories 394
Calories from Fat 72.9
% Daily Value*
Total Carbohydrate 52g
17%
---
*Percent Daily Values are based on a 2,000 calorie diet. Your daily values may be higher or lower depending on your calorie needs.
Shopping List:
1lb stew beef
1 large onion (roughly 1 pound)
4 red potatoes (1-1.25 pounds)
3-4 Roma tomatoes (roughly 1 pound)
Anaheim chili~ or hotter depending on preference
Cinnamon stick
Garlic
Ginger
Cardamom
Pepper
Whole cloves
Chili powder
Turmeric
Coriander
Cilantro (optional)
Salt
Start by cutting things up. At a minimum, you need the beef, tomatoes, and onions on hand, but to save time you can chop up the potatoes later. Beef should be 1/2-3/4″ cubes, same as potatoes. We've decided cutting the onions into strings is the best texture, so cut in half along the north/south axis, then slice roughly 1/8″ wide.
Tomatoes just chop up coarsely, they're mostly going to render down anyway.
Now, I use a karahi (kadai) but ultimately you'll need a pot roughly 4 quarts. If you do a lot of stews/curries, I think a karahi is a good investment.
Anyway, cooking. Heat up your pan to medium with a couple tablespoons of oil. Add in your onion strings and stir-fry for 5-10 minutes ~ just until they start start to soften. Then, add in your first round of spices:
3 cloves
1″ cinnamon stick
1 tbsp pepper
1/4 tsp cardamom
Let that go for another minute or two to let the flavors start to come out. Add in 1 tbsp garlic paste and 1 tbsp ginger.  Stir until it's an incorporated paste.
Add in the tomatoes and the rest of the seasoning:
1 tbsp chili powder
salt to taste (1/2 tbsp)
1-1/2 tsp turmeric
1/2 tsp coriander
Simmer for another 10 minutes or so until the juices come out of the tomatoes. A wet slurry is the best I can describe it.
Now turn up the stove and add in the meat. Stir to get nicely coated, and then stir-fry until the meat is browned. Once that's done, add in a cup or two of water – enough to cover the meat. Bring to a boil, cover, and let simmer until the meat is tender, probably 20-30 minutes. Stir regularly and add more water if it seems to dry out.
Home stretch ~ add in the potatoes, and enough water to cover. Bring that back up into a simmer and let go until the potatoes are easy to poke with a fork. While it's cooking, add more water as necessary depending on how thick the sauce you want is (we like a thick stew, but some folks like it more soupy).
And we're done (mostly). If you want it pretty, you can garnish with coarsely chopped cilantro & chilies, or add them to the stew once the burner is off. Either way, let them sit for a few minutes before serving. Skip the cilantro if you're one of those soap people, otherwise it's preferred.