Aloo Gosht – Pakistani Beef and Potato Stew
Aloo Gosht (literally, potatoes and meat) is one of those comfort-food things that will probably go into regular rotation here, hopefully to the detriment of some of the yummy-but-bad-for-you-glop everyone likes. Beneath the potatoes and beef, there's a tomato base, and enough aeromatics to make the entire house hungry.
This really is best with your el-cheapo $5/lb beef chonk. If you can find one with the dollar off sticker, even better. It can aslo be made with lamb or goat, but if I weren't using beef, I'd definitely get the goat, which is either overpriced or available at a good Halal butcher.
Serves about 4, but can easily be doubled.
Prep time: 30 minutes
Cook time: 1 hour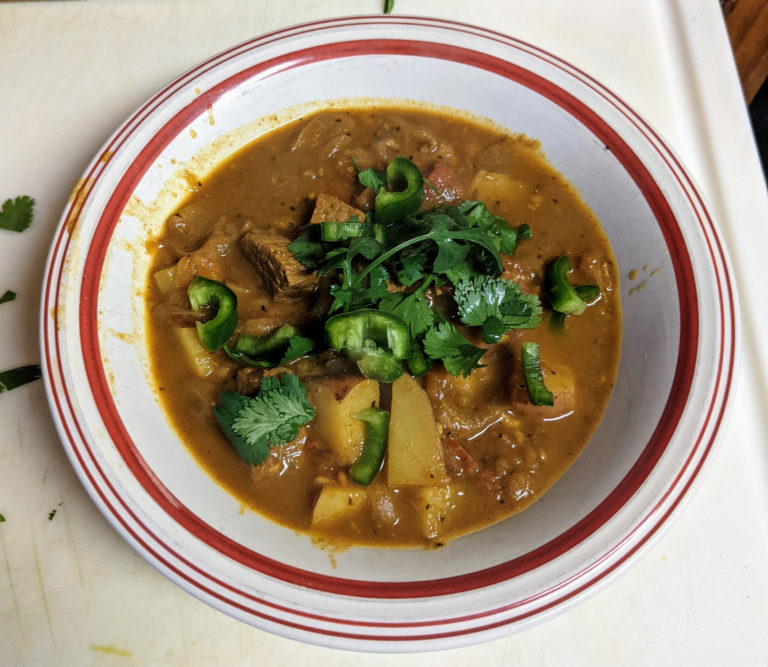 ---
Nutrition Facts
Serving Size 1 bowl
Servings Per Container 4
---
Amount Per Serving
Calories 394
Calories from Fat 72.9
% Daily Value*
Total Carbohydrate 52g
17%
---
*Percent Daily Values are based on a 2,000 calorie diet. Your daily values may be higher or lower depending on your calorie needs.
Shopping List:
1lb stew beef
1 large onion (roughly 1 pound)
4 red potatoes (1-1.25 pounds)
3-4 Roma tomatoes (roughly 1 pound)
Anaheim chili~ or hotter depending on preference
Cinnamon stick
Garlic
Ginger
Cardamom
Pepper
Whole cloves
Chili powder
Turmeric
Coriander
Cilantro (optional)
Salt
Start by getting things together. At a minimum, you need the beef, tomatoes, and onions on hand, but to save time you can chop up the potatoes later. So, in separate bowls:
Cut the 1 beef into be 1/2-3/4″ cubes
Cut the onions into 1/8″ strings. We've decided it gives a nice texture.
Wash and chop the potatoes into 1/2″-3/4″ cubes, skin and all.
Tomatoes just chop up coarsely, they're mostly going to render down anyway.
Mince a couple tablespoons of both garlic and ginger
Combine the first round of spices:

3 cloves
1″ cinnamon stick
1 tbsp pepper
1/4 tsp cardamom

And the second round of spices:

1 tbsp chili powder
salt to taste ~ a pinch or so
1-1/2 tsp turmeric
1/2 tsp coriander

Dice the chilies and chop up 1/2 to one bunch of cilantro
Now, I use a karahi (kadai) but ultimately you'll need a pot roughly 4 quarts. If you do a lot of stews/curries, I think a karahi is a good investment.
Anyway, cooking. Heat up your pan to medium with a couple tablespoons of oil. Add in your onion strings and stir-fry for 5-10 minutes ~ just until they start start to soften. A good indicator is the volume of onions will reduce to about 2/3ds. Now add in your first round of spices.
Let that go for another minute or two to let the flavors start to come out. Add in the garlic and ginger.  Stir until it's an incorporated paste. Then add the rest of the spices.
Next, turn up the stove and add in the meat. Stir to get nicely coated, and then stir-fry for a few minutes to brown the meat.
Turn the stove down to medium again, and add in the tomatoes and simmer for another 10 minutes or so until the juices come out of the tomatoes. A wet slurry is the best I can describe it.
Once that's done, add just enough to cover the meat. Bring to a boil, and let simmer until the meat is tender, probably 20-30 minutes. Stir regularly and add more water if it seems to dry out.
Home stretch ~ add in the potatoes.  Hopefully there's enough liquid in the pot. If not enough water to barely cover everything. It's okay if bits stick out above the surface a little.. Bring that back up into a simmer and let go (stirring regularly) until the potatoes are easy to poke with a fork.
And we're done (mostly). Turn off the burner and add in the chiles and cilantro – reserve a little cilantro for garnish if you like. Then let sit for ten minutes before serving.