Afghani Dumplings (Aushak)
This is almost a universal recipe based on my pokings (everyone does more or less the same thing), and basically consists of dumplings, a yogurt sauce, and a meat sauce. It can take anywhere from 1-3 hours to do*, but so, so, worth it.  Just the meat sauce required me to defend the kitchen with my trusty spatula.
This is full of rich, complementary flavors that come in a fantastic medley. I promise it tastes better than my crummy photo.
*if you gotta make your own dumpling wrappers…on the outside. More on that later.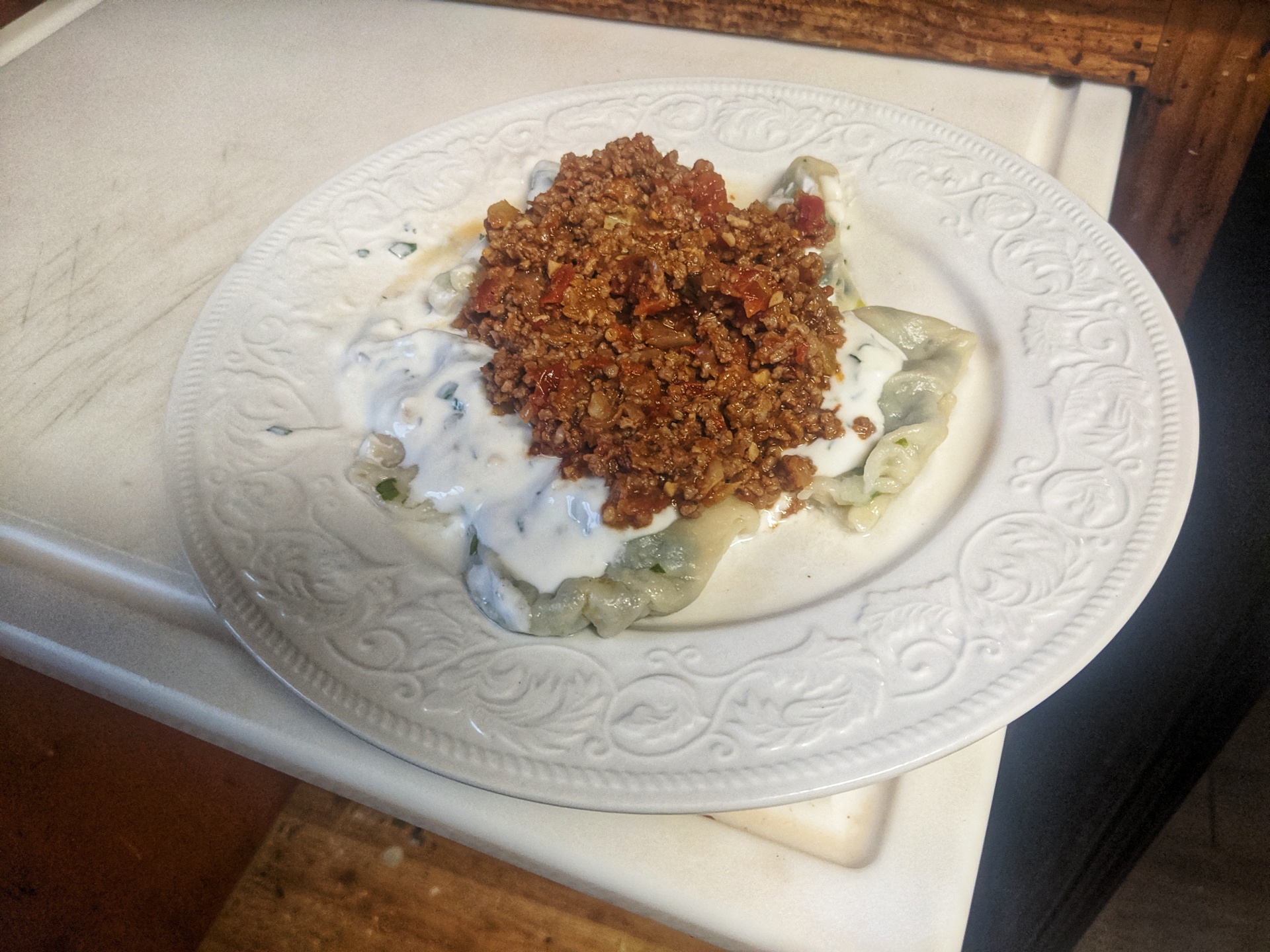 Before I get into the meal proper, hopefully you can get wonton wrappers locally.  The basics are universally the same: flour, egg, salt, water, cornstarch. Not super hard to make if you're not worried about perfection You can find plenty on the internets or [placeholder for my recipe(s)]
One critical note before I get into ingredients and the like, is this is a lamb recipe. Using ground beef will have a drastically different flavor, certainly not as good as this.
So, shopping list:
Nutrition Facts
Serving Size 4 dumplings
Servings Per Container 6
---
Amount Per Serving
Calories 621
Calories from Fat 85.5
% Daily Value*
Total Carbohydrate 94.4g
31%
---
*Percent Daily Values are based on a 2,000 calorie diet. Your daily values may be higher or lower depending on your calorie needs.
Filling —————————–
2 bunches green onions (~1lb), or shallot (~1lb), or a combination of either with a couple leeks combined to make a pound
clove (1tsp) minced garlic
pinch of red chili flakes
pinch of salt
pinch of pepper
Wonton wrappers, at least 24  or make your own
Yoghurt sauce —————-
1 cup whole milk yogurt (nothing fancy)
1/3 head fresh mint (maybe 3tbsp dried if you gotta)
2 cloves (tbsp) minced garlic
pinch salt (optional)
Meat sauce ——————–
1lb ground lamb
large onion, finely diced
3 garlic cloves (one tbsp) minced garlic
heavy pinch of pepper
pinch salt (optional)
1-1/2 tsp paprika (not smoked)
1-1/2 tsp coriander
4 large tomatoes, beefsteak or otherwise juicy (about 3 pounds)
---
So to begin, I first make the  dumpling stuffing. I believe can sit aside the longest so far as cooking stuff goes, since it's going to get reheated in the dumpling and not burning your hands is a definite advantage.
Slice your veg (green onions etc) as fine as you can, and sautee in a pan with a dollop of olive oil. After a quick minute add in a clove or so garlic, soon after followed by a pinch each of red pepper flakes, pepper, and salt. Sautee until just the point where the aromatics burst out. Put aside in a bowl for later.
Next up, start on the meat sauce. If you didn't have to make wonton wrappers, it's actually the most complicated except it isn't.
First up, slice up yer onion as small as you're able without stressing about it, as a little extra texture isn't a bad thing. Sautee (you can reuse the skillet) until the onion starts to wilt, add a few cloves of garlic then after a minute add in the lamb and cook until it's crumbly and not pink. Meanwhile dice up your tomatoes, so when the time comes you can add them to the skillet along with that 1-1/2 tsp paprika and 1-1/2 tsp coriander
Now comes the deviant part.  If you're cooking with tomato sauce, I figure 20 minutes of simmer until the liquid is cut roughly in half.  But if you're doing it my way, figure at least a hour at lower temps to get the juice out of the maters and mix in. You'll know it's done when most of the liquid is gone meaning the flavors are all up in the hood.  The skins will be shriveled up, but just adds a bit of bonus texture.
Around about the time you start in on the meat, make that yoghurt sauce.  It really is a cup of yoghurt, some mint, and some minced garlic.  Stir gud and let it chill in the fridge, stirring regularly.
---
Don't fret, there's just the one tricky bit left, which is assembling the dumplings. There are a number of ways, but folding them up like letters is the easiest for us plebes. Try and match the appropriate amount of filler vs wrapper, and wet the edges so they seal up nice.
Boil for  5-7 minutes, or until they're done.   For removing from the pot, I've found a flat-bottomed skimmer such as used in cheesemaking to be ideal for not damaging the dumplings.
Plating, set down a layer of dumplings, topped with enough yoghurt to stick them together, and top that with a generous amount of the meat sauce .