Afghani Chicken Korma
This recipe is derived from my red meat (gosht) korma, The main differences are in cooking, and primarily fewer tomatoes. I might do a version down the road that's wholly tomato-less, but I find the tomatoes add a nice flavor as well as some bulk vs. loading up on more chicken and onions.
Anyway, korma has a nice creamy texture without feeling heavy despite the yogurt.  We keep the seasonings mild as Kat developed a sensitivity after having covid. If you like it hotter, switch to a hot paprika and/or add cayenne to your preference.
Serves: 4
Prep Time: 20 minutes
Cook Time: 1.5 to 2 hours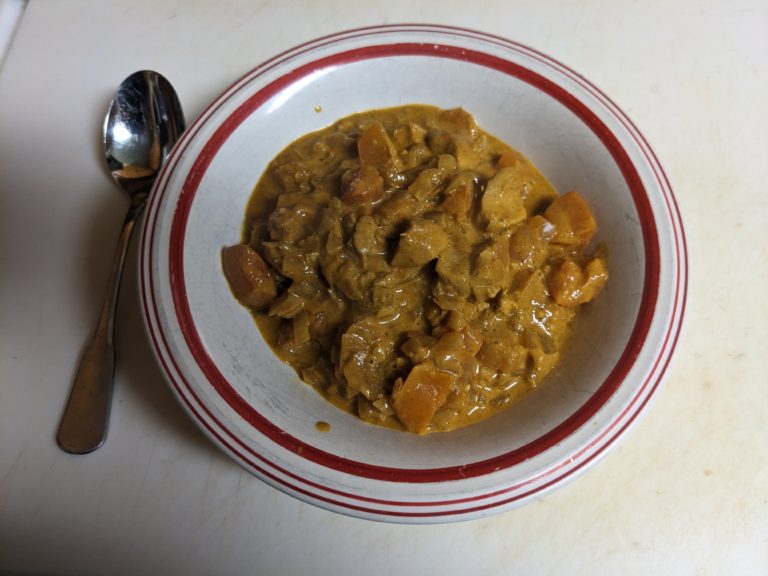 ---
Shopping List:
1 lbs boneless, skinless, chicken thighs
1 large (roughly 1 pound) onion
1 pound tomatoes
Yogurt, plain full-fat (1)
Garlic
Ginger
Cardamom
Chili powder
Cinnamon (powder)
Coriander
Cumin
Paprika
Turmeric
Salt
Oil
(1) I've started using Persian yogurt, as Greek yogurt tends to clot when cooked. Damavand is a local brand.  You can find something similar in your local Middle Eastern/halal market.
To get ready:
Mince a couple tablespoons of both ginger and garlic.
Cut up the chicken into roughly 3/4″ chunks. Don't worry about precision since that's impossible with thighs.
Dice up the onion into small bits
Cut up the tomatoes into 1/2″ chunks
Set aside 1 cup (ish) yogurt. I take a 1 cup glass measuring cup and fill it all the way
In a small bowl, combine the dry spices:
1/2 tsp cardamom
2 tsp chili powder
2 tsp coriander
2 tsp cumin
2 tsp paprika
1 tsp turmeric
To begin cooking, heat up a couple tablespoons of oil in a 3 quart (2,5L) karahi or dutch oven. Tip in the garlic and ginger for a minute to let the aromas come out. Add in the chicken and saute until cooked over. Don't worry about cooking it all the way through, there's time for that later.
Next, add in the onions and saute until soft. Tip in the dry spices and stir to coat everything.
Turn down the heat and put in the tomatoes, mix, then add the yogurt.  Stir thoroughly and simmer for a few minutes until the tomato juices start to come out.
Add in 1 cup of water, and simmer for about an hour until the sauce is the consistency of a thin gravy.  Turn off the heat and rest for a few minutes before serving. The korma will thicken up a bit in the process.
Serve in your favorite bowls.
---
Feel free to share or leave your thoughts below