Red Lentil Soup (hasa adas)
Lentil soup (حساء عدس) is a staple across the Arabic world, and there about as many variations as there are families. Some go plain, some add potatoes, or sweet potatoes, stock of some kind, or not. This list goes on and on. It's inexpensive, filling, and light ~ which makes it a popular choice to break the fast during Ramadan and other times where fatty foods would slow a person down.
I've tried to keep this in the Libyan style, partly as that's often a jumping-off point for me, and mostly it's simple, straightforward, and tastes good. So, no potatoes. I've also skipped using stock as the vegetables basically do that anyway.  The fried onions add a nice little kick to the affair, but aren't 100% necessary (but recommended). And as such, this recipe is vegetarian/vegan friendly so it's a good thing to keep in the recipe arsenal.
Serves 4-6
Cooking time: Approximately 1.25-1.5 hours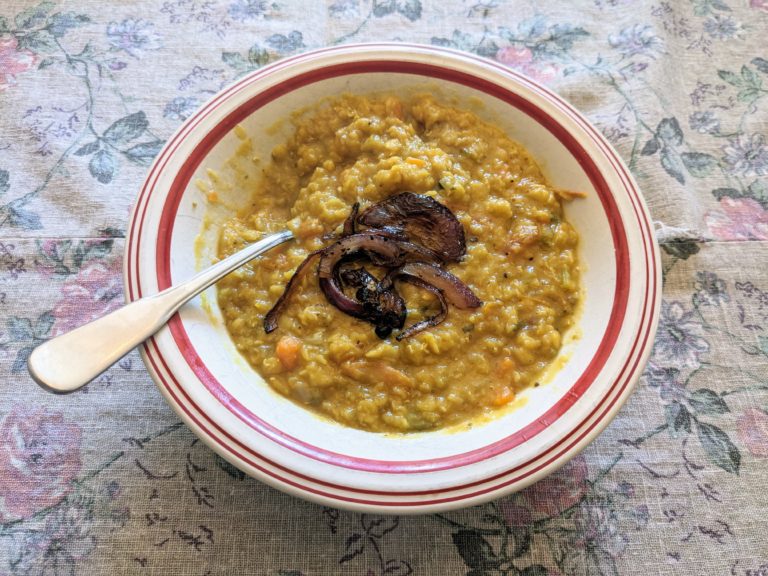 Nutrition Facts
Serving Size 1 bowl
Servings Per Container 4-6
---
Amount Per Serving
Calories 455
Calories from Fat 63
% Daily Value*
Total Carbohydrate 74.1g
25%
---
*Percent Daily Values are based on a 2,000 calorie diet. Your daily values may be higher or lower depending on your calorie needs.
---
Shopping List:
Red Lentils (2 cups/ 450g)
Large onion (1lb / 500g)
1 large or 2 roma tomatoes (250g)
2-3 celery stalks with leaves (150g)
2 carrots (200g)
Garlic
Cumin
Black pepper
Coriander
Turmeric
Salt
Vegetable oil
Small onion for frying
To begin, put the lentils in a bowl and pick out any dodgy ones. Cover with water and soak for at least an hour (2 preferred).  Add water as necessary since the lentils will absorb some in the process.
Meanwhile, dice the onions as small as reasonable, and set aside  in a bowl. In another bowl chop the tomatoes, and in a third, dice the celery and carrots into bits less than 1/4″. Fourth, mince about 2 tbsp garlic and set aside as well/
Then combine the dry spices in a bowl:
1 tbsp cumin
1 tsp black pepper
1 tsp coriander
1/2 tsp turmeric
---
In a couple tablespoons of oil, stir-fry the onions until they start to get mushy. Then add the garlic, and stir for another minute or two so the garlic flavors start to come out.
Next, add in the tomatoes and spices. Toss everything to coat, then continue to cook for another 5 minutes until the tomatoes start to sweat.
Pour in 5 cups of water, followed by the celery and carrots, then the lentils. At the same time add a tablespoon or so of salt.
Stir well, then bring to a boil and simmer for around an hour.  Somewhere half-way through add another cup of water to keep it extra liquidy.
Now attack it with a stick blender or a mouli. The target texture is lumpy but not chunky. Basically just break up the lentils and vegetables and don't make a slurry. Unless you like that I guess.  It's a good time to add water to adjust how soupy you like your soup, and let simmer for a few more minutes to heat/incorporate it all through
Meanwhile cut up some of the other onion to make a small pile of strips. In a separate pan get a few tablespoons of oil hot and fry the strings until they start to caramelize. Set aside on a paper towel to absorb any excess oil.
Let rest for 5-10 minutes before serving.  To serve, place in bowls with a bit of the fried onions on top.
---
Feel free to leave a comment below, and share with your friends.