Sharba (Libyan Soup)
More home cookin', Libyan style. This soup is lamb, chickpeas, and orzo on a tomato base. The main seasoning is 'bzaar', whose flavor has some nice high aromas without smothering the ingredients, and is accented by fresh cilantro and mint.
I bought my bzaar, but the shipping was more than I'd care to spend again. Next time, I'll try one of the 'world markets' that mostly specialize in Middle Eastern cuisine, and I might get lucky.  There are also recipes for the blend online, but I can't recommend one just yet.
The chickpeas are the gating factor. To do them right you have to soak them for 8+ hours (or overnight) or they're like marbles.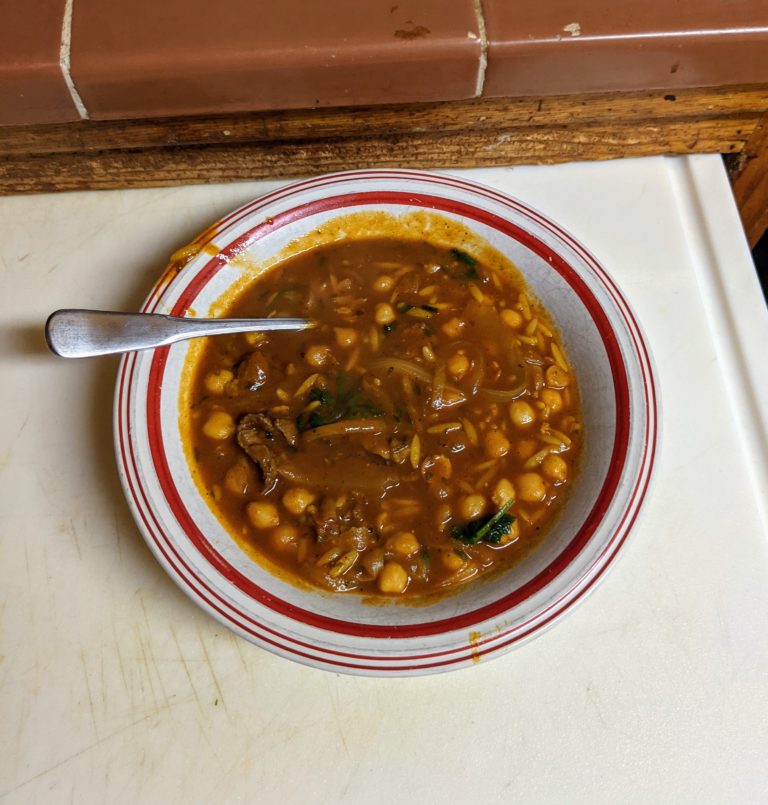 ---
Nutrition Facts
Serving Size 1 bowl
Servings Per Container 4
---
Amount Per Serving
Calories 578
Calories from Fat 171
% Daily Value*
Total Carbohydrate 56.5g
19%
---
*Percent Daily Values are based on a 2,000 calorie diet. Your daily values may be higher or lower depending on your calorie needs.
Shopping List:
1/2 to 1lb lamb stew meat, bones and all
1 cup chickpeas (see the end of the recipe)
1/2 cup orzo
Bzaar spice mix (link)
5oz can of tomato paste
Small-ish onion
Fresh cilantro
Fresh parsley
Mint (dried is okay)
Cayenne pepper
Salt
Olive oil
The first half of this recipe goes rather quickly, so it's best to get everything ready. First, slice the onion into strips. This is my preferred method for soups/stews/curries because the onions retain some texture through the cooking process.  For the lamb, cut the meat away from the bones in as big chunks as possible, and cube the meat so it's no more than about 1/2″ chunks. Do not discard the bones.
To start with, saute the onions until they start to get soft. Add in the lamb ~ bones and all ~ and brown the meat. Then strain and dump in the garbanzo beans.
Next, lower the heat to medium, and add in the tomato paste, along with a heavy 1-1/2 tbsp bzarr, 1/4 tsp cayenne powder, and a small palmful of salt.  Stir until everything is well coated.
Add enough water to coat, plus about an inch. This'll be somewhere between 4-6 cups. Bring back to a boil, and simmer for 30 minutes, or until the lamb and chickpeas are tender. The chickpeas should be slightly firm but easy to squish.
Add in the orzo and enough water to cover everything by an inch again. Bring back to a boil, and cook for 9 minutes, so the pasta is al dente. Add more water as necessary to keep it soupy (the orzo will soak up a fair amount).
Turn off the heat and add in 3/4 bunches of cilantro and Italian parsley, and 3 tbsp mint. Stir well and let sit for a few minutes before serving.
---
Preparing chickpeas:
I'll start by noting that a number of people use canned chickpeas in this dish. If you're going to do so, add them in towards the end of cooking the meat ~ maybe 15  minutes till ~ to get them hot and let the flavors work in. Just not too early or they'll turn into mush.
For dried peas, they need to be soaked for at least 8 hours (overnight is cool) to let them rehydrate. Then, put them in a pot and cover with water. Bring to a boil and then simmer for 1 to 1-1/2 hours (the shorter the soak, the longer the simmer.  Keep an eye on the peas and add more water as necessary to keep them covered. Let them cool in the pot.