Karahi Chicken
Karahi chicken is a highly aromatic stew (curry) that brings together tomatoes, chilies, and a nice cilantro 'kick'.  It gets it's name because, well, it's cooked in a karahi (or kadai), which is a thick-walled stew pot common throughout the region. I'm using chicken, but the Pakistanis have beef variants as well.
It's one of those 'family' recipes, meaning every family has their own take.  But, they're all pretty similar except for some regional variations. Pakistani versions are pretty straight-forward. Northern Indian folks add an onion and a green pepper and a lot more heat. Further into India you start seeing garam masala and other more traditional Indian spices thrown into the mix.
Here, I've done the Pakistani style, and sort of a mild-side-of-medium heat. This can be adjusted simply by what sort of chilies are used.
Update: we don't do bread so much any more, as done right the stew is plenty for four.
Prep time: 20 mintutes
Cook time: 1 to 1-1/2 hours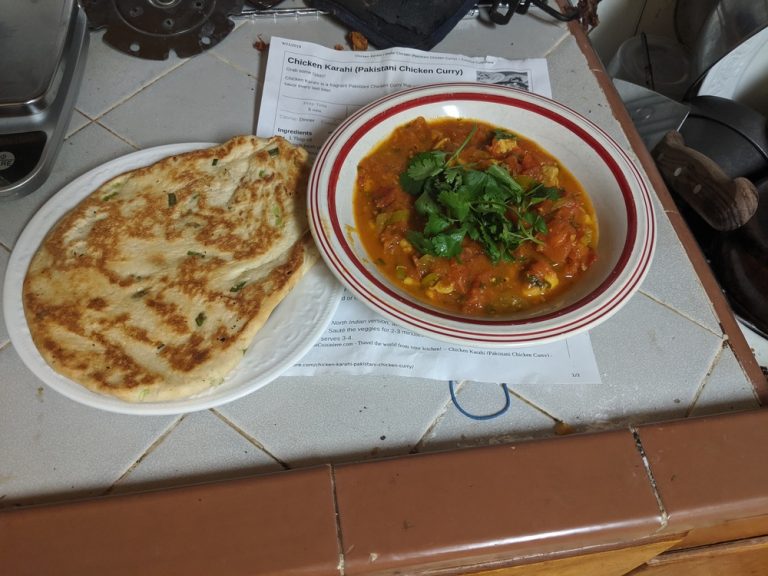 Nutrition Facts
Serving Size 1 bowl
Servings Per Container 4
---
Amount Per Serving
Calories 223
Calories from Fat 51.3
% Daily Value*
Total Carbohydrate 19g
6%
---
*Percent Daily Values are based on a 2,000 calorie diet. Your daily values may be higher or lower depending on your calorie needs.
---
Shopping List:
1lb boneless, skinless, chicken thighs
3 pounds large tomatoes
Anaheim chilie, 1/2 pasilla, or to preferred heat
1 bunch cilantro
garlic
ginger
red chili powder
red pepper flakes
turmeric
cumin
ground black pepper
salt
yogurt (optional)
---
So, a karahi, as I mentioned, is a high-sided, thick-walled stew pot that's really good for stews and the like.  This is my analogue that I'll be replacing with a cast-iron piece soon.
If you don't have a karahi, substitute a high-sided skillet.  The big thing it needs to hold 3-4 quarts.
---
This recipe comes all together pretty much all at once, so do all the cutting/chopping in advance.
First, cut up the chicken thighs into approximately 1/2″ chunks, and set aside.
Next, mince 3-4 tbsp (each) of garlic and ginger.
Finally, get all the other stuff ready. Dice up the tomatoes into about the same – 1/2″ to 3/4″ cubes. Put in a bowl, seeds included. De-seed the chilies and slice into pieces  around 1/4″ and add them to the bowl. Add in the spices:
1-1/2 tsp cumin
1 tsp chili powder
1 tsp turmeric
1 tsp black pepper
pinch (1/2 tsp or so) red pepper flakes
1/2 bunch of the cilantro, chopped finely
Chile, diced to 1/8″ bits
a dollop of yogurt
pinch of salt
To begin cooking, turn the stove up to medium/medium high, and saute the garlic and  ginger for a few seconds, and then add the chicken.  Saute the chicken until it's just cooked through (no pink).
Add in the other stuff, and mix everything together.  Turn down the heat and simmer the lot for about 30-45 minutes, stirring regularly.
It'll be done when the liquid has reached a stew-like consistency ~ that is, not watery, but doesn't have to be thick either.
Serve in bowls with a few cilantro leaves on top for garnish, You can serve with naan, but we've found it's plenty of food without.