Grilled Tequila Fajitas
Fajita time!  It's also Weber Season. So, we can cook all of the main dish on the grill, not counting any sides you might want.
Good fajitas have a robust flavor, and here a little tequila kicks it up a notch. The alcohol will be cooked out, so it's fine to serve to kids. Also, I'm using tri-tip but any respectively thick cut of meat that can be sliced is perfectly fine.
Minus any sides, we're going to say this serves eight, as low as ix people if you have teenagers.  More if you include sides – refried beans and Spanish rice are the most appropriate
---
Nutrition Facts
Serving Size 2 tortillas
Servings Per Container 8
---
Amount Per Serving
Calories 1143
Calories from Fat 582.3
% Daily Value*
Total Carbohydrate 31.1g
10%
---
*Percent Daily Values are based on a 2,000 calorie diet. Your daily values may be higher or lower depending on your calorie needs.
Shopping list:
2 pounds steak tri-tip
1/2 cup decent tequila
Worchestershire sauce
Red chili flakes
6 cloves garlic
Cumin
Olive oil
a few drops hot sauce (optional)
1 green pepper
1 red pepper
1 yellow pepper
3 roma tomatoes
Large onion
Sour cream
Guacamole (optional)
16 6″ tortillas
Big aluminum foil
bbq wood chips (optional)
Fajitas are actually pretty crazy easy, but the secrets lie in how you marinade the meat, and how you cook it.  I'm going to split up the cooking part into two methods, but the marinade is common so let's start there.
First, though, I should mention that not all marinades start out as "oh, hells yeah", so sometimes a little faith is in order.  This one, for example, starts out life smelling like one of those hole-in-the-wall bars full of same locals you'll see every time you go.
It smells like tequila and angst.  But unlike that bar, it gets better with age.
Also unlike that bar, you need a decent tequila.  I used Sauza Commemorativo Anejo, which sounds a little posh, but we're talking about a 1/2 cup of agave juice – which means there's plenty left for some kick-ass margaritas.
To start with, do up the marinade: Add all the ingredients, and then pour the olive oil in slowly, whisking as you go. This makes the marinade more homogeneous.
1/2 cup decent tequila
1/2 tbsp Worchestershire sauce
1 tsp chili flakes
6 cloves garlic (minced)
1/2 tsp cumin
2 tsp pepper
1/4 cup olive oil
a couple of drops Cholula or other hot sauce (optional)
And…like I said: tequila and angst.  Again, trust me.  It'll all mellow out.
About the same time, if you're using oak chips, it's a good time to get them soaking in water.
To marinade the meat, poke holes in it with a fork, add the meat to a bag then pour in the marinade. Squish the bag around to get the meat fully coated.  As an aside, I finally got around to having Kat show me how to use the vacuum sealer, so that's my favorite toy right now.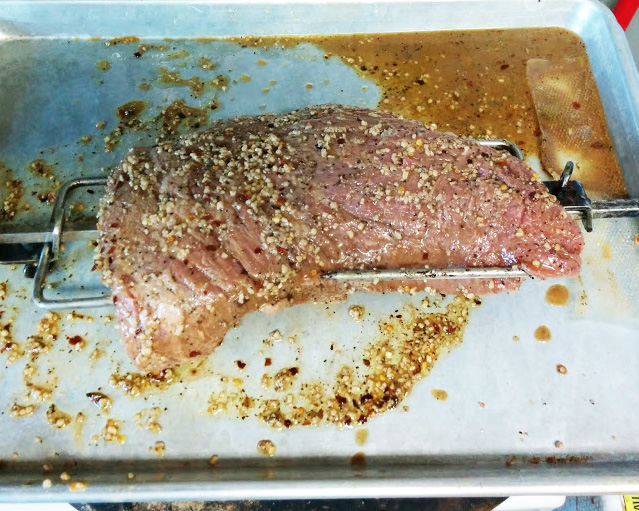 Once the time is up, you'll have a bunch of meat covered in garlicy goodness.  There' might still be some of that booze smell, but that'll cook off.  Do try and save a little of that marinade
I'm also using a tri-tip, so if you're not, try and imagine several steaks sitting in the pan.  I would highly suggest you don't try and put a skirt steak on a rotisserie.  I mean, you can, but you shouldn't.
Before we go any further, it's time to address the veg:
I used one each: green, yellow, orange, and red peppers.  It makes for a nice color (and flavor) balance.  Cut the peppers in half, de-seed and de-vein, and then slice into ~1/4″ strips.  Half the strips so they're a bit more manageable when you're trying to eat them. Tomatoes, likewise slice lengthwise (but there's no reason to halve them). Cut your onion with the grain so it's nice and chunky. I'll post a pic of the veg in a bit so you can see what I mean.  Put all that in a bowl, and add a little of the marinade that you saved earlier.
Now set up the grill.  Yay, fire!  While the coals are getting hot, take all your veg and wrap it in aluminum foil.  I buy 18″ (vs 12″) foil for this sort of thing, and also because it covers my casserole in one piece.  Anyway, Wrap it up good so the foil burrito won't fall apart. When the coals are ready, add your wood chips, drop the grate and cook.
---
Rotisserie: let it spin right round, baby right round until it hits about 100-110 degrees.  Put the veg burrito on the grate, and turn it over when the steak hits about 120 – and take the steak off at this point since it wants to rest and the internal temp will continue to rise.  Flip the veg a couple times while the meat rests.
---
Steaks:  It depends on the steak: you may want to put the veg on the grill along with the steak, and flip the veg when you flip the steak.
---
In both cases, watch the veg for hot and cold spots, and flip accordingly.
Steak will look like steak, and veg will look something like this: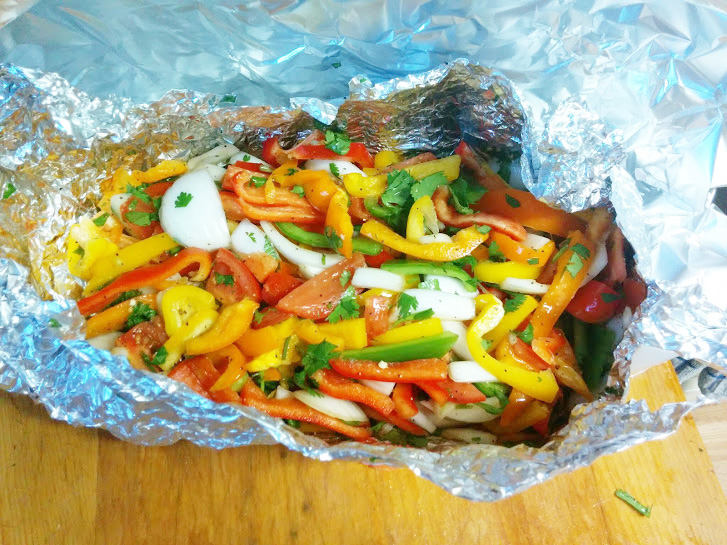 Slice the steak into strips against the grain.  If you're using tri-tip, consider slicing those strips long-wise as well.  Serve with components separately, along with tortillas, salsa, guacamole, and sour cream.  Let everyone assemble their own.  Also, don't be an idiot like me, and use 6″ tortillas.  Refried beans and Spanish rice make good sides.