Kofta Kebabs
…well, mostly anyway.  To date, I haven't been able to keep them on the sticks.  I think it's a combination of not kneading the meat mix enough and not waiting  long enough before turning.  Fortunately this makes for nice finger-food meatballs so I keep a griddle handy for when things go South – it's not like they're typically served on skewers anyway.  It's just a difference in cooking, so the flavor will be slightly different.
Anyway, these are nice and savory, and go well with roasted vegetables and some flatbread.  This time I used naan, but a lavash would go equally well. I made a cucumber-mint dip since it's a favorite here, but tzatziki would be good as well.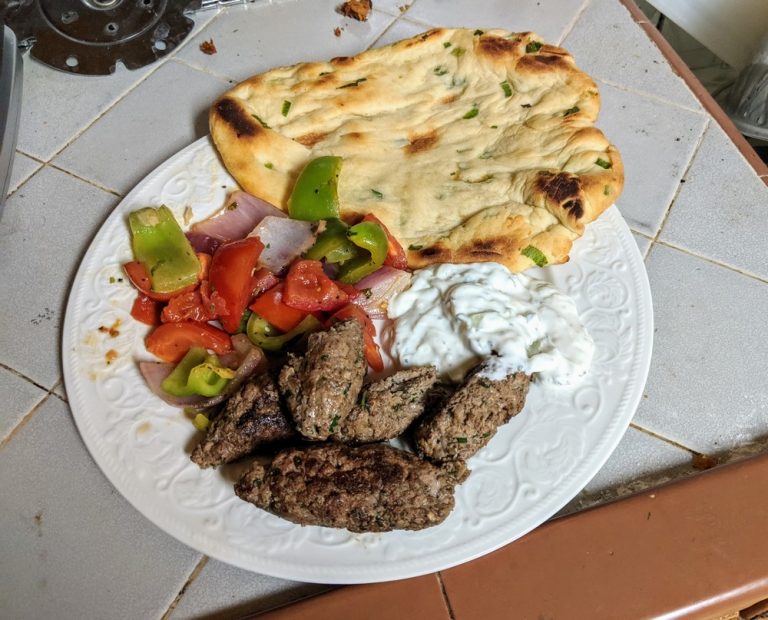 ---
Nutrition Facts
Serving Size
Servings Per Container 4
---
Amount Per Serving
Calories 245
Calories from Fat 80.1
% Daily Value*
Total Carbohydrate 7.3g
2%
---
*Percent Daily Values are based on a 2,000 calorie diet. Your daily values may be higher or lower depending on your calorie needs.
Shopping list:
1 to 1-1/2 pounds ground lamb or beef – ground lamb from the supermarket here comes in 12oz bricks and I used two.
1 medium-to-large onion
4 garlic cloves, crushed
4 tbsp finely chopped fresh parsley ~ approx. 1/2 a bunch
4 tbsp finely chopped cilantro ~ approx. 1/2 a bunch
2 tbsp finely chopped fresh mint ~ approx. 8-10 leaves
2 tsp black pepper
1 tbsp cumin
1 tsp ginger
1 tsp cinnamon
1 tsp salt
1/2 tsp ground clove
---
First up, grate the onion.  I use the cheddar cheese part of a box grater.  Take up the shavings in a kitchen towel and squeeze out as much moisture as possible.
Combine that in a bowl with the ground meat.  Then add the parsley, cilantro, mint, and spices.  Mix thoroughly, and keep working the mix until it has a dough-like consistency.  Let it rest in the refrigerator for at least an hour so the flavors have a chance to combine.
Meanwhile, start around 15 skewers (if you're using bamboo ones) soaking, for at least a half-hour.
Now it's time to skewer the kabobs.  Take a bit of meat and form it around the skewers.  They should be a bit thicker, and a bit longer than a lil' smoky sausage.  Press the meat to the skewer as much as possible, and make sure the ends are firmly closed around the skewer (that's a weak point).  These aren't typically served on the skewers (as I mentioned earlier) so two per is just fine if you're short on grill space.  Put the kabobs back in the fridge to chill for 20-30 minutes, while you start the fire.
It's a good time to clean the grill grate of all the gunk, and give it a quick oil to make it less sticky.
When it's time to cook, arrange the kabobs cross-wise against the grill slats to minimize contact, and let 'em cook for about five minutes before flipping (this is where I always screw up, I think) to cook the other side.
Serve with flatbread and a yogurt-based dip, along with roasted vegetables* or some sort of Middle Eastern salad (I don't have any recipes there yet, sadly).
---
For roasted vegetables, I coarsely chop up red onions, green bell peppers, and tomatoes. Wrap in foil and add squeeze in the juice of 1/2 lemon. Sprinkle a bit of pepper and salt. Wrap up the foil and leave at the edge of the grill grate while cooking the meat