Keema Matar – Mincemeat and Peas Curry
So, Kat says this one is a 13/10 and the kid agrees, so I guess that's an endorsement.  This is mostly a ground meat and tomatoes dish, where the peas add a little something extra. And, like some of my other dishes lamb and ground beef can be used interchangeably without altering the recipe to vary the meal, thus the generic "mincemeat".
This is a Pakistani version ~ the same dish is made in Northern India with the main differences being more heat and the introduction of garam masala.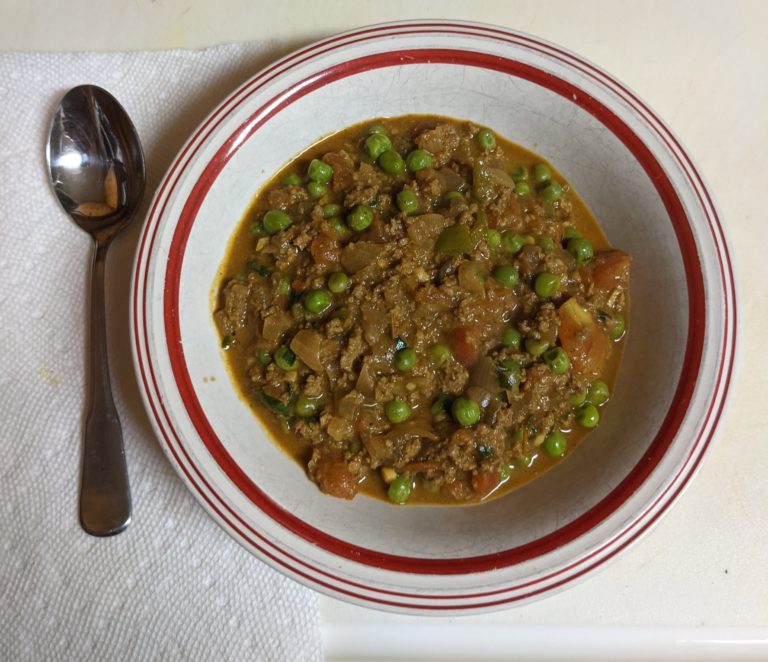 ---
Nutrition Facts
Serving Size 1 bowl
Servings Per Container 4
---
Amount Per Serving
Calories 315
Calories from Fat 74.7
% Daily Value*
Total Carbohydrate 20.5g
7%
---
*Percent Daily Values are based on a 2,000 calorie diet. Your daily values may be higher or lower depending on your calorie needs.
Shopping List:
1 pound ground lamb or beef
1 large onion
2 large tomatoes (approx 1.5 pounds)
5-6 cloves garlic, crushed
Green chile – I use Anaheims, but adjust to heat preference
Yogurt (plain whole milk)
1 cup frozen peas
Ginger (I use paste)
Cumin
Red chili powder
Turmeric
Black Pepper
Coriander
1 bunch fresh cilantro
To start with, set aside one cup of peas, and then chop up the onion rather finely. 
Next, cut up the tomatoes into large chunks set aside in a bowl and add:
Green chile, chopped finely
1 tsp red chili powder
1 tsp black pepper
1 tsp cumin
1/2 tsp turmeric
2 tbsp yogurt
a pinch of salt.
To start cooking, heat up a 3 quart pot with a couple tablespoons of oil. Add in 1 tsp cumin, 1 tsp pepper, 1 tbsp crushed garlic, 1 tbsp ginger, and 1 tsp coriander.  Stir-fry for a few seconds, then add in the onions. Saute until the onions wilt and become soft, and add the meat.  Cook until meat is browned.
Add in the bowl of tomatoes and yogurt.  Cook, stirring regularly, until the juice starts coming out of the tomatoes. Bring to a boil, then turn down the heat and simmer for 15-20 minutes. Stir regularly and add a little water if the curry dries out. It should have liquid in the pot but not be soupy
Finally, remove the cover and add in the peas along with a handful of chopped cilantro (about 1/2 cup).  Continue to simmer until the peas are done (soft but not mushy).  Turn off the heat and let stand for several minutes before serving.