Macroona Imbakaka (Libyan Chicken and Pasta)
Seems like most people say "this is Libya's quintessential dish" which usually means "I can't tell you mom's recipe under penalty of death", but here we are, and it's not my mom.  So…
Call it North African/Italian fusion in a way. Libya is a former Italian colony, so there's a lot of influence in the food.  This is pasta, chicken, and some wonderfully aromatic spice. It's also pretty homey.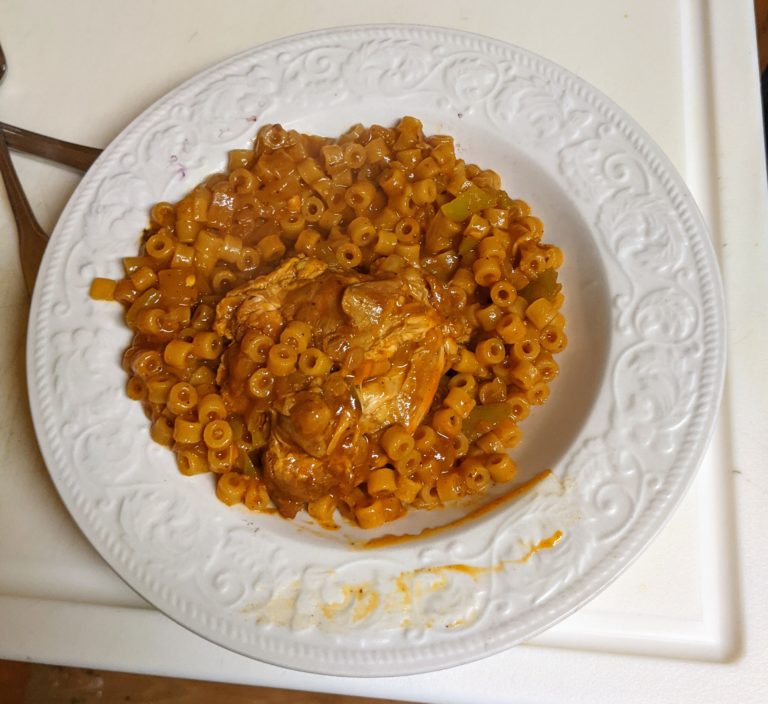 ---
Nutrition Facts
Serving Size 1 bowl
Servings Per Container 4
---
Amount Per Serving
Calories 401
Calories from Fat 117.9
% Daily Value*
Total Carbohydrate 55.8g
19%
---
*Percent Daily Values are based on a 2,000 calorie diet. Your daily values may be higher or lower depending on your calorie needs.
Shopping List:
4 chicken thighs, with skin and bone**
1/2 lb small pasta (ditalini, macaroni, etc) although some people use broked-up spaghetti
Olive oil
5 cloves garlic
Medium onion
6 oz tin tomato paste
1 tbsp bzaar seasoning (link)
Cayenne pepper
Pepper
Salt
Anaheim pepper or to heat preference
Prep work:  In separate bowls ~
Dice the onion into small bits, mince the garlic
Dice the chili pepper into 1/8 bits
Combine 1 tbsp bzaar, 1 tsp cayenne pepper, 1/2 tsp black pepper, and a pinch of salt.
Dice the chili pepper into ~1/8″ chunks
** If you don't have bone-in chicken thighs, use one pound of chicken and cube into bite-sized pieces.
Break out your large sauce pan, or I use a karahi. It needs to hold at least 3 quarts.  This is what I bought for the kid (Amazon link) which is about 3.5 quarts/liters.
To start cooking, heat up a couple tablespoons of olive oil in your pan, and brown the chicken. Don't worry too much if some of the skin sticks to the pot, it'll come off later.  Remove the chicken, and saute the onions and garlic until the onions get translucent.
Next up, turn down the stove to medium or so, and add the chicken back to the pan. With it, add the dry spices and the tin of tomato paste.  Stir until everything is coated. Then turn the heat back up to high and add enough water to cover everything. When that reaches a boil, turn the stove back down to a simmer for 20-30 minutes.
Add in the pasta and the chili pepper, along with enough water to cover everything, plus 1/2″ or so. Bring to a boil and cook until the pasta is done, which will probably take longer than the package says. Stir constantly so nothing sticks to the sides of the pan, and add water if necessary (the pasta absorbs the water).
We usually just serve ourselves out of the pot, but, you know, put some pasta in the bowl and a piece of chicken on it.