Santa Maria-style Tri-Tip
Late-night dinner ramblings…
So, I bought a tri-tip at the supermarket the other day. It was a nice looking piece of meat, and was on sale. Plus, I haven't really been making a lot of steak lately. Money's tight, and a good cut of beef is expensive, you know?
And, I was in the mood for something a little…different. I don't mind making something I've made before, but in this case I was really looking to expand my repertoire
And, a little wandering through teh Googles didn't let me down. I wandered onto this post: https://whitetrashbbq.blogspot.com/2007/07/santa-maria-tri-tip-steak.html by a guy that makes a living off his BBQ. Never a bad thing, right?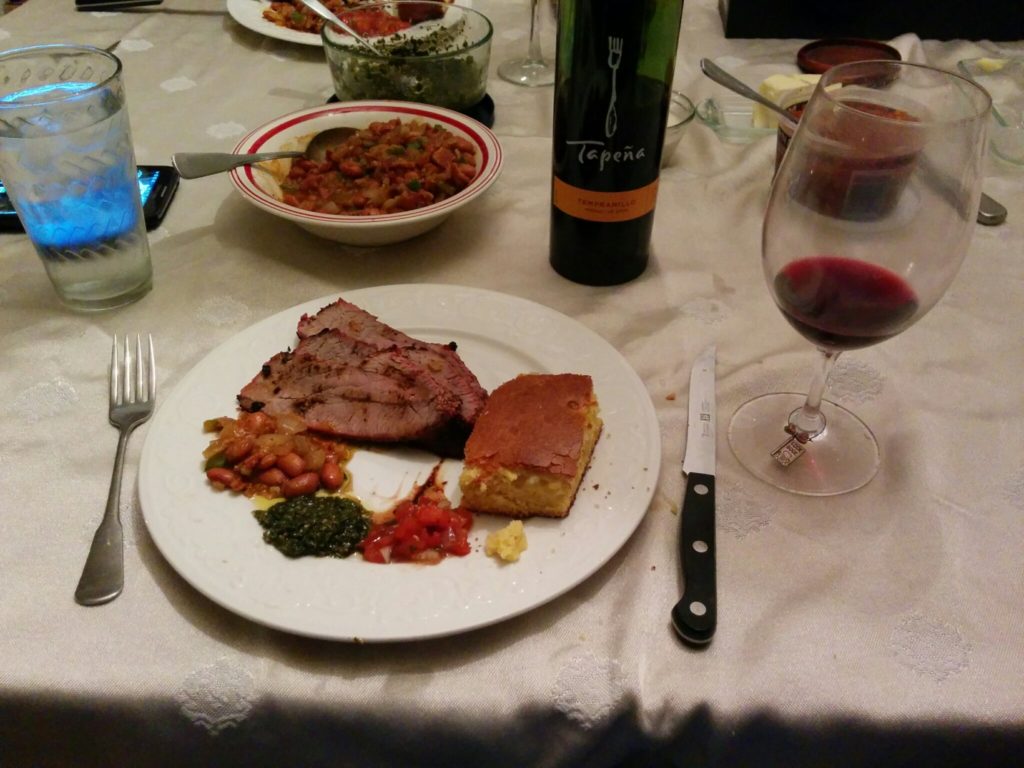 Nutrition Facts
Serving Size 250g
Servings Per Container 4
---
Amount Per Serving
Calories 583
Calories from Fat 377.1
% Daily Value*
---
*Percent Daily Values are based on a 2,000 calorie diet. Your daily values may be higher or lower depending on your calorie needs.
Shopping List:  (for four)
Tri-Tip (about 8oz per person)
Oak chips for the BBQ – soak for at least an hour, preferably two beforehand
1 tsp Salt
2 tbsp Pepper
2 tbsp Garlic Garni (powdered garlic, salt, parsely, onion, and a few other things I haven't sorted out)
4 tbsp canola or vegetable oil
a couple of salsas and/or savory relishes
This is *me* however, so we're going to change it up a bit. I don't like copying what someone else is doing exactly, but rather build on it to suit my own tastes and sensibilities. Also, I hate measuring stuff if I don't have to.
I'll skip the boring (for most of you) bits about the history of the tri-tip cut and how it was a staple for the vaqueros that ran cattle throughout California, because that's not wholly important. I should get down to the meat.
So first, I'd like talk about fire. Fire and smoke are pretty key here, because that's where a *lot* of the flavors are going to come from. Personally, I have a Weber kettle with a rotisserie — and I can't recommend that enough — but one can also work with a good indirect heat as well with a lot of turning. We don't want that light char on the outside like we might often do with a good steak. A fairly high heat with a lot of smoke is the order of the day.
Which brings us to the second part, the smoke. Oak would be good, but I happened upon some chips that were made from old wine barrels which is even better. If you can find them, thank me , but if not, don't sweat it. (For what it's worth, I'll mention that lots of folks seem to do this right on the grate, but the vaqueros – there's your history part – did it on a spit, and I think for good reason)
Now that we've got a fire going, let's deal with the meat  You'll want about 8oz per person, so up to four, one tri-tip, for up to two, eight, etc.  Leftovers are awesome so don't worry about extra. To season, we're going to do a basic dry rub. Nothing fancy, really. A couple of palms of salt, pepper, and though the recipe I started with called for garlic salt, I used this stuff called 'Garlic Garni' that's put together down in Gilroy, CA (arguably the garlic capitol of the world).  I like to give the meat a quick rub with canola oil (you can use other oils, but make sure they have a high flash point) then rub the seasonings in good, and then follow it with another slathering with oil. And, as soon as the fire is ready, on it goes.
I like to pull my meat off the grill at around 130 degrees, so that comes out fairly rare once it's rested 5-10 minutes. 135 is going to give you a pretty medium-done, but it's a juicy medium, so don't sweat it too much.
Pretty straight-forward, right?  Well, to really kick things up a notch, serve with an assortment of relishes, chutneys, and salsas.  Anything with a good earthy base works best or it'll be too sweet for the meat.  Universal favorites here are a pinto bean relish and mango salsas.  The big thing is to think about what would taste good on steak.  As such, I recommend staying away from the pico de gallo type salsas because they're too "bright".
Side note: if you're serving this for a party, invite everyone to bring their favorite topping given the above critera.  It allows everyone to contribute, and at the same time reduces the amount of cooking you have to do 🙂
As far as plating goes, a good rustic bread or iron-cooked cornbread are good for a starch.  Spanish rice also goes well.  For veg, my favorite is green beans tossed with a bit of butter and bacon grease.