Macarona Bechamel (Pasta with Bechamel)
I'll start with the warning that this recipe serves about eight, and I've cut it in half versus a lot of the variations out there.  With that out of the way, here's a nice casserole that's like a stripped-down lasagna. In this form it primarily hails from Egypt, but I tweaked it to give a more Libyan groove to it ~ so if you like the Libyan stuff I've been doing, I'll bet you'd like this one.
I posted the dish in the pan because my first go didn't have enough structure and ended up being bowls of nommy stuff. I've made a few safe tweaks that should help keep that from happening again, so hopefully you'll have better success 🙂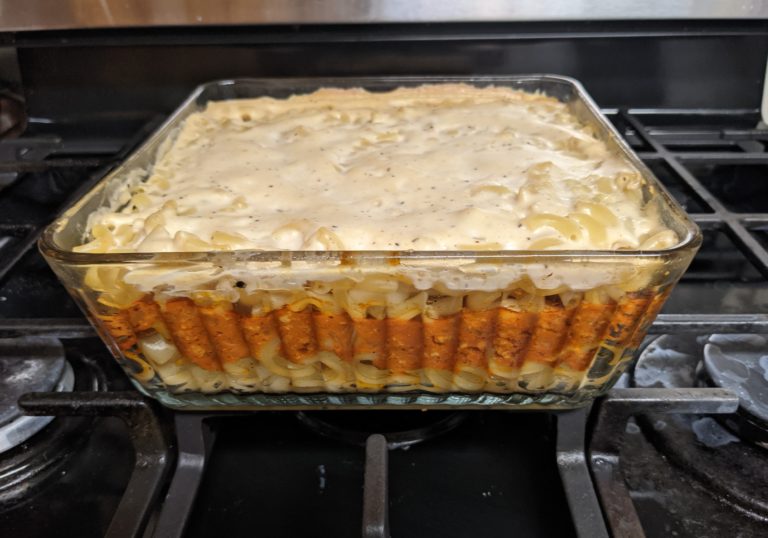 Nutrition Facts
Serving Size 1 square
Servings Per Container 9
---
Amount Per Serving
Calories 338
Calories from Fat 81
% Daily Value*
Total Carbohydrate 45.4g
15%
---
*Percent Daily Values are based on a 2,000 calorie diet. Your daily values may be higher or lower depending on your calorie needs.
---
Shopping List:
Sauce:
1/2 pound ground beef
1/2 onion
1 pound smallish pasta (elbow, penne, etc)
4 cloves garlic, minced
1.5 pounds large tomatoes
6 oz tin tomato paste
1 tsp bzaar spice blend (recipe)*
ground cinnamon
black pepper
salt
olive oil
Bechamel:
2 cups milk
2 tbsp butter
flour
black pepper
nutmeg
* for a more Egyptian version, substitute baharat
---
Prep work:
Cook pasta per box instructions. Do not rinse after cooking.
Chop onion coarsely
Dice tomatoes into 1/2″ chunks.
Once the pasta is started, set the oven for 375 F. Then saute the onions and garlic in a few tablespoons of olive oil until the onions get soft. Add in the beef and brown.  After that, add the tomatoes and paste and season with 1/2 tsp salt, 1/2 tsp black pepper, 1 tsp bzaar, and 1/2 tsp cinnamon. Mix well and simmer for 10-15 minutes until it starts to thicken and look like pasta sauce.
Now is a good time to pre-prepare the casserole. Spray the bottom of a 9×9 pan with canola oil. Lay down 1/2 the pasta, cover that with a layer of sauce, and on top the rest of the pasta. Set aside.
Aaaaand it's bechamel time.  It's a French "white sauce" that once mastered, a million things can be done, but here we're going to stick with the basics.
To start with, warm up 2 cups of milk in the microwave until it's about room temperature.  Use a medium power so the milk doesn't boil.  Next, in a medium saute pan on a stove set to medium-high melt 2 tbsp butter and slowly work in 2 tbsp flour. Whisk Constantly until you get foamy brown stuff (called the roux). Now start adding the milk in, also slowly, whisking constantly until it's all incorporated. Quickly add 1/2 tsp pepper and 1/4 tsp nutmeg. Right about now you'll probably notice the milk is simmering. It's supposed to do that, but to keep the sauce from burning you need to whisk constantly.  Keep doing this until the sauce thickens to something kinda thick and definitely not liquid.  You'll know.
When the bechamel is ready, pour it over the top of the casserole. Cover with foil and bake at 375 F for 45 minutes. Remove the foil and bake for another 5-10 minutes until the top is browned.
Remove from oven and let cool for at least 15 minutes.  If you're lucky you'll get nice squares to plate. It's more likely you'll end up shovelling in bowls but that's okay ~ it still tastes good.